Attention: 24option has announced that the company will shut down soon! More details soon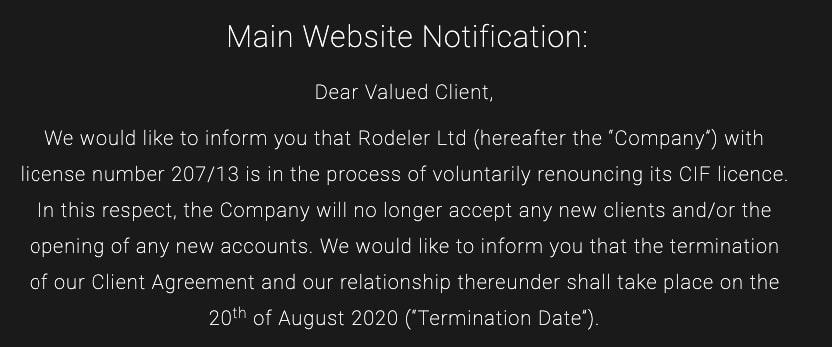 24Option is an online CFD broker founded back in 2009 and owned by Rodeler Ltd, a company operating under the Cyprus Securities Exchange Commission (CySEC) license number 207/13.
24Option (Rodeler Ltd) is also authorized by the British Financial Conduct Authority (FCA) since 04/12/2013 and by BaFin in Germany.
Outside the European Economic Area, the services of 24Option are offered by Richfield Capital LTD, a company that belongs to the same group as Rodeler Limited and is regulated by The International Financial Services Commission Of Belize ( license 000319/38).
Editor's Note: Why 24Option DOESN'T Suck in 50 Words?
Now one of the oldest brokers in the business, 24Option is a member of the exclusive list of brokers considered to be highly respected and truly inspiring. Over the many years in business, they've gained a stellar reputation and the respect of millions of clients, being fully regulated and sporting an easy to use trading platform. Top-tier broker, without a doubt!
Why Does 24Option Suck in 50 Words?
The first issue that comes to mind is the inactivity fee: if you are inactive for more than one month, they begin to charge you 80€/month (or in equivalent currency). This is a very high fee and means that you really need to be ready to trade before you decide to deposit.
Is 24Option A Scam?
24Option is one of the most respected brokers in the business, regulated by major financial authorities (CYSEC, FCA, BAFIN among others) and has passed the test of time with flying colors, being one of the biggest and more consistent in the industry since they've launched.
The company takes measures to safeguard clients' funds and has maintained a very high influx of clients throughout the years This review will reassure you that 24 Option is not only a trusted broker but also a broker that definitely doesn't suck!
Should I Open an Account with 24Option?
Since their launch, 24Option's innovative, fully web-based platform kept on growing slowly but smartly, providing investors with the proper and simplest tools needed to trade CFDs and other instruments: great user-interface, the trading process is easy to understand, and the live candlestick/line/Ohlc charts are available by clicking on the underlying asset. These great features and a vast number of assets made this company one of the best brokers out there for trading Cryptocurrencies, FX and CFDs. The company has improved since they were founded, the platform has been re-designed, the number of underlying assets has increased, and staying on top of the game seems to be their ambition.
They offer an easy to use, web-based platform but don't worry if you prefer to use MetaTrader 4 because this feature is available too! This way, you get access to all the indicators and tools, whether standard or your own custom indicators and templates.
24Option is an official partner of Juventus Football Club, and this adds to their credibility and high profile. Yea, they are clearly a top-shelf well-respected broker, but additional confirmation never hurts so if you're a soccer fan and love trading, you're in for a treat.
Their excellent customer service makes this broker a warmer home to online traders, not to mention the regulation, which is a great feature on its own. To start trading, clients must deposit the minimum amount of 250 EUR. This amount may change without prior notice, according to their website.
The company's registered office is located at 39 Kolonakiou Street, FREMA PLAZA, Agios Athanasios, 4103 Limassol, Cyprus. They can be contacted via email at [email protected].
Trading CFDs with 24Option
Recently we see a new trend emerging: CFD trading. This broker successfully leads the way in CFDs, offering a well-organized and professional web platform, tailor-made for this way of trading. The central principle behind CFD trading is similar to Binary Options (you still have to be right about direction), but a notable difference is that once you've decided on a direction and an investment amount, you can keep your trade open as long as you want or close it whenever you choose to.
Staying true to their position as a market-leading broker, 24Option has introduced Meta Trader 4 (MT4) as a platform for trading FX and CFDs. Of course, if you consider MT4 too complicated, you still have the option to trade on the Scipio web platform but who would pass on the opportunity to use tens of technical indicators and one of the most advanced charting packages for free.
24Option Broker Complaints
ThatSucks.com does research for you! We're looking for broker's complaints all over the web, checking them out and bringing the results to our readers.
Every complaint we receive is being checked and monitored by the team and I. Overall I feel most of the negative feedback addressing withdrawal issues is not bona fide. It's a typical reaction that comes from either angry or frustrated traders but doesn't reflect the truth. The company resolves most honest complaints, so I think it's fair to say I don't see major issues here.
We've also seen users complain that French and Japanese customers are not accepted anymore. This is due to regulation in those respective countries, and it's a positive thing that 24Option chooses to respect the legislation (we've seen brokers that continue to offer their services without proper authorization, and this only taints their name).
24Option Regulatory Announcements and Warnings
29/07/2016: French regulator Autorite des Marches Financiers (AMF) banned 24Option from operating in France. The authority stated that "In this case, it appeared that the Rodeler Limited provider did not comply, in France, with some of its obligations of providing correct information, as well as acting fairly and honestly, in the best interest of its customers, to the detriment of investors residing or established in France". See warning – AMF;
In 2017, the ban was lifted and the French regulator commented: "Taking into account the measures taken by this service provider to remedy the situation, the AMF announces today the lifting of this ban, which will take effect from 3 July 2017".
24Option Bonus
Rodeler LTD has always been a company that took regulation seriously and tried to comply with all the rules imposed by its regulator, CySEC. Staying true to that way of doing things and following CySEC's disapproval of trading Bonuses, clearly expressed through Circular C168 (30/11/2016) and Circular C194 (16/03/2017), the Management of Rodeler LTD has decided to terminate the offering of Bonuses and other trading benefits completely.
24Option Withdrawal
Most sites will tell you how to deposit. At thatsucks.com we are not worried about that because that's always easy; here we care about possibly the most critical part of trading – Withdrawing your profits. Brokers don't usually cause problems when you want to deposit money, but some options brokers will cause problems when you want to withdraw.
At 24 Option there is no maximum limit on the amount that you can withdraw (some brokers do limit!) and also, there's no minimum for cards and e-wallets. The minimum for wire transfers is $120 or EUR 100. The company proceeds with the withdrawals requests without any undue delay, usually within 24 hours but once they send the funds, 5 business days may pass until it is reflected in your account, depending on the method used. Just remember that you need to send proper documents due to the regulation before you request your money to be transferred to your account.
24Option Extras
Some traders are looking for the extras in each broker, here at ThatSucks.com we try to think different. This section is about what's different in 24 Option, what makes them stand out from other brokers.
The Extras that we liked the most are:
5 hour videos – Education is essential! 24 options is brining you videos that every beginner will love!
Free webinars, trade with a pro!
Financial News Headlines
Economic Calendar
Trading alerts and advanced analysis from Trading Central (one of the best companies in the business).
CFD trading
Meta Trader 4
Bitcoin and Altcoins trading!
Longevity and trust. This is now one of the biggest brokers in the world but also one of the oldest and most trusted.
Trading Bitcoin With 24Option
This brokerage has been at the top of the industry almost from the very beginning and, they've managed to do that by constantly improving, going with the prevailing trend and listening to their clients. Now the clients have spoken again: they want to trade Bitcoin. This is the new trend, and 24Option is happy to oblige by offering not only Bitcoin but also a ton of other cryptocurrencies (also known as Altcoins).
You can trade Bitcoin, Dash, Ethereum, Ripple, Litecoin, Bitcoin Cash, Ethereum Classic and more on this broker' CFD platform. These cryptocurrencies can be traded against the US Dollar but also against the Pound and Euro, with reasonable spreads and fast execution times. Leverage is also available, make sure you understand it because Bitcoin is a volatile asset, meaning it has the potential to have a high reward but also high risk.
24Option Ratings
User Friendly 18/20
24Option offers a completely web-based and incredibly intuitive platform that allows users to quickly switch between Cryptocurrency trading, FX and CFD trading. The website appearance was and remains by far the best I've seen and is available in no less than 12 different languages including English, German, Spanish, Arabic and more. You can also use MetaTrader 4 to trade which is one of the most popular trading platforms. Mobile platforms are also available for download.
Range Of Markets, Spreads And Leverage 18/20
The asset basket is huge at 24Option, including more than 100 assets ranging from currencies, to stocks, indices, ETFs, indices and cryptocurrencies. The leverage for Bitcoin trading is 1:5 and the spread is floating for cryptocurrency trading in general. For Stocks, the leverage is 1:5 and 1:10 for commodities and indices (for some it goes up to 1:20). For Forex trading, the leverage can go as high as 1:30. The spreads vary from asset to asset but also depending on the time of the day and are higher for exotic pairs. Please note that leverage may change depending on your region. Professional clients also benefit from higher leverage.
Fees and Support 18/20
Accounts that have been inactive for more than 1 month will be charged a fee of 80 EUR/month. Withdrawal fees for credit/debit cards are 3.5% and between 2.0% and 4.5% for E-wallets. Wire transfer costs 30USD or the equivalent amount in other currencies. Under some circumstances the client will be charged 80 EUR fee for withdrawals (for example if there is insignificant trading activity prior to the withdrawal request).
Support is available via email or live chat. They mention phone support but there is no number provided. The live chat service was rapid and polite.
Deposits and Withdrawals 19/20
Minimum deposit is OK – 250 USD. Deposit is available via C.C., Wire transfer, Skrill, Neteller and much more (some methods depend on the client's region). Withdrawals are available via the same methods, with a minimum of 120$ for wire withdrawals; there is no minimum withdrawal amount for the other methods. The processing time is fast – usually 24 business hours.
Website Extras 17/20
Their innovative platform features some new extras and also includes inside platform trade alerts provided by Trading Central. The signals vary in strength and suggest the direction that the underlying asset is likely to take but keep in mind that all trading is risky and these signals do not guarantee profits.
24Option Overall Rating:  90 + Regulation Factor (+3) = 93/100
*Trading Options and CFDs involves significant risk of loss. CFDs are leveraged, and thus losses may exceed the invested amount
**Traders must verify their accounts with the necessary documents!