MetaTrader4: The MUST-HAVE Charting Software
To trade, you need good charts and charting tools, otherwise you are just gambling. Some charting packages are subpar to say the least, because they don't allow you to do proper technical analysis. A good trader will merge the two types of analysis – technical and fundamental – to get the right sense of market direction. For fundamental analysis you don't really need charts, but for technical analysis, it's imperative to have them.
Out of all the charting packages available out there, one has emerged as the clear winner: Meta Trader 4. Don't take my word for it, just ask anyone who's not subjective, and see what they answer. But let's get things going: Meta Trader 4 (MT4) is a charting package that you can download for free after opening a real or demo account with a CFD / FX / Crypto or BO broker that provides it (there's no shortage of brokers with this platform). It was developed by MetaQuotes Software and first released in 2005. Prior versions were released starting in 2002, but Meta Trader 4 was the most enhanced in terms of functionality and reliability.
How to Use MT4?
Now we will talk about a few customization features, as well as plotting a tool on MT4, as this will help you in the future with all your chosen strategies and besides, this is the most basic form of using a charting package. When you first download and install Meta Trader 4, it will look just like the picture below: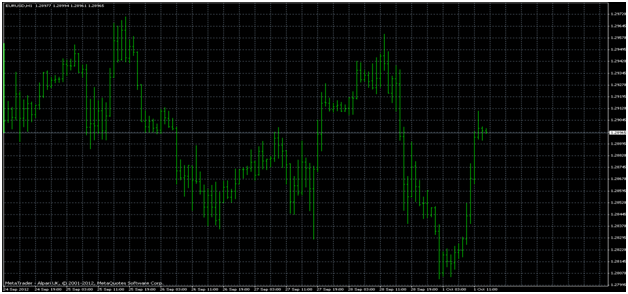 Not too impressive, I know, but our customization of the chart is just beginning. Look at the next picture to see some of the options available: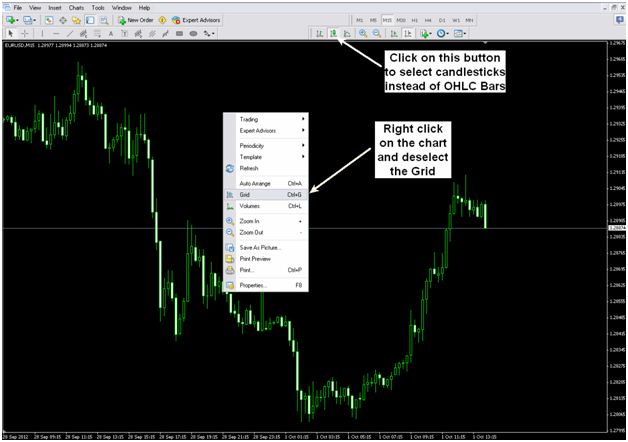 These are some of the options that I use but you can choose to leave the grid on the chart or to use a Bar chart instead of Candlesticks. Further, if you want to change the background color or the color of the bearish and bullish candles, you can do so by right-clicking on the chart and selecting "Properties" (or just press F8)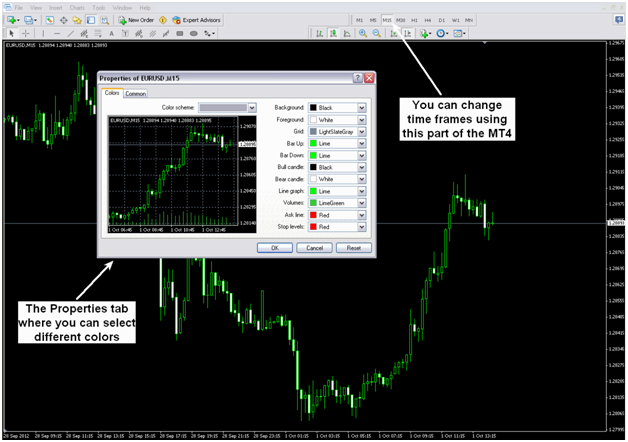 Ok, next we need to select the tools we need for our chosen strategy. For this example, I am going to use Bollinger Bands and RSI, although using these two indicators together does not constitute a strategy by itself (this is just for example purposes):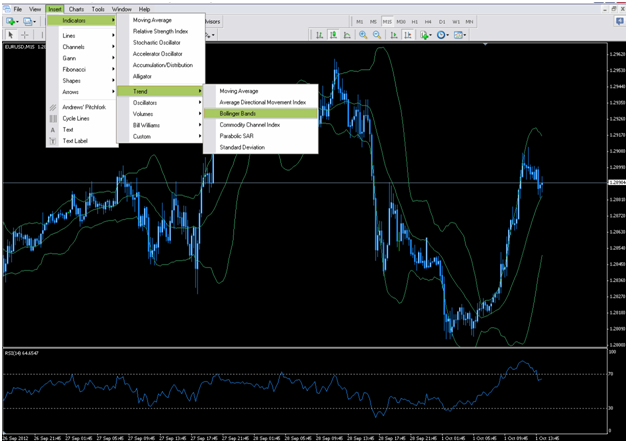 To get the Bollinger Bands up on a chart, click on Insert – Indicators – Trend – Bollinger Bands. For the RSI, click on Insert – Indicators – this time go to Oscillators – Relative Strength Index (RSI).

Ok, now I am going to give an actual trade example, using the Bollinger Bands squeeze and another indicator for direction, the MACD (to put the MACD on a chart, use the indications above):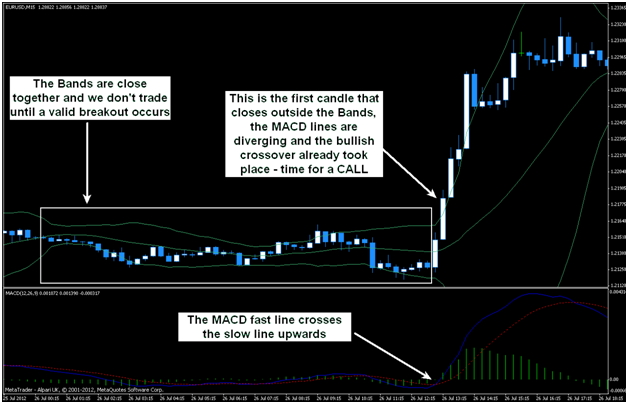 If you want to know more about using the Bollinger Bands and MACD in trading, read my reviews on both of them. Once you know what a certain tool does, you can use it in different ways, to complete or improve existing strategies. All the great tools that we are talking about can be found as built-in features of the Metatrader 4 platform.
Using Meta Trader 4 For CFD, FX, Cryptos, And Binary Options
These days many CFD / FX / Crypto brokers already offer Meta Trader as the platform of choice, but just in case they don't, here's a little "hack". Simply open a demo account with a broker that offers Meta Trader 4, install indicators, draw trend lines, support levels, etc. and when you get a signal according to your analysis or strategy, switch to your live account broker and place a trade.
The same goes for Binary Options: open an MT4 chart for your selected currency or asset, deploy your strategy of choice and when a good signal occurs, switch to your binary platform and choose Call or Put accordingly. Of course, you will have to think about the expiry you choose, so don't forget about that.
Wrapping it Up
If you want to become a better trader, you have to learn technical analysis and to do that, the first thing you need is a charting package. We consider Meta Trader 4 one of the best, but that doesn't mean we're trying to convince you to use it. Just try it and see the opportunities it offers, and see if you like it. Of course, there are other good alternatives like Meta Trader 5 or even TradingView. You just have to find what suits you.