ThatSucks.com – About Us
During the Great Binary Options Wars that lasted from 2008 until 2018, we've taken an active role in fighting scams, educating and recommending you brokers that don't suck. Binary Options are now much less popular, being plagued by scammers and restricted by most financial regulators but we've been fighting scam since 2011 and we don't plan to stop anytime soon. We will continue to give you easy to access information about CFDs, Crypto Currencies, Crypto Exchanges, FX, brokers, scams, strategies, tools, and education. Here is the menu, bon appetit:
Scam Fighting and Reviews
It's no secret that the online space in general and online trading in special, is weighed down by some more-than-bad apples and we've made it our job to expose those scammers. Whether it's a fishy broker, a false-advertising trading software or signal provider, a "guru" that tries to sell you some magical indicator or crystal-ball strategy, they will all be busted. If it Sucks, we will review it and you will know to steer clear of it.
Our main mission and drive is making reviews. It can be overwhelming for a new trader to go to tens of websites and try to see through all of their marketing so we are doing it for you. We've been "honing" our reviewing skills since 2011 and let me tell you, when you've been at it for that long, you learn to see through all the BS claims and to differentiate the good brokers and robots from the bad ones. We've been saving traders from scams for more than 8 years now, but don't take our word for it. Just have a look at what our readers have to say about us:


From Sitejabber.com: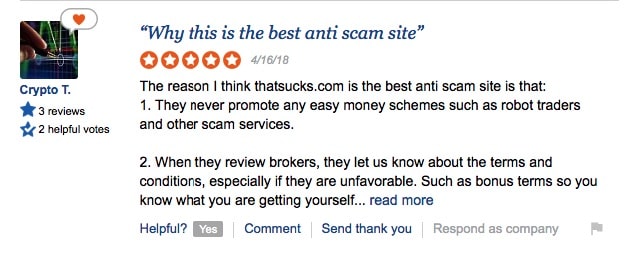 Another user had this to say:



And last but not least, Nik leaves positive feedback on Trustpilot: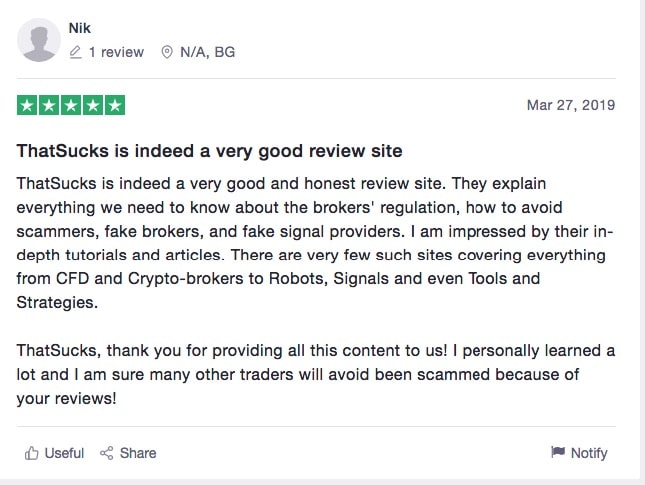 There's one common trait of all brokers: they all think they are the best. Well, that's debatable and we are here to debate, to bring you all the information about brokerages, exchanges and more, in a condensed, unbiased way, backed by years of experience. We give you the information and our Recommended Brokers, but the final choice is yours.
School and Strategies
"Trading is easy!" You will hear this all over the place but it's not entirely true. Trading Bitcoin and CFDs can become easy with the proper education and part of our goal is to bring you that education. We've created one of the most complex Trading School in the entire industry and you can have it all for free. All you need is time and willingness to learn. Once you do that, trading will be easy.
Education is not complete without a set of powerful trading strategies so we've put together some of the best around the internet and a handful created by our PRO traders. Everything is categorized by difficulty so every trader will find a strategy suited to his/her level of knowledge and understanding. You will also find tons of trading tools (such as indicators, charting packages, etc.), all with detailed explanations and tips&tricks on how to use them best.
Find Us On Facebook
You know the saying "If you're not on social media, you don't exist"? Well, good thing we have a Facebook page then. We will post our latest reviews, articles and news there, so make sure you add ThatSucks on Facebook to stay up to date with our content. Also, your feedback and suggestions are appreciated. Drop in and say Hi.

ThatSucks.com – Because even the Best Suck Sometimes!