The Bitcoin Trader is the latest and hottest new software to hit the market. It is a lightning-fast, laser-accurate method of pinpointing the right times to buy and sell Bitcoin, the hottest market in financial trading today. The system is owned and operated by some people in some country, I don't know, they don't put a single piece of relevant information on their website. If my cynicism hasn't struck you yet, you might want to read on.
The Bitcoin Trader in Review
The Bitcoin Trader is a fully automated algorithmic trading tool designed to trade the emergent cryptocurrency market. The tool works by targeting volatility within the market with laser-accurate performance. They boast a 99.4% accuracy rate and the ability to double, triple and even quadruple your money in only a few trades.
The software is built on the most advanced programming the world has ever seen, according to them, and able to literally see into the future. They claim the algorithm is 0.01 seconds ahead of the market, plenty of time to enter the best trades at the exact right minute. The ability to make this "time leap" as they call it puts the software right up at the top of the list when it comes to consistency and reliability if by reliability they mean it loses your money and gives it to them of course.


If you don't believe it you can surely trust the American Trading Association, a hallowed organization that just awarded the Bitcoin Trader #1 spot in their trading software category. Don't worry, I checked to make sure the ATA was a real organization and guess what, it isn't.
To be fair I did sign up to see what would happen and it was this; I got sent directly to the cashier page on Green Capitalz where I was prompted to make a deposit. I hadn't even really set up an account yet so this was really sketchy. Green Capitalz is an unknown broker regulated by the Financial Sector Conduct Authority (FSCA) in the Commonwealth of Dominica. If you trust that regulation… it's up to you but regardless, the platform sucks. . . and there isn't even a robot or AutoTrader that I can find so not sure what the whole Bitcoin Trader thing is all about.


They do have digital cryptocurrency pairs available in the drop-down asset list. These include BTC/USD, ETH/USD and some others alongside the traditional forex offerings. The trading is classic CFD with Buy, Sell, and limited ability to set Stop Loss and Take Profit orders… which they call "Advanced".
Is The Bitcoin Trader A Scam?
YES! It is. The better question though is if Green Capitalz is a scam but the answer to that is more difficult to give! The broker is regulated, albeit not by one of the "top dogs" and it has all the characteristics of a shady venue. I wouldn't trust this broker with beer money, let alone 250 bucks. Keep in mind that depending on your region, you might be directed to a different broker but I doubt it will be any better.
And one more thing: the web address of the Bitcoin Trader System has already changed a few times, so it is likely to change in the future (probably to avoid getting caught). Don't be fooled, it's the same cheap scam, with minor variations in the website name.
These are not the droids you are looking for, move along, move along. Looking at the long list of complaints at the bottom of this page, we can completely reassure you that this is a scam, and we were right from the beginning! Just take a look at what our users have to say about it:

Too many promises, too aggressive and a definite scam! This guy sums it up perfectly. Unfortunately, some people still fall for empty promises and lies spread by these robot makers.

Phil from Auckland has done the smart and common-sense thing: he actually researched and read some reviews BEFORE reaching for the wallet and giving money away. By the way, you're welcome! And speaking of reviews: please be careful what you read or more importantly what you trust because a tool (among many others) to get more clients for their scam is to pay for positive reviews.
How Bitcoin Trader Finds the Next Victim
Fake Reviews
Take a look at these claims made by a so-called "review site":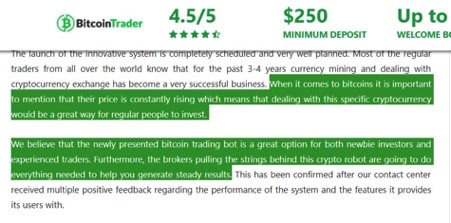 Price of Bitcoin is constantly rising… a great way for regular people to invest… great for newbies… and the cherry on top: the brokers behind this robot are going to do everything needed to help you achieve steady results. Come on, we know how the brokers operate and they surely don't have our best interest in mind. And what about Bitcoin price constantly rising? It is NOT constantly rising and it is NOT a great way for regular people to invest in if by "regular" you mean inexperienced.
Fake Comments
On the same website that posted that stellar review, you will find people in the comments praising the results of Bitcoin Trader:

"What a wonderful software Bitcoin Trader is"… yea mmmhm. "It has a consistent accuracy… enough to secure financial independence…" yea, totally legit, I believe you guy. And pigs fly.
Fake News
Dragon's Den False Affiliation
To make it more believable, these scammers have gone as far as posting their adverts on the BBC and the Guardian, claiming that Bitcoin Trader is the work of two friends who appeared on the popular Irish TV show called Dragon's Den. The adverts even contained fake quotes from the show's stars Gavin Duffy, Eleanor McEvoy, and Eamonn Quinn. The material was quickly taken down by the websites but I believe some people still got duped. Beware of Fake News! Check facts.
Andrew Forrest Bitcoin Scam
More recently, fake articles emerged, claiming that Andrew Forrest (Chairman of Fortescue Metals Group) was somehow involved with Bitcoin trading robots and that he endorsed investments in such apps. The scary thing is that the scam articles appeared under the headline "ABC NEWS exclusive" and seemed to be published by ABC NEWS, using pictures staged to look like ABC TV screenshots and tagged as ABC articles.
ABC NEWS (the real one), which is a well-known and respected Australian media organization first launched in 1932 was quick to dismiss the news as "Fake" and urged investors to "exercise caution when reading social media advertisements and articles concerning cryptocurrencies which bear the ABC logo".
Furthermore, on April 5th, 2019, Fortescue Metals Group released a statement regarding the situation and confirming that "the name, image, and misinformation about the personal life of our Chairman Andrew Forrest have been used to entice people into paying money to scammers." The company added: "Such scams are abhorrent and we are doing what we can to try and alert people to them".

Harry Triguboff Fake Cryptocurrency Endorsement
A similar situation occurred with Harry Triguboff: fake ABC NEWS articles claimed that Mr. Triguboff – the founder and managing director of Meriton – is using a cryptocurrency trading app/platform to make his money and that he is about to share a " wealth loophole" that will make you a millionaire in months.
Google soon removed the fake add (after being alerted to it by The Australian Financial Review) but this all goes to show that you should pay extra attention to all cryptocurrency app endorsements that appear to come from major financial figures or well-known personalities.
Pop-ups
Last but not least we have pop-ups. It's incredibly annoying to surf the web reading or trying to watch a clip when all of a sudden an ad pops in your face telling you that you will be $10K richer by tomorrow. However, some people click on the pop-up, out of curiosity maybe and they end up watching the video, then think "Hey, it's free so maybe I will try it out" and bit by bit they get sucked into the deep well of lies.

A List of Trusted Bitcoin and Options Brokers.
Why The Bitcoin Trader Might Not Suck
It doesn't suck because it's a perfect example of how a scam works and looks like. Use it to learn how to stay away – that's all the positive I can think about when it comes to scams like this app.
Why The Bitcoin Trader Sucks
The Bitcoin Trader Sucks because it is nothing but hype. There is not a single bit of reliable information on the site, and it directs you to a low-tier broker (this is me being polite). Oh and did I mention that it doesn't do what it says it does – aka make you rich?

The Bitcoin Trader Final Verdict
Is Bitcoin the hottest market in financial trading? Yes. Is Bitcoin making people rich every day? Yes. Is it possible to get on board, it's not too late? Yes. Is the Bitcoin Trader a good tool to help me on my way? Hell no! This is a pure scam and one that skips the step of hooking you up with an actual autotrader, you know, the tool the whole thing is advertising?
Instead, it takes you straight to a shady, unknown broker whose first act upon your registration is to roll out the army of "account managers" to hook you bonuses, turn you on to autotraders and, gasp, trade your account for you. Take my advice: If you want to buy some Bitcoin, don't do it with this broker or with this software. PS, I got an email as soon as I signed up offering me free 1 on 1 training with my very own trading professional. Nice, huh?
Great News!
We have found a Robot that will make you so much richer in less than 30 working days!
Show me the Robot!
.