CryptoBank is a 99.4% accurate trading software that is free to use and can make you a minimum of $1,100 daily. Nice… what else is new under the sun? This one is a throwback to the heydays of auto-trading bots, when everything was over the top and flamboyant. It even has the now-classic phrase "It is easy and anybody can do it. You do not need any skills or knowledge." Ah, man, robots and their never-ending well of wealth.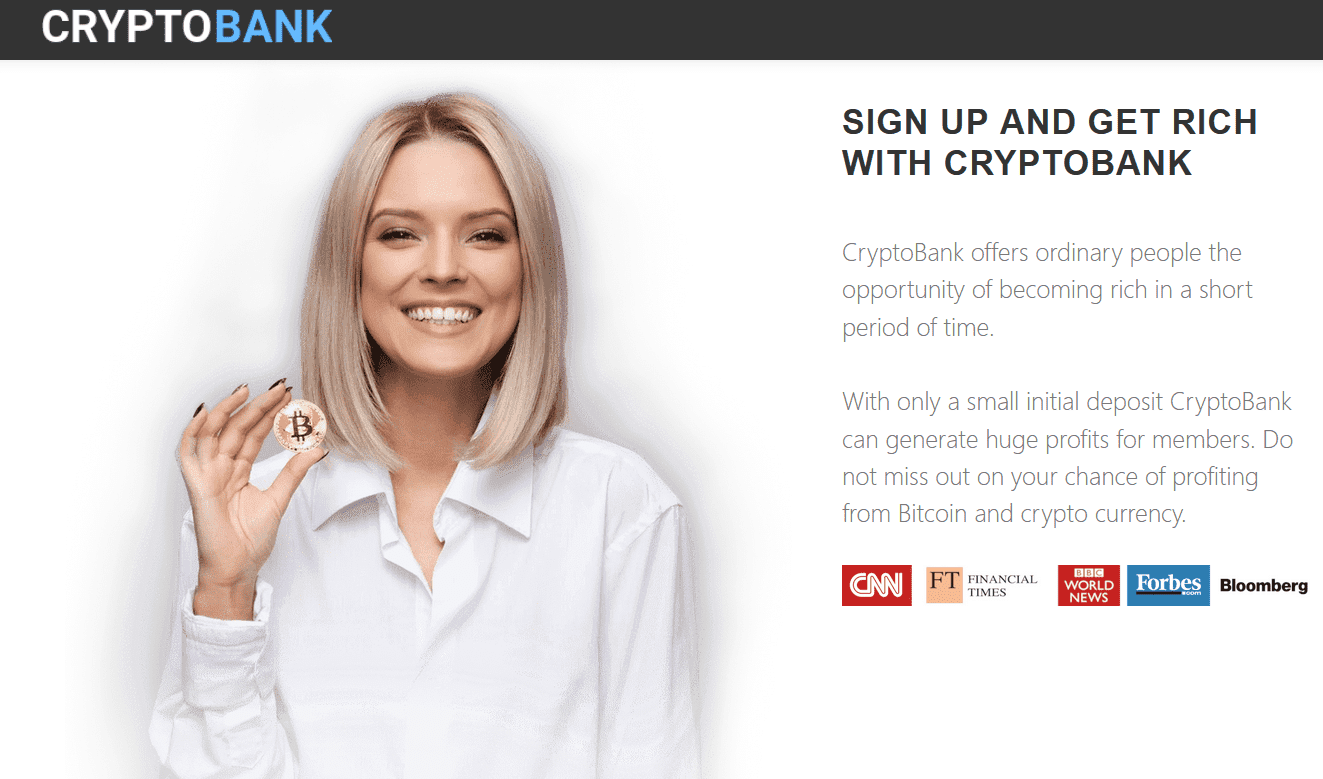 What Is CryptoBank And How To Make A Deposit
I'm kidding, don't make a deposit, or at least not until you read this through. Ok, so let's see what CryptoBank claims that it is and what it really is. Unfortunately, we don't get to read a cool story or a video of a millionaire who found a loophole in the market, but at least we get some "cool" info about this trading robot.
Saying that something works is incredibly easy, especially if you don't have to prove it. Thus, CryptoBank can make unfounded claims all day, such as "There is no other trading app in the world that performs at the 99.4% level of accuracy that The CryptoBank is able to hit". Wow, wow, 99.4% accuracy is bewildering and I am "sure" that it's true because I can read it on their webpage. Yea, don't bother bringing proof of that accuracy, just write it and I will believe it.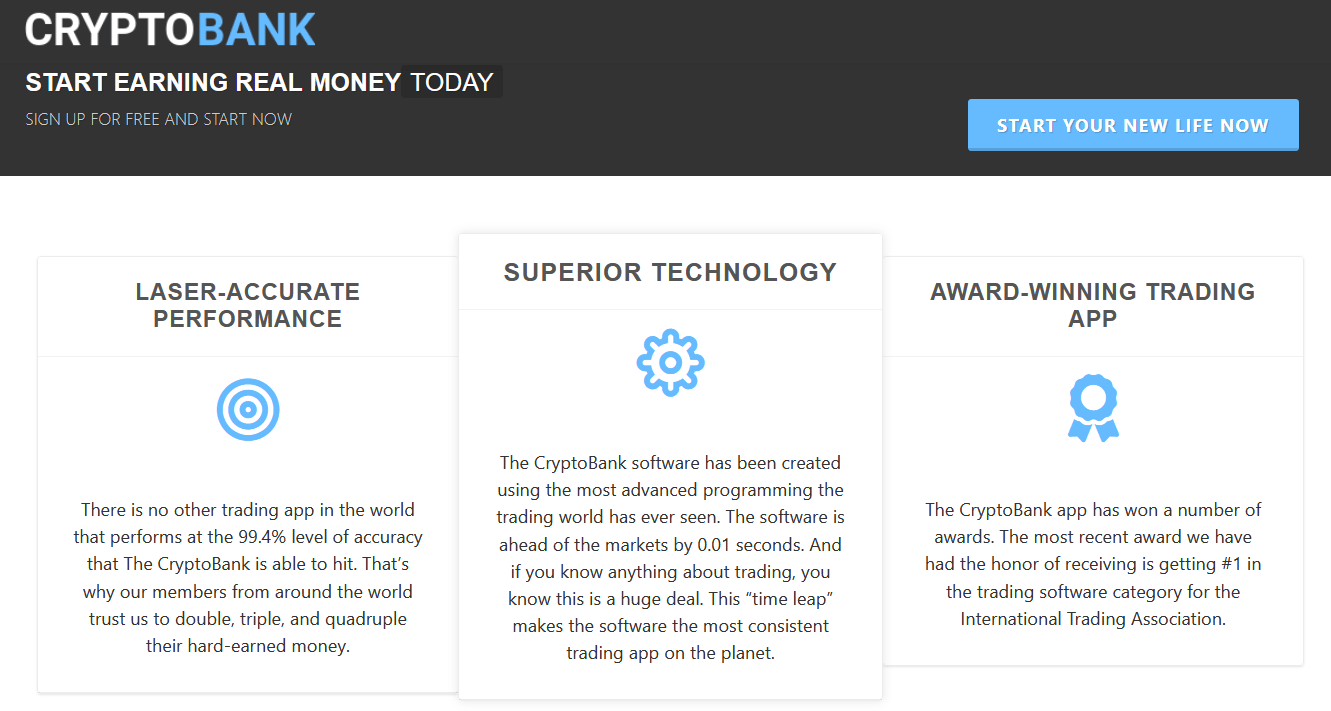 But the fiction doesn't end there. You know how it can achieve 99.4% accuracy? Let me tell ya: it is operating 0.01 seconds AHEAD of the market: "The software is ahead of the markets by 0.01 seconds. And if you know anything about trading, you know this is a huge deal. This "time leap" makes the software the most consistent trading app on the planet." In other words, the CryptoBank robot is trading something that hasn't been charted yet, it is literally trading in the future. And they keep insulting our intelligence by saying "if you know anything about trading, you know this is a huge deal". No dude, if we know anything about trading, then we know that what you are saying is insane!
Last but not least, they say that CryptoBank is an award-winning app. Of course, but who gave you that award? Ohhh, the International Trading Association… hmm let me check. Yeah, it doesn't exist!
Great News!
We have found a Robot that will make you so much richer in less than 30 working days!
Show me the Robot!
.
The Shills' Voice
No trading robot is complete without a sprinkle of fake testimonials and surprise, surprise, CryptoBank goes down the same path: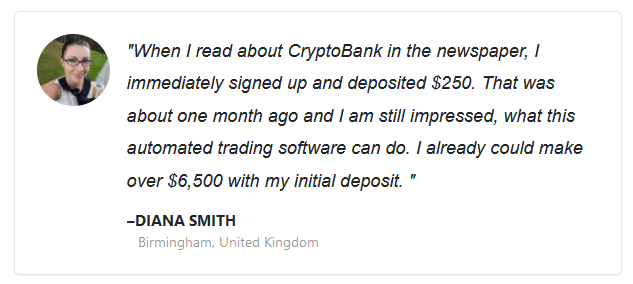 "When I read about CryptoBank in the newspaper"… really? What newspaper? I bet it's something big like the New York Times, right? But wait, this user says she made over $6,500 in a month but at the beginning of the page they clearly say that you will make a minimum of $1,100 per day. Heh, maybe the robot is just not good enough.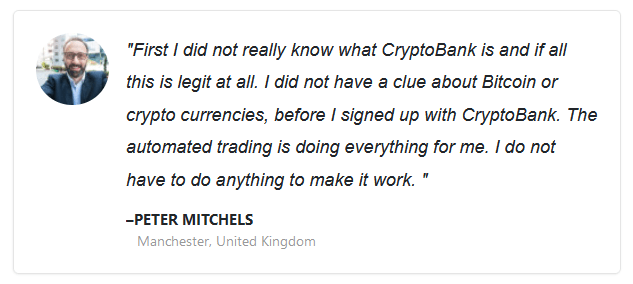 Peter Mitchels is another truly genuine user of CryptoBank. He is expressing the concerns that everyone should have: he didn't know what it is and if it's legit at all, didn't know what Bitcoin is. It is all put there so that actual people who are thinking to invest can identify with his train of thought. If you are just a bit drawn to the idea of investing and another so-called user dismisses your common worries, then the chance of you investing (read: "falling for their trap") increases substantially.
Don't believe these obviously fake testimonials. They are a very well-known tool used by 99% of these robots for marketing purposes. In fact the whole page is a big pile of marketing. There's no software that trades with 99.4% accuracy, 0.01 seconds ahead of the market. It's all just BS meant to take you to their recommended broker so they can get an affiliate commission.
The Proof Is In The Pudding
This is one of the few robots (if not the only one) that actually tells you that it's fictitious. No, really: at the bottom of the page it says "The above software is fictitious". In translation: Dude did you really think that software with 99.4% accuracy really exists. Haha, are u a kid?!? Also, how can u believe that a program can be ahead of the market? Oh and did u reallllly think that if something like that existed we would just give it to you FOR FREEEE?
Then it goes on saying "The content of this website is purely for promotional purposes for a trading platform where the customer may be able to use similar software." Do you want the translation? Here it is: Respectfully, dear client, we need you to go to our recommended broker and deposit a minimum of 250 bucks so we can get a commission. Maybe they have some autotrading robot but then again, maybe they don't. We don't know. But go and deposit.

The Wrap Up: Yay or Nay
Nay! CryptoBank is just a low-tier marketing gimmick that's supposed to make you deposit with a certain broker. More than that, turns out that their so-called trading robot doesn't even exist. Come on, how low is that? At least give people some type of trading robot. I am not saying that it would make you money but lying to their faces… really? Well, actually they don't lie because they say it's fictitious, but who reads the fine print anyway?
However, as I always say, your money, your decisions. So make sure you decide for yourselves what you wanna do with your money. If you want to give it away to a broker recommended by a fictitious software, then do it. If you want to trade safer, maybe check out a few brokers and choose a regulated one. Just saying, but it's up to you.
Great News!
We have found a Robot that will make you so much richer in less than 30 working days!
Show me the Robot!
.