The Bitcoin Club is a Bitcoin mining pool that allows people to make money out of thin air… or at least that's what the website says. But as we know by now, these types of websites are not always the most honest, so allow me to have my doubts about the software they promote. This particular app features some funky math, the ever-present millionaire who wants you make us all rich using his secret, and some fake testimonials. Throw it all in and you get: The Bitcoin Club.

What Is The Bitcoin Club And How To Join It
It looks like this software doesn't exactly know what it is or what it is called. At the top of the page it's written "Bitcoin Prime", the browser tab says "Bitcoin Club" and the URL says "Bitcoin Wave". Throughout the webpage they are referring to it as Bitcoin Club, so I guess we'll stick with that as well. But in order to know what it is, we need to learn how it was created:
Some time ago, a guy called Dan Manson planned to buy 100 BTC when it was valued at $5,000, wait for it to hit $10,000 and sell, making a $500,000 profit. Man, great plan! So why didn't he do it? Well, he only had $3,000 to his name… Why would you even bother concocting a plan that's so farfetched? It's almost like me saying that I am going to buy all the websites in the world, making me the owner of the Internet. Then I would sell parts of it to wealthy people and make a profit. Would it work? Yea I would probably make some money but do I have the resources to buy all the websites? Anyway, I digress.
Our protagonist then stumbled upon a blog post that explained how to mine Bitcoin. Long story short, he started mining it on his computer and in a few days he mined 1 Bitcoin. His story happens sometime in 2017 and let me tell you that it wasn't possible to make 1 BTC in a few days with a regular computer that didn't even mine 24/7. But facts are irrelevant for this story, so let's move on.
Seeing his success, he decided to get 10 people together, who would mine 10 BTC in the same amount of time and then split the profits equally. But wait, doesn't that mean that you still get 1 BTC, and the 9 others each get 1 BTC? So, wouldn't you receive the same amount? I think you would but seems like math is irrelevant to the story as well.
Great News!
We have found a Robot that will make you so much richer in less than 30 working days!
Show me the Robot!
.
Moving on, he put together an "elite team of programmers to develop a web-based software application that would mine Bitcoin on autopilot". Nice! And what's even nicer is that he is reaching out to ME because I've been PERSONALLY chosen and their records show that I am the PERFECT candidate. Wow, I feel so special right now. But don't worry, YOU are special as well and so is everybody who visits their page.

The video then ends with a long attempt to close the deal and to make users sign up. But their tactics involve much more than just a video… yes, the usual fake testimonials.
Happy, Happy Users Everywhere

Look at these people – beautiful, young, rich, and happy of course. You could be one of them if you only had the guts to sign up. But I cannot help but wonder if the pics could be just meant to create the illusion of a successful investment. Hmm, are these really Bitcoin Club users? Hate to burst your bubble, but they are just people posing for a photo shoot. These are stock photos and even more, the same pics are used for The Bitcoin Code, a software that we've already reviewed (click here to check out the Bitcoin Code review).
In fact, Bitcoin Code and Bitcoin Club are the same thing, just a slightly different name. The websites were identical but more recently the Bitcoin Code side changed its layout; however, if you check our review, you will see the resemblance.
More Fake Testimonials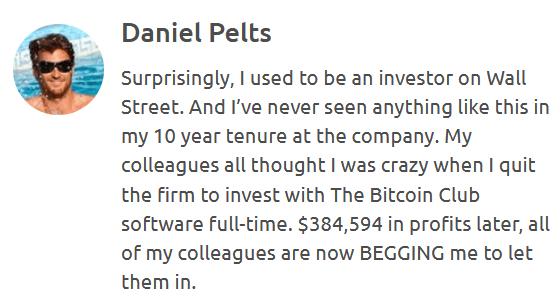 Mr Daniel Pelts says that he's been an investor on Wall Street and now his old colleagues are begging him to let them in. Cool story bro, but it's the same as the one told by Noah Pelts on the Profit Bitcoin website, which is yet another autotrading robot that we've recently reviewed.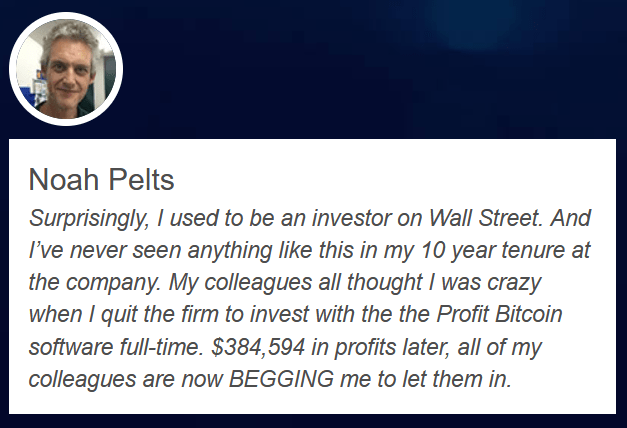 And hold on, are they brothers? I mean they share the same name and have made the same amount of profit: $384,594. Same story, word by word, only the name of the app changes. Yea, they must be brothers and they've had similar experiences but with two TOTALLY DIFFERENT apps. Sounds legit, these are not made out testimonials…
Real Talk: Stay Away!
This app claims to make you money by mining Bitcoin but that's not how things work, actually. Instead, you will be redirected to one of their recommended brokers once you sign up, and then you will trade some sort of binary options or CFDs on Bitcoin and possibly other assets, with the use of a robot or manually, or you will be offered a managed account.
If you really want to mine Bitcoin, there are other ways to do so, but you have to know that you will not mine 1 BTC in a few days or even in 1 year if you plan on using your regular computer. Of course, I will not go into the details of mining Bitcoin now, but I can tell you for a fact that it doesn't happen as described by the Bitcoin Club.
This is just a ruse to make you deposit with their broker so they can get a commission. If you're fine with that, then go for it, but there are far better ways to choose your broker. As always, take care of your money, do some research first, and decide afterwards.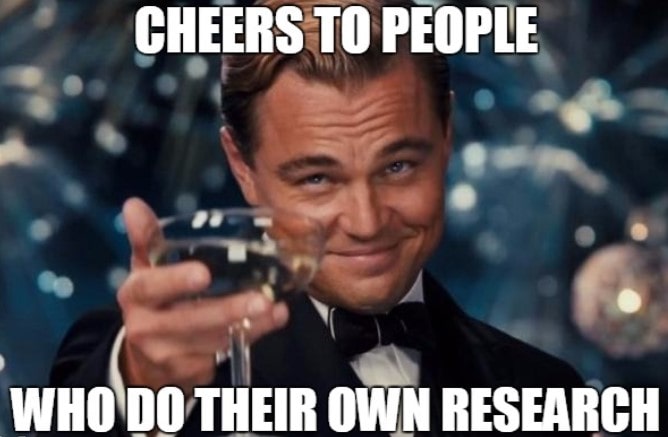 Great News!
We have found a Robot that will make you so much richer in less than 30 working days!
Show me the Robot!
.