Best MACD Entries Strategy – YES WE CAN!
MACD is one of my favorite indicators no matter if I'm trading Forex, CFDs, Crypto or BO. It can be used in a variety of ways to determine trends, reversals, and trigger trading signals. It can also be used in any time frame, making it a very useful tool for trading long term, weekly charts or a 15 minute time frame, or anything in between. This article is one I found discussing the best MACD Entries, let's take a look. One last thing, this article is a great jumping-off point for those using MACD or any kind of oscillator. There are links at the bottom taking you to other relevant articles that will help enhance the success of this strategy.
"The Best Of MACD Entries" – What am I Talking About?
This is an article written by James Ayetemimowa and posted on Forex Strategies Revealed. It is a simple strategy for short term traders and utilizes MACD in a way that I can fully approve. Some of the good points about this strategy is that it is trend following, and uses more than one indicator, which allows better filtering of the signals. Not only that, because of the way MACD works and its applicability to multiple time frames, this technique can be used in longer time frames.
What Is "The Best Of MACD Entries"
This would be a hard question for me to answer since there are so many ways to use MACD to generate good signals. For James it was not so tough, he has been able to quantify neatly just what he believes is the best entry signal. James uses the 5 min charts, two moving averages, and two MACDs. For the charts I suggest candles because that's the best way in my opinion. The two moving averages specified are 50 bar Simple Moving Average and 100 bar Simple Moving Average. The two MACDs are both standard 12/26/9 but one is histogram and the other is oscillator style. Together these indicators join to create signals with movements that last anywhere from 20 minutes to several hours.
How "Best Of MACD Entries" Works
The set up is pretty simple and since it is on the 5 minute charts, signals come pretty regularly. The two moving averages are used to determine trend, trade type and as part of the signal. Trend is determined by the positions of the two SMA's. When the short term 50 bar SMA is above the long term 100 bar SMA the trend is bullish. When the short term SMA is below the long term SMA the trend is bearish. With that in mind, traders are instructed to only trade according to this trend. Bullish trades in an uptrend and bearish trades in a downtrend.
A signal is generated when MACD is overbought or oversold and makes a crossover at the same time that prices have retreated past the SMAs. What this means is that in a downtrend you will wait for prices to correct above the moving averages. When that happens a signal will be generated when the MACD oscillator is in the overbought side and makes a bearish crossover. This crossover and signal can be predicted with the MACD histogram. If you look in the example provided, the MACD histogram is making a nice divergence and foreshadowing the lower high and subsequent sell signal generated by this system.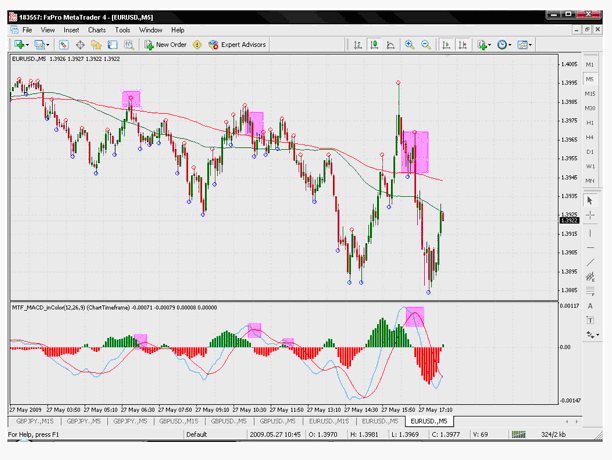 How To Use This Strategy For CFD, Crypto, BO and FX
Entry Rules For Bullish Trades
50 bar moving average above 100 bar moving average
Price has moved below the 2 moving averages
MACD Oscillator Is Oversold
MACD Histogram Shows Bullish Crossover
If you are trading Forex, CFD or Crypto, open a Buy trade
If you are trading BO, open a Call
Entry Rules For Bearish Trades
50 bar moving average below the 100 bar moving average
Price has moved above the 2 moving averages
MACD Oscillator Is Overbought
MACD Histogram Shows Bearish Crossovers
If you are trading Forex, CFD or Crypto, open a Sell trade
If you are trading BO, open a Put
Trade Management
For trades opened under FX/CFD rules you will have to use some kind of protection, in the form of Stop Loss and Take Profit. Given that this is a trend following system, the Stop Loss can be fairly tight and placed just behind the peak or bottom that was created before the MACD crossover. For Take Profit, you can use at least a 1:2 RR (Risk to Reward ratio – meaning that for 10 pips risked, you can possibly gain 20) or use a Trailing Stop after reaching the breakeven point.
For trades opened under BO rules, you will have to decide expiry – In the example above 5-minute candlestick charts are being used and targeting a 20 to 30 minute expiry. This equates to 4 or 5 candles so can be applied to any time frame. For example; Daily charts will be 4 days, one week or end of week expiry, 30 minutes charts would be 2 – 3 hours expiry.
Why This System Does Not Suck
Where to begin…. This system does not suck because it is an outstanding example and application of one of my favorite indicators. I won't be shy in saying that I put a lot of stock in the ol' 12/26/9. This strategy not only uses my favorite indicators but also incorporates many of the features of a good strategy we here at ThatSucks have come to love. This strategy, as laid out, does not incorporate multiple time frame analysis but I think it would only benefit from it. What it does have is a combination of well worn, trusted and often overlooked indicators that incorporate trend and momentum to generate handy signals for traders of short duration and long duration charts.
Why This Strategy Sucks
This strategy sucks because I didn't write it and I can't take credit for it. My hat's off to you sir James Ayetemimowa and your outstanding MACD system.
My Last Words on the Best of MACD Entries
I don't know if this is the best MACD entry or not but I can say that is a damned good one. I recommend this strategy to newbies, oldies, experienced, inexperienced, forex, commodity, stock, index and any other kind of traders there are. I don't know how else to say but that way. I, and we here, don't just hand out praise. There are a lot of things that totally suck in the trading world but this is not one of them. Take hold of this strategy, love it, nurture it and I think in the end you will be net positive.
Further Reading On MACD And Oscillators