Cryptocurrency Institute Review
The Cryptocurrency Institute (CryptocurrencyInstitute.org) is an organization of dubious nature. To put it bluntly, the only thing I can find out about them from the website is that they are a dot-org website, could be a non-profit I wouldn't know, with a simple method to help you get a good ROI on cryptocurrency investment in a short amount of time. They do this with their CryptocurrencyCodex which again, comes with little info and a lot of hype.
Cryptocurrency Institute – An Institute for Real?
The CryptocurrencyInstitute.org is new site purporting to be a non-profit. I say this because they use a DOTorg URL address that will make the average viewer assume some kind of "official" or "reputable" group is at work. They offer a proven method to unlock the secrets of cryptocurrency trading in a manner that anyone can use. That's right, anyone. You don't have to have any experience to use this tool, all you have to do is give them your email address to sign up.
I'm going, to be honest, I did not try to sign up with this site and I'll tell you why in a minute. That being said let me go one with my review. As an incentive, they advertise a free instant kickstarter which sounds a lot like a bonus to me. At the very least it is some kind of trading "tool" intended to generate activity on your part, up to and including additional deposits, because you know you will have to give up some money eventually if you want to use this "free" tool.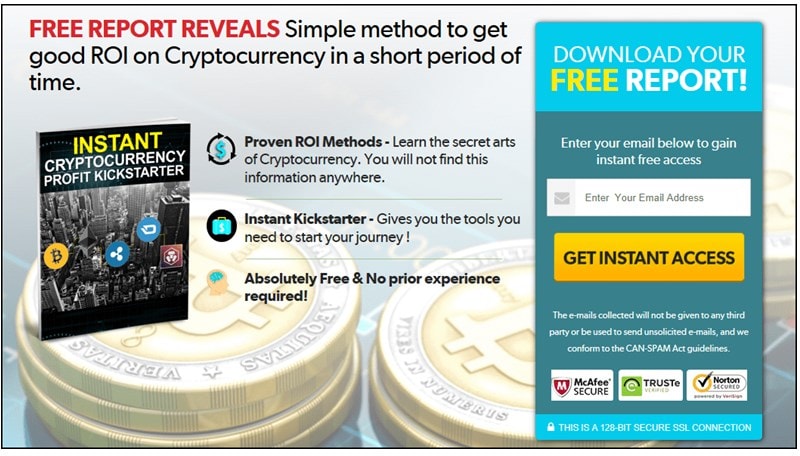 The website offers a few links to helpful information and believe me it is helpful. Fully. First is the "Research". This turned out to be a blog and very poor one at that. Not only was it under construction it only had one post so what good is it? The contact page link sent me to a support ticket at a website called clickpublishers.com which turned out to be a dead-end blank page with over 25,000 hits in the last month (it's only been getting traffic a month, I bet you can't guess how long the cryptocurrencyinstitute.org has been getting traffic).
The very worst thing I found was this, in the terms and conditions. They say that their website and product, the Cryptocurrency Codex, is intended to offer advice on relationships and dating. Let that sink in a minute. Relationships and dating, nothing about trading and if you read on they are entirely written for a dating site, not a trading site.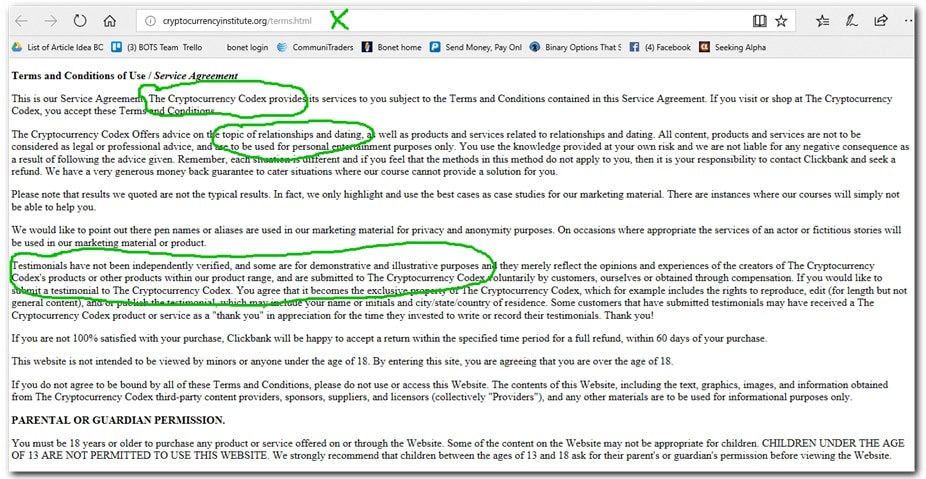 Why The Cryptocurrency Institute Might Suck
They might suck because they have nothing to do with trading? Or they might suck because they want to hook you up with an online date?
Why The Cryptocurrency Institute Might Not Suck
You might meet your soul mate, who knows?
Is The CryptocurrencyInstitute.org A Scam?
They may not be a scam but they are definitely not a trading website. They might be a dating website but I know for sure that it is a bad website whatever it is. Like I said before, I never gave them my email or tried to do their "free" download because I'm scared of them. I don't want them to install anything on my computer, I suspect they are cryptocurrency pirates who'll hijack my machine and use my valuable computing power to mine cryptocurrency. I need that power to run my charts so I can trade.