We've spent what feels like ages trying to find a profitable auto-trading robot… you know, that thing where you simply press a few buttons and software makes you rich without much effort from your part. But robot after robot, they all proved to be either scam or simply a gimmick designed to make you deposit with a certain broker. Either way, they all failed to do what they promised…
Thus, it's probably time for a new approach: to look for some sort of auto-trading feature provided by a well-known and well-respected online broker. Can we find something like that?
Yes: eToro CopyTrader!! This is not your regular "robot", because you will copy other traders' actions, but it's all automated, so after setting a few things up, it will feel like a robot, trading without much interference from you. Let's get to know more about it, shall we?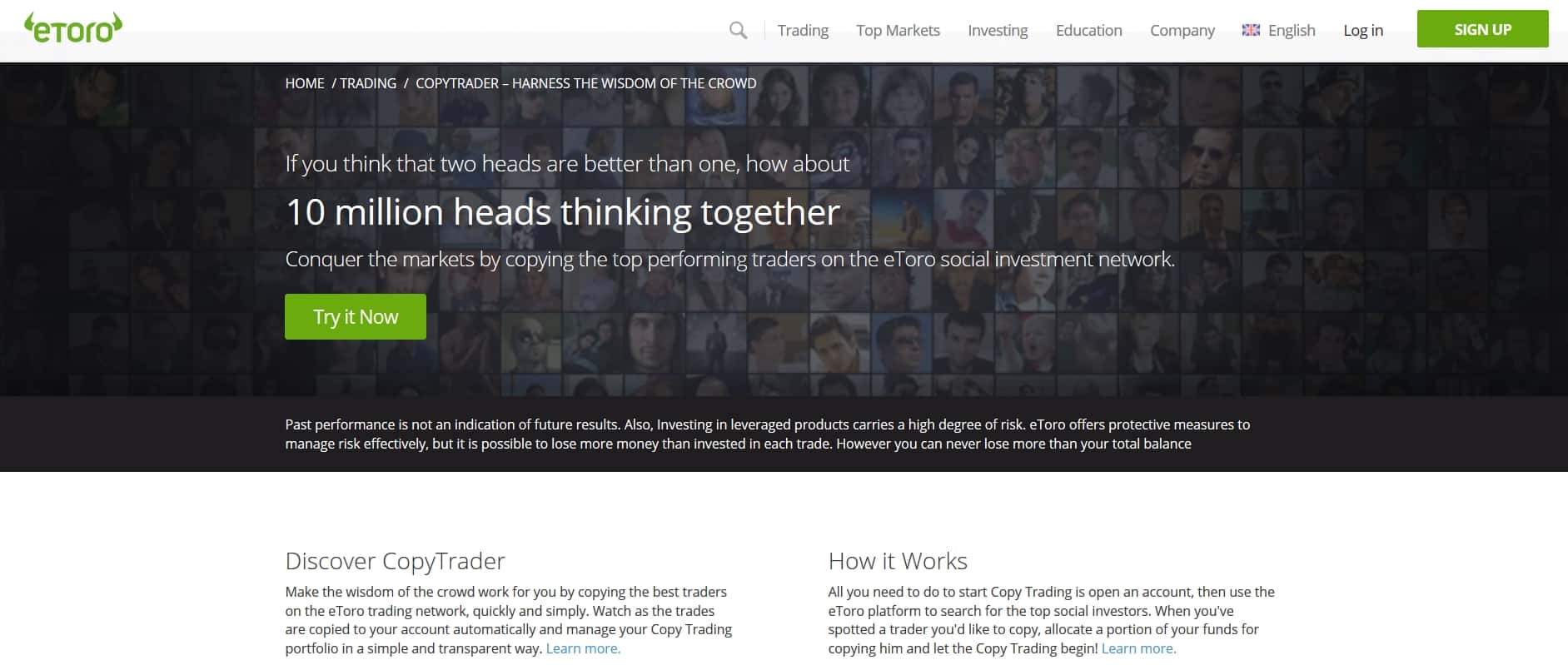 What is eToro CopyTrader?
eToro is one of the first major brokers to offer copy trading features and because they've been doing it for so long, they've had time to fine-tune it, which is one of the reasons why it works so smooth and why currently eToro's CopyTrader is regarded as the best one available.
So, what is it? It's a tool to copy other traders, just how the name suggests and the big, obvious difference between it and a robot is that you will rely on people's trading skills, not on some algorithm. On one hand, an algorithm will perform the same always, with no emotions involved, while people can have bad days and if the trader you are copying is having one of those, it will directly affect your balance.
On the other hand, we haven't found any algorithms or robots with a positive track record, but there are plenty of profitable traders on eToro's CopyTrader. So take your pick: man or machine.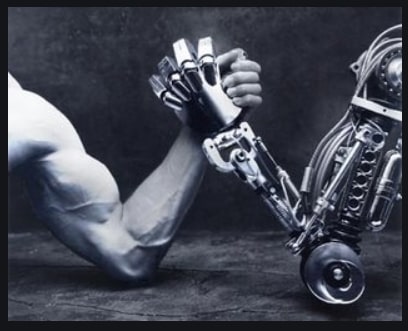 How to Use eToro CopyTrader?
To start using the CopyTrader, you will have to open an account with eToro and go through the verification process (if you just want to see the stats of different traders, you can use a Demo account). Once you've done that, you can choose the traders you want to copy, decide how much you want to invest, and then copy their trades automatically. The minimum amount to invest in any copied trader is 200 USD, but the minimum trade is 1 USD, which allows you to manage risk.
The maximum number of traders that you can copy at once is 100 and the maximum investment in one trader is 2,000,000 USD, so it's needless to say that if you have deep pockets, you can really invest big at eToro. Of course, that kind of investment is not for everyone and in fact, you should be very careful when investing any sum. But to help you with the decision, eToro offers extensive stats of the users available to be copied: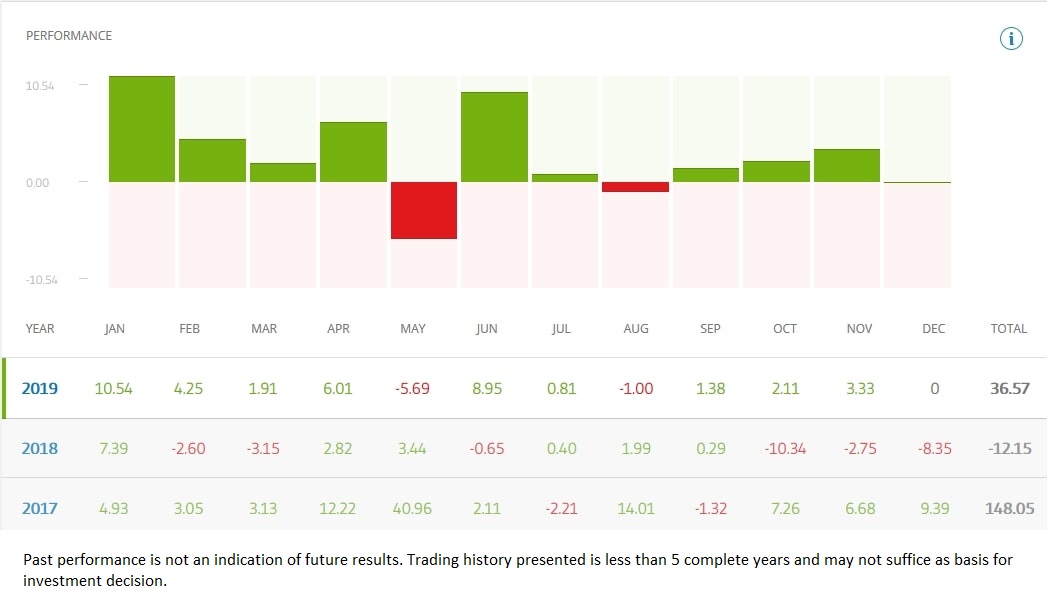 The picture above shows three years' worth of data but you can choose to display their entire track record (since they first registered with eToro). Apart from this general Profit and Loss chart, you can see the maximum drawdown of the user, as well as the number of the traders already copying him/her and the AUM (Assets Under Management), which tells a lot about the trader's performance: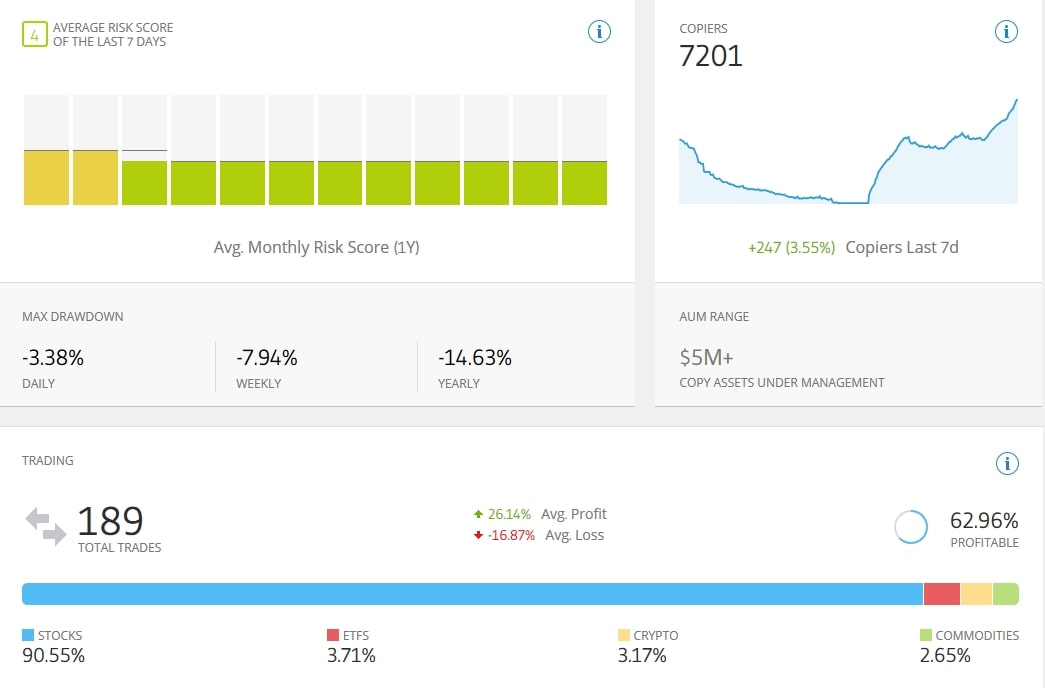 CopyTrader Main Features
You have several choices to make when starting to copy a trader and we will briefly explain what you need to know so you can successfully start investing:
Copy All Trades
If you choose this option, you will copy the trades that are already open on the copied trader's account, as well as any new trades he/she opens from the moment you started copying. There are several things you need to know about this feature:
The existing positions will be opened on your account at the price (market rate) available at the time of copying, not at the price the copied trader opened them
The Stop Loss and Take Profit will be the same as the copied trader's (as the original trade)
If the market for one of the trades is closed when you start copying, a Market Order will be created and the trade will be opened at the first available price when the market for that asset opens
All future actions taken by the copied trader will be mirrored on the copier's account (including any changes made to SL and TP)
Copy Only New Trades
As the name suggests, this option will only copy new trades of the copied trader, from the moment you've started to copy him/her. A few things you need to know:
New trades will be opened at the same market price as the copied trader's
The trades will have the same Stop Loss (SL) and Take Profit (TP) as the ones of the copied trader
Changes in SL and TP value will also be mirrored on your account
If the copied trader closes a trade, it will also be automatically closed on your account.
Copy Stop-Loss (CSL)
This is probably the most important risk management tool: the CSL will fully stop a copy relationship with a trader when the loss reaches a certain percentage, defined by you. This next scenario was one of my biggest fears with copy trading: let's assume the copied trader sets a normal Stop Loss, which is automatically copied on my trade. I see it and I can accept that potential loss. But obviously my eyes are not glued to the screen because I am not watching charts all day if I am copy trading, so what if that trader decides to widen said Stop Loss in the middle of the night? It can blow my account!!
The perfect "shield" against this scenario is eToro's Copy Stop-Loss. It is by default set at 40% of your copy value per copy relationship but can be changed to any value between 5% and 95%. Thus, if you allotted 1,000 USD to a trader and the CSL is set to 40% (meaning 400 USD), when your equity is reduced to 400 USD, the entire copy relationship with that trader will be terminated and the remaining 400 USD returned to your balance. Of course, all other trades from that "relationship" will be closed.
Pause Copy
This neat little feature allows you to stop copying the trades of a trader, without terminating the entire copy relationship with that trader. It is self-explanatory and there are no extra tips and tricks I can give you. Hit Pause, you won't copy any new trades; hit it again and you start copying the trader again. For the trades opened before you've hit Pause, the SL, TP and close actions will be replicated on your account.
Wrapping It Up – Should You Use eToro CopyTrader?
There are several things that I like a lot about eToro's CopyTrader. The detailed trader stats are a great addition because being able to see a trader's entire performance history is reassuring (a trader with 5 years in the green is surely not a lucky trader but a skilled one).
Then there's the Copy Stop-Loss feature, which allows solid risk management, then there's the option to divide your investment between several traders, and then there's the eToro name, which is one of the biggest in the business. There are lots of brokers who offer copy/social trading but to be honest, some are missing even the most basic of features, such as a performance history of the trader you are copying.
So all in all, if you've been spending time and money on all those robots that promise $10K per day, you better stop and give eToro's CopyTrader a closer look. And if you're looking for fully automated trading, this is exactly that because after deciding who to copy and setting up a few things, you won't have to do anything else, unless you want to trade on your own of course. As always, be careful, invest small in the beginning and always use risk management tools.
Approved System!
eToro CopyTrader is the most trusted copy trading system in the world since 2017.
Register with eToro
and start copying the best traders in the world!
eToro is a multi-asset platform which offers both investing in stocks and cryptoassets, as well as trading CFDs.

Please note that CFDs are complex instruments and come with a high risk of losing money rapidly due to leverage. 68% of retail investor accounts lose money when trading CFDs with this provider. You should consider whether you understand how CFDs work, and whether you can afford to take the high risk of losing your money.

Past performance is not an indication of future results. Trading history presented is less than 5 complete years and may not suffice as basis for investment decision.

Copy trading is a portfolio management service, provided by eToro (Europe) Ltd., which is authorised and regulated by the Cyprus Securities and Exchange Commission.

Cryptoasset investing is unregulated in some EU countries and the UK. No consumer protection. Your capital is at risk.

eToro USA LLC does not offer CFDs and makes no representation and assumes no liability as to the accuracy or completeness of the content of this publication, which has been prepared by our partner utilizing publicly available non-entity specific information about eToro.