NetDania ChartStation – A Great Tool for All Traders
Many… many years ago when I first started sniffing around this magical world of trading I stumbled on an "exquisite" Forex broker who didn't even have the decency to provide me with a visual representation of price movement. I soon had the feeling that I was trading blindfolded and that I would have better chances following a coin tossing strategy. So I did some research, asked around and found something called NetDania which would forever change my charting standards.
What is NetDania and What can it do for You
I'm sure that by now you all know what a terrible pain in the a$$ are the charts provided by most brokers, I know Binary Options are meant to be very simple but representing price action with a silly line and no possibility of conducting proper technical analysis is just disrespectful in my opinion. What can I do – you might ask. Well… you get inventive and find a free to use charting package, one of them is MetaTrader which is a downloadable platform,  but there are also web-based charting platforms like ChartStation. This platform is provided by NetDania, a company from Denmark that has been around since 1999 and offers all sorts of web applications like charting and live price streaming. To play around on ChartStation you'll have to go to their website (netdania.com) and create a user account with them, of course you can skip this part and see what they have to offer without having an account but you will not have all the charting options available like creating multiple workspaces, saving your templates, setting alerts and more.
How to use NetDania ChartStation
To open ChartStation you'll have to follow these easy steps:
Go to NetDania's Website – Here.
on the main page you should click on the "Products" tab and on your left side you'll find under Web Applications a ChartStation button which will open your charts. To have a larger view of these charts you'll have to click on the small pin button located on the upper right corner of your chart window. Observe the picture below:

Once you have ChartStation in full-screen mode you will see that it has all sorts of options ranging from instruments, chart type, time scale, studies (just another term for indicators) to language settings and design of the window.

To add a new chart simply go to Instruments tab and a drop list will appear with lots of options to choose from: currency pairs, precious metals, indices, and shares. A workspace can have up to 10 charts but if you have an account on NetDania you can create as many workspaces as you like.

To apply indicators you'll have to click on Studies tab and choose from the pop-up window your favorite tools. Let's say you would like to add MACD(12,26,9) on a chart, you will have to search for it in the "Add new Study" list, adjust its settings and hit the "Add" button.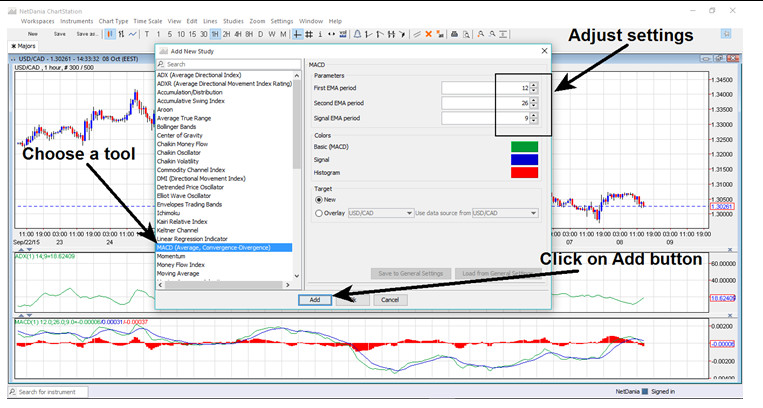 If you are familiar with other charting platforms you'll have no problem figuring this one out as it runs on the same principles as all the others. Just spend a couple of hours playing around with it and you'll get the hang of it.
Why ChartStation doesn't Suck?
Well… first of all it's free to use so that's the biggest plus, it really is helpful to trade Binary Options with proper charts set in front of you. Second, ChartStation has some cool features that you should definitely check out: on the same chart you can overlay two instruments, you can set alerts to be sent to your e-mail address and you constantly receive notifications of important economic events displayed directly on chart.
Why ChartStation Sucks?
Due to Exchange policies for some instruments, NetDania is not allowed to display real-time rates on open websites or within their mobile apps so they will have a delay of 5 to 15 minutes depending on the instrument. But don't worry when you choose an instrument it will inform you if it's delayed or real-time. Another relatively important aspect to mention is that ChartStation does not load on Chrome, but there are plenty of browsers out there that still support Java plugins.
The Overall Conclusion: Is it Helpful?
The answer is: Yes, definitely! If you do not have by now a proper charting platform you should check all the available options out there and choose the one you like best, I cannot emphasize enough the importance of having such a helpful trading tool in your arsenal. Hopefully, as time passes this type of charting platform will become a standard for all Binary Options brokers out there.