GreenFields Capital is a non-regulated broker operated by Premium Peak Ltd. They offer Binary Options, Cryptocurrency trading, and FX/CFD. They have a registered address at 78 York Street, London, UK which is a virtual office and their operations are located in Metro Plaza, Viru vajak 2 Tallinn, Estonia. They claim to be in the process of getting regulated according to their chat but we have reasons to believe this is not true.
Is GreenFields Capital a Scam?
GreenFields Capital came to our attention through various autotrader and robot scam reviews so it's easy to form a bad first opinion about them. They frequently show up as one of the "trusted brokers" to sign up for many scams. For example: "FinTech Limited" and "Binary Option Auto Trading", OptionRobotPro and iBinaryRobot just to name few. This alone screams SCAM.
Another fact to bear in mind is the lack of regulation and the existent of bonuses that will cancel your withdrawal attempts. Interestingly, under the bonus terms, it is written that a withdrawal will be accepted for a fee if the bonus terms are not met. However, under the withdrawal policy, it is stated that you may NOT withdraw if the bonus terms are not met. This is also a red flag as you cannot be sure which rule that really applies on your bonuses.
Editor's Note – Why DOESN'T GreenFields Capital Suck in 50 Words
I like the fact that there was a live chat available, this is always a plus. Even though in this case they did not begin honest about the process of getting regulated. There is not much special here but the asset list is pretty big, "more than 200 popular assets".
Why Does GreenFields Capital Suck in 50 Words
They suck because they are not regulated, they also provide contradicting information on their website and they cooperate with robot scams to get clients. The website and their platform is nothing special at all. In fact, they look like yet another simple white label SpotOption broker ready to trap you with their bonuses and account managers.
Should I Open an Account with GreenFields Capital
This broker is not regulated and is known to be affiliated with robot scams. The short and plain answer is: no, you should select a regulated broker with a good reputation. But let's dig deeper here, the bonuses is something I wish to address first. Interestingly as mentioned above there are two statement: you can withdraw if you have a bonus if you pay a "fine" but also that you cannot withdraw if you have bonuses. Apparently, this could be something that your account managers get to decide. It already sounds like a bad deal.
Another thing I don't like is their dormant account policy. Normally, most brokers have one but at least they give you 3 to 6 months or even a year before you are declared dormant and the fee is applied. Not in the case of GreenFields Capital. Your account is considered dormant only after 45 days! And the fee is rather large, 49.90 dollars or equal to what other currency you have selected. And the month after another 49.90 is charged!
Regarding the platform, if this was 2 years ago, we could say that this is a pretty good and standard type of platform: SpotOption. But in today's competitive industry of brokers, that would be like comparing an old analog phone to the latest Iphone or Samsung smartphones. There are many proprietary platforms offered by fully regulated brokers that come with exciting futures. This makes GreenFields look like even more like a standard white label.
Notice that there is a firm called GreenField Capital which is regulated by the FCA in UK they work with loans and other financial services. Do not confuse this regulated firm with GreenFields Capital, the unregulated Binary Options broker. It is not unusual that scam firms adopt names sounding like legit businesses, it's called cloning.
We recently reviewed PlusOption and it can't be a coincidence that the terms and conditions of this broker are exactly word for word a copy of GreenFields Capital. The only difference is that PlusOption replaces the name GreenFields Capital. This broker also showed up during our scam reviews and has a bad reputation. But, here is where things get really interesting! While checking under their bonus policy, apparently they forgot to replace Greenfields Capital with PlusOption! The support over at PlusOption denied knowing about GreenFields Capital despite their own terms and conditions including the name. The whole thing looks really fishy. Either both brokers are connected or one copied the other. Nevertheless, none of them are trusted or reputable brokers.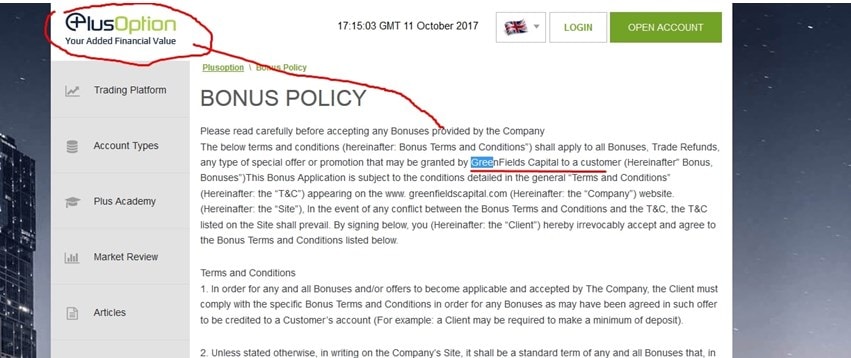 Overall, the broker does not seem too serious. The Market News page, for example, leads to a 404 error and the once a week webinar is scheduled for the last week of the month so it's not really a weekly webinar at all. Finally, we can also take a look at user reviews, see the section "Complaints" right below!
GreenFields Capital Complaints
A good way of finding out how the broker takes care of their customers is to read client reviews. Further research led us to a few unlucky traders who were trapped through bonuses or had been waiting for months for their withdrawals to get approved. There are not that many comments on this broker yet and it could be because they are not that big. The few ones that we could find all point to them operating as a scam broker.
GreenFields Capital Bonuses
The bonuses require a turnover of (deposit+bonus) amount times 30. If the bonus terms are not reached, you may not be able to withdraw. There is a bonus calculator on their website where you can see how much you can get but it's fixed to 50%.
GreenFields Capital Withdrawals
Withdrawals may take 7-10 business days and minimum through wire is 100$. There are only two methods available for withdrawals: C.C and Wire Transfer. Notice that if you have not made any trades and wish to withdraw, a 10% fee may apply.
GreenFields Capital Ratings
User Friendliness 12/20
The website comes in one language only, English. It is fairly user-friendly though as it is a simple SpotOption platform easy to understand. You find info easily on the various account types and FAQ. Although as I mentioned you may find some contradicting terms and conditions when you check different places.

No. of Assets and Expiry time 14/20
The asset list is pretty large at 200 including Binary Option,s FX/CFD but also Crypto Currencies. There is: pairs, one touch, ladder long term, short term and regular high/low binary options. Expiry times are standard SpotOption style, 15, 30mins, one hour and longer.

Commissions, Support and Effective Return 12/20
The live chat was available which is a plus but they were not being straight about their regulation, saying they were in the process of getting regulated but would not mention through which regulator which is strange but also the fact that they use bonus traps means they are not playing by the rules and therefore, we could assume the support is not honest. There is a very big dormant account fee of 49.9 only after 45 days of inactivity which is worse than many other brokers and on the subsequent month you will be charged the same amount again! If you do not trade at all and wish to withdraw, you will be charged 10% on your deposit. The returns for Binary Options can go as high as 81%.

Deposit, Payment and Bonus 12/20
Minimum withdrawal via Wire is 100$ and only C.C and wire is accepted for withdrawals. Wire deposit will cost 25$. For deposits, you can choose C.C, Wire, E-Wallets and Western Union. E-Wallets are: Skrill, Neteller and Webmoney. Bonuses are given up to 50% of your total deposit and are bound to terms and conditions which require your (deposit+bonus)x30 times. If you have not met the terms, you may not be able to withdraw your deposit.

Website Extra's 10/20
Nothing special.
GreenFields Capital Overall Rating: 57/100
WARNING!
This broker is rated below average among our members and staff. Start your trading career with a
Top Rated Broker Now!