GreenFields Capital Review
Why DOESN'T GreenFields Capital Suck in 50 Words
I like the fact that there was a live chat available, this is always a plus. Even though in this case they were not being honest about the process of getting regulated. There is not much special here but the asset list is pretty big, "more than 200 popular assets".
Why Does GreenFields Capital Suck in 50 Words
They suck because they are not regulated, they also provide contradicting information on their website and they cooperate with robot scams to get clients. More and more "Get rich quick" scams are being reported as being GreenFields Capital's affiliates – for example as seen below in the comment section.
Is GreenFields Capital a Scam?
GreenFields Capital came to our attention through various autotrader and robot scam reviews so it's easy to form a bad first opinion about them. They frequently show up as one of the "trusted brokers" to sign up for many scams. For example: "FinTech Limited" and "Binary Option Auto Trading", OptionRobotPro, and iBinaryRobot just to name a few. This alone screams SCAM.
Another fact to bear in mind is the lack of regulation and the existent of bonuses that will cancel your withdrawal attempts. Interestingly, under the bonus terms, it is written that a withdrawal will be accepted for a fee if the bonus terms are not met. However, under the withdrawal policy, it is stated that you may NOT withdraw if the bonus terms are not met. This is also a red flag as you cannot be sure which rule really applies to your bonuses.
Another big red flag is that, despite the recent name change of their owners, from Premium Peak ltd to KINTEKA and also despite the new address – relocation from UK to Estonia, they have already been warned by the Estonian authority, fi.ee as explained further below!
Should I Open an Account with GreenFields Capital
GreenFields Capital is a non-regulated broker operated by KINTEKA. GreenFields Capital was operated by Premium Peak Ltd until recently. The name and address change comes soon after being warned by the UK authority; FCA. The broker offers Cryptocurrency trading and CFD. They have a registered address on the 5th Floor, office # 71 on 9th Joe St. Tallinn, Estonia which is a virtual office. They claim to be in the process of getting regulated according to their chat but we have reasons to believe this is not true. Their phone number, however, is not Estonian but rather a UK number: +442036080844.
This broker is not regulated and is known to be affiliated with robot scams. The short and plain answer is: no, you should select a regulated broker with a good reputation. But let's dig deeper here, the bonuses are something I wish to address first. Interestingly as mentioned above there are two statements: you can withdraw if you have a bonus if you pay a "fine" but also that you cannot withdraw if you have bonuses. Apparently, this could be something that your account managers get to decide. It already sounds like a bad deal. But perhaps the craziest part is the volume you need to generate before you can withdraw! This is what GreenFields Capital's Bonus Policy states:
"Net Deposits * 50,000 = Trade Contract"
For example, if you deposit 1000 dollars, you need to trade a volume of 50 MILLION dollars before you get to withdraw… Yeah, good luck getting your money out. That means you really need to trade huge positions and risk very much of your portfolio to ever come anywhere near the required volume. Obviously, this says one thing: this policy is meant to stop you from ever withdrawing. Normally, brokers want you to generate 30x, 40x or 50x your deposit + bonus amount – just to put it in perspective.
Another thing I don't like is their dormant account policy. Normally, most brokers have one but at least they give you 3 to 6 months or even a year before you are declared dormant and the fee is applied. Not in the case of GreenFields Capital. Your account is considered dormant only after 45 days! And the fee is rather large, 49.90 dollars or equal to what other currency you have selected. And the month after another 49.90 is charged!
Another thing I don't like is their dormant account policy. Normally, most brokers have one but at least they give you 3 to 6 months or even a year before you are declared dormant and the fee is applied. Not in the case of GreenFields Capital. Your account is considered dormant only after 30 days! And the fee is rather large, 49.90 dollars or equal to what other currency you have selected. And the month after another 99$ is charged! In addition, you will keep getting charged every 30 days and the fees may change at any time.
Regarding the platform, Greenfields have upgraded their platform since they switched from Binary Options to CFDs and Cryptocurrencies. They are still using SpotOption but their new Spot5 CFD style. The platform looks pretty nice but a lot of former Binary Options brokers use this platform as well to offer CFDs so it's nothing unique for GreenFields.
Notice that there is a firm called GreenField Capital which is regulated by the FCA in the UK they work with loans and other financial services. Do not confuse this regulated firm with GreenFields Capital, the unregulated Crypto, and CFD broker. It is not unusual that scam firms adopt names sounding like legit businesses, it's called cloning.
We recently reviewed PlusOption and it can't be a coincidence that the terms and conditions of this broker are exact words for word a copy of GreenFields Capital. The only difference is that PlusOption replaces the name GreenFields Capital. This broker also showed up during our scam reviews and has a bad reputation. But, here is where things get really interesting! While checking under their bonus policy, apparently they forgot to replace Greenfields Capital with PlusOption! The support over at PlusOption denied knowing about GreenFields Capital despite their own terms and conditions including the name. The whole thing looks really fishy. Either both brokers are connected or one copied the other. Nevertheless, none of them are trusted or reputable brokers. Both firms have also been warned by FCA.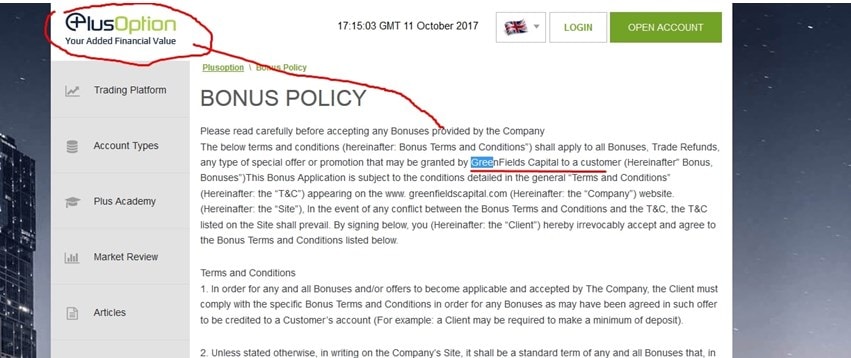 Some efforts have been made to make the website more modern since we last checked but they seem even less serious than before. For example, they use a stock photo of a person taken off the internet and call him "Jonathan Klein" which they claim is their analyst. What a joke… with a simple Google search, you can see that it's all fake. There is no Jonathan Klein and the image is fake.

The more you look into their website, the worse things get:
"GreenFields Capital's team of brokers is at your service for you to make the most informed trading decisions and to help you optimize your portfolio."
This happens to be their disclaimer and risk warning. Compare this to any other financial service or broker and you will most likely find something in the lines of "you may lose all your money and there is a conflict of interest between the client and the broker" or "we don't provide any financial advice due to conflict of interest". Therefore, what they are telling you is nonsense. They would not help you make informed trading decisions as you and the broker are in a conflict of interest… what were they thinking?
GreenFields Capital Complaints
A good way of finding out how the broker takes care of their customers is to read client reviews. Further research led us to a few unlucky traders who were trapped through bonuses or had been waiting for months for their withdrawals to get approved. The number of complaints on this broker has been increasing. Just scroll down for example and see the reviews from some of their clients. There are many more complaints with horrible stories to tell on Trustpilot but also other review sites. Overall, the stories are similar, most of them starting with a fake ad about a robot or another easy way of making money which leads people to GreenFields Capital where they lose thousands of dollars.
ExpertOption Regulatory Announcements and Warnings
2018.04.18 FCA warns against GreenFields Capital and Premium Peak Ltd (former name of the owners) source: FCA.org.uk
2018.04.06 CNB, Czech National Bank warns against dealing with GreenFields Capital. Source: cnb.cz
29.01.2018 The Estonian regulator fi.ee (GreenFields is registered in Estonia) warned against dealing with GreenFields Capital. Source: fi.ee
GreenFields Capital Bonuses
The bonuses require a turnover of (deposit x 50,000) which is a very huge turnover. Even a 100 dollar deposit would require a 5000 000 turnover which is unlike anything is ever seen before and would force the trader into huge positions in order to ever manage to come near this big turnover! If the bonus terms are not reached, you may not be able to withdraw. In addition, you cannot withdraw your deposit unless you have cleared this huge turnover.
GreenFields Capital Withdrawals
Withdrawals may take 7-10 business days and the minimum through wire transfer is 100$. There are only two methods available for withdrawals: C.C and Wire Transfer. Notice that if you have not made any trades and wish to withdraw, a 10% fee may apply.
GreenFields Capital Ratings
User Friendliness 12/20
The website comes in one language only, English. It is fairly user-friendly though as it is a simple SpotOption platform easy to understand. You find info easily on the various account types and FAQ but they have removed the fund requirements for each account type which means they can milk you out of as much as they like to upgrade you.
Range Of Markets, Spreads, And Leverage 10/20
The asset list is pretty large at 200 including CFD but also Crypto Currencies. The leverage and spreads differ from asset to asset but also on volatility (time of day). Examples of leverages you can select are 1:2 and 1:3.
Commissions, Support, and Effective Return 10/20
The live chat was available which is a plus but they were not being straight about their regulation, saying they were in the process of getting regulated but would not mention through which regulator which is strange but also the fact that they use bonus traps means they are not playing by the rules and therefore, we could assume the support is not honest. There is a very big dormant account fee of 49.9 only after 30 days of inactivity which is worse than many other brokers and on the subsequent month, you will be charged a bigger amount, 99$ again and every thereafter! If you do not trade at all and wish to withdraw, you will be charged 10% on your deposit.
Deposit, Payment, and Bonus 10/20
Minimum withdrawal via Wire is 100$ and only C.C and wire is accepted for withdrawals. Wire deposit will cost 25$. For deposits, you can choose C.C, Wire, E-Wallets, and Western Union. E-Wallets are Skrill, Neteller, and Webmoney. Bonuses are given but the amounts are not mentioned on the website and they are bound by terms and conditions which require 50,000 times the amount of the bonuses. It is calculated as Net Deposit x 50,000. If you have not met the terms, you may not be able to withdraw your deposit.
Website Extra's 5/20
Nothing special.
GreenFields Capital Overall Rating: 47/100
WARNING!
This broker is rated below average among our members and staff. Start your trading career with a
Top Rated Broker Now!