Approved for Advanced Traders
Bollinger Band© Scalp – Lightning Fast Profits for Binary Options Traders?
Some currency pairs are so cool that they received nicknames; Ok, maybe not because of their coolness but anyway, it's a fact they have nicknames. I'm not gonna go into details about each currency's nickname but I am going to tell you that the most "terrifying" one belongs to the GBP/JPY: The Beast or The Dragon. What would earn it such a name, you ask? The answer is simple and clear: Volatility! You could say it moves like a Beast and bites like a Dragon and with an average daily range between 100 and 200 pips, it can sink an account faster than you can say "I'm broke" but it can also double it in a matter of days. In other words: it is not recommended for newbies! But the good part is that trading Binary options on this pair makes it smoother and somewhat easier to trade because we don't use a Stop Loss which would be pretty big in Forex because of the pair's volatility. However, it still remains a dangerous but attractive pair and today's strategy attempts to "tame" the Beast by making use of a short time frame to scalp. Yes, I know there is an increased interest among Binary Options traders for short expiry times so here's a 1 minute scalping strategy for the Dragon:
How to use the Bollinger Band Scalp Strategy?
I first found this strategy at forexstrategiesresources.com but the author is unknown… or I failed to see his name and if that's the case, I apologize for not giving him credit. Now for the strategy itself: we will use three Bollinger Bands with the following settings:
Bollinger Bands 1: period 50, deviation 2 – Red
Bollinger Bands 2: period 50, deviation 3 – Orange
Bollinger bands 3: period 50, deviation 4 – Yellow
Each Bollinger Band will be added separately, using the settings above and the result will be similar to the chart below: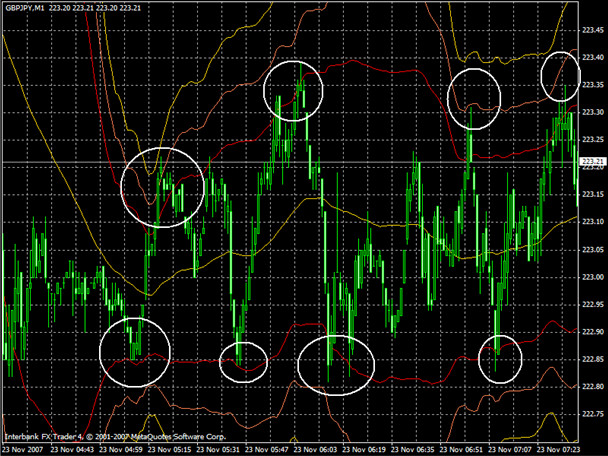 Now we will be looking for a touch and break of the Red Bollinger Band and for price to go at least half way between the Red and Orange outer Bands. The author indicates that a touch of the Yellow band would be even better but this happens less frequent. Once this condition is met, we trade in the opposite direction, aiming for a reversal which would bring us a profit. Here is a summary of the rules:
Put Entry:
Price pierces the Upper Red Bollinger Band and goes at least half way to the Upper Orange Band
Call Entry:
Price pierces the Lower Red Bollinger Band and goes at least half way to the Lower Orange Band
Why does the Bollinger Band Scalp Strategy Suck?
As you already noticed this is a pure counter trend strategy. In fact, it totally disregards trends and has no filters for identifying a strong more or a trend. This, coupled with the high volatility of the Beast will make it an account killer during strong trending periods, especially if it is used by a newbie who doesn't know how to identify a trend. The picture above shows a ranging market and the signals produced are very good and would produce In the Money trades if u would use a 5 minute expiry (remember the strategy uses 1 minute chart for entries).
Why the Bollinger Band Scalp Strategy doesn't Suck?
If the trader can identify a ranging market or at least one that isn't trending very strong, the results using this strategy could be astounding. In a ranging market price will play ping pong between the Bollinger Bands and that's when quick money will be made trading against the latest move. One thing to note is that a one minute chart is full of noise and trends are rarely seen here. That's exactly what this strategy capitalizes on: market noise. As long as price won't move in single direction for an extended period of time, money will probably be made with this strategy. Although normally the expiry time should be longer than the time frame of the chart you're watching for signals, some of you might want to experiment with 60 seconds options. I don't recommend it but… maybe it will work.
Wrapping it up – Is the Beast Tamed?
I think a lot of a strategy's success depends on the trader who uses it. And this applies to the Bollinger Band Scalp strategy as well: if the trader can determine whether the market is trending or ranging, that will make the difference between a blown account and big bucks in the pockets. Probably the fact that it uses the 1 minute time frame which is characterized by a lot of noise and sharp reversals makes it better, but everybody who wants to use it should test it first. Of course, that's just my opinion and if you feel like using it without testing it… good luck! You're gonna need it!