The Crypto Genius, an autotrading leveraged CFD's with guaranteed profits, is pretty cool at first sight. However, the service is run by a guy whose name I think is Chris but there isn't really any information on that. There are quite a few testimonials but after I found the first couple of actors on Fiverr I gave that up. The good news is it isn't a binary options scam, they send you to a CFD broker, but that doesn't mean there isn't something fishy going on here.
What is the Crypto Genius?
The Crypto Genius is a cryptocurrency autotrader guaranteed to make you $5,900 per day. The service uses secrets known and used by the mega-rich, men like Mark Cuban who by the way does not endorse this product. It is a risk-free beta test but that's really about all I can say, there is absolutely nothing on the website but marketing materials and the platform is as barren of information as any wasteland.
One reason why it may be good is that more than 250 people were on the site while I was there. That's right, they let you know how many people are lining up to take one of the last 19,18,17,16 spots left. I will say that they do get quite a bit of traffic but I am sure that is because of SEO and affiliate sales funnels, not because the product is worth a damn.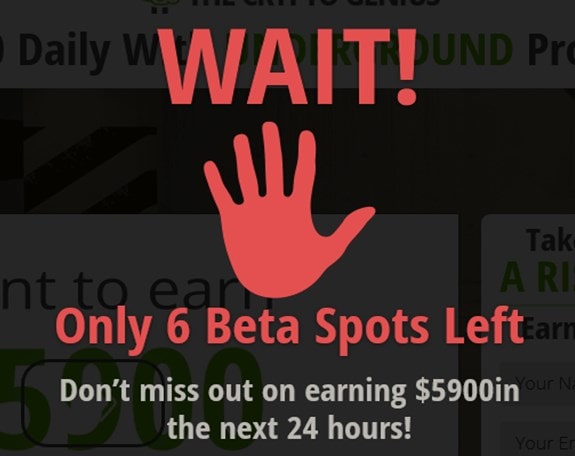 According to SimilarWeb they got over 180,000 unique visitors in the first month of 2018, up to a stunning 471,989.00% from the previous month, so there are people looking at what they have to offer. Based on the stats I'd say that most people recognize it for the scam it is. The average visit is only a minute and the bounce rate is over 80%. Most traffic is coming from the UK and South Africa so you traders should be extra cautious.
They'll tell you they've been featured in Forbes, the BBC, and CNN Money. One of the testimonials went so far as to say it was the Forbes article that sent her to the website in the first place. This is, of course, the paid Fiverr actor, someone you know you can trust. When I went on CNN, BBC and Forbes I could find no mention of the Cryptogenius but I did surprisingly find an article about financial scams…
What Real Users Have To Say
We all know what their fake actors are saying in the so-called testimonials, but what about real users? All is not sunshine and rainbows when actual persons are talking about the software: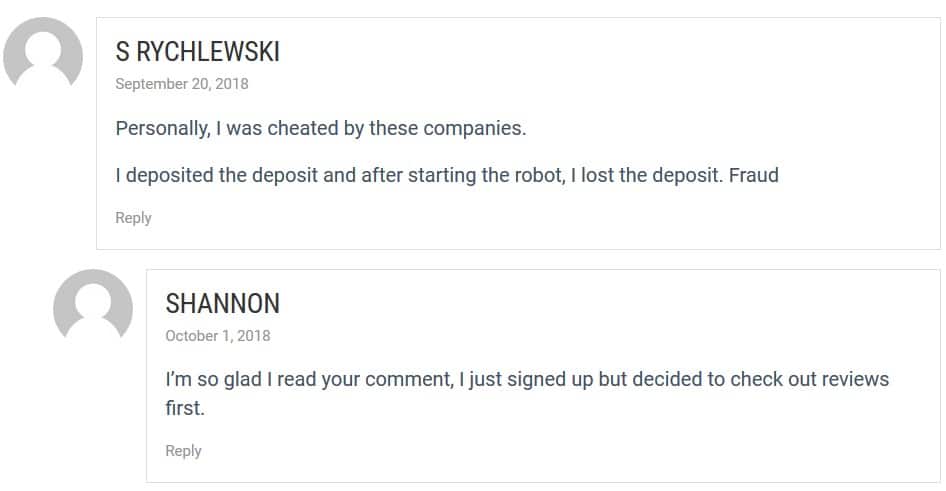 Fraud! The Crypto Genius robot is a fraud but you don't have to be a genius to see that. Unfortunately, the first guy got scammed because… well, just look at the difference between the two guys: the first one buys into the hype, deposits and then loses the deposit. The guy who replies says: "I'm so glad I read your comment… decided to check out reviews first". Yea, that's common sense! Sorry, I don't want to be condescending towards the first guy, but come on, we've been saying that you need to read reviews before investing since the Ice Age. We've been saying it and saying it but unfortunately, not everyone listens… and those who don't, pay the price.
People in our own comments section know what's up and they've just avoided being scammed because they read first:


Please be aware that "goathurder" below is being cynical. He didn't actually sell his kidney! And while this is obvious for 99% of you reading this, I am just making it clear for the rest 1%. You know, the same 1% that falls for scams like Crypto Genius and similar.

Why The CryptoGenius Might Not Suck
This might not suck because letting someone else take your hard earned money and trade it as they like it the most awesome thing in the world. Psych.
Why The CryptoGenius Might Suck
This thing might suck because it is a marketing scam. They give no information about the product, how it works or who the people are behind it and they do give the hard sell asking you for money.

Great News!
We have found a Robot that will make you so much richer in less than 30 working days!
Show me the Robot!
.
Is The CryptoGenius A Scam?
For goodness sake, do I have to spell it out for you? Y – E – S. For shizzle. Absolutely and without a doubt, this is a scam. Not only is the service an elaborate front they send you to a shady CFD broker, CryptoPoint. Cryptopoint is registered to a UK virtual office that is in turn linked to shell companies in assorted offshore banking havens. To make matters worse, and much more suspicious, when I was signing up with my fake name and phone number (the one for the Berlin police department) a logo for Banc de Binary popped up for just a sec. I barely saw it but what could this mean? Is this the people from now-defunct scam broker BdB or one of their erstwhile associates?