Addicted To The Markets: Trading Round The Clock
I'm Max, and I'm Addicted to Trading. This is My Story
It's around 10pm when I finally decide to go to sleep. My desk is clean, my trading plan for tomorrow is set and my eyes are stinging from having stared at a computer for the past 9 hours. I go to bed right about the time that the Asian markets are waking up. You guessed right, I'm Canadian.
Game Time All The Time – Sydney
3am – Buzzzz. The alarm goes off. It must be 3 in the morning. I reach to turn off my alarm and turn on my computer. The Asian markets have already been open for about 3 hours. I skim the headlines for any event risks and watch as Tokyo continues the trading session. The open was as predicted and my positions are fine. Time for a shower and breakfast. The Beige Report will be coming out at 2pm today in the United States, so I'll be checking for any market adjustments until that time (7pm over here in London).
4am – I hop in the shower while still keeping an eye on my laptop that I've I placed on my sink counter. I need to be there if Tokyo or Sydney decides to make any bold decisions. The shower passes without any major scares, except for almost slicing my neck open while shaving and watching the Japanese Yen fall by 0.5%.
The Trading Begins – Tokyo
4:30am – Patching up my battle wound from the shower, I head over to the kitchen where I keep an eye on any developments in Sydney. I keep scanning any new stories on Sydney's markets from Bloomberg on my iPad. Nothing yet. The Royal Bank of Australia is releasing its new interest rate decision in the next hour and I'm getting antsy. I placed some binary options trades on the Australian dollar yesterday in anticipation of a rate decline. I decide to make my omelet in the shape of a kangaroo to honor the Australian Gods of Finance so that they may bless me in return.
5am – I've showered and I've eaten. It's game time. My main positions are in the London and New York markets and I need to be ready when they wake up.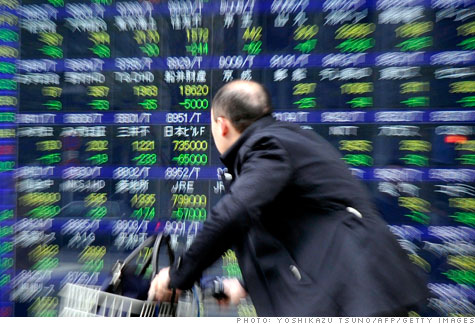 The interest rate decision in Australia comes out lower than the market had expected. My position is a winner and I cash out! Tokyo and Sydney have treated me kindly so I decide to try my skills in Europe with some new positions. The trades are placed and I have an hour to kill before the European markets open. I am pretty jacked up seeing as I already had 3 cups of coffee, but the market doesn't share my enthusiasm for action today. It's getting to be quite slow and there is a clear lack of movement, so I decide to pull up a tab and read some articles.
Time for the Real Action – Europe
6am –The articles turn into video games. I'm playing Angry Birds to pass the time during the slow period. I keep checking back periodically, but everything is as I left it. I get a new high score on Angry birds and decide to readjust my focus from my phone to my computer in anticipation of Europe coming on stage.
7am – The market doesn't open as I had expected! I act quickly to reverse my positions and manage to still make the lion's share of the move. The initial losses are mitigated from the profit I manage to grab. The open is erratic, but the dust eventually settles and a clear direction seems to have taken place. This time, in my favor. I just hope the U.S. market confirms the direction that was initiated today.
The hometown wakes up – London!
8am – An hour passes and it's England on stage! The London markets open with a bang and add more fuel to the downtrend. I can't help having a little smirk on my face. I spend a couple of hours monitoring my positions, but the real action will take place with the open of the U.S. markets so I am just making sure I am not overly exposed to anything when it happens later today.
11am – It's only 11am but I'm getting hungry. I was going to get lunch with a buddy today but we are both watching the markets in anticipation for French and German consumer data that is going to be released soon. I'm too wired on coffee to cook so I decide to order take out and get it delivered. I didn't really have time to go to lunch today anyway.
12pm – My positions are doing quite well and I'm feeling generous so I leave the delivery man his best tip of the day and then I get back to the markets. I'm eating Chinese take out watching European markets unfold. Ain't globalization grand? I've got to be ready for the open of the American markets at 1pm. So far I've been doing well, with a couple of winners and losers here and there, but the real battle awaits.
The Beast Awakens – Wall Street
1:30pm – I can almost hear the bell on Wall Street! The US markets open and a wave of liquidity and action floods the markets. My indicators are off the charts and its time to get a piece of the action. I place a couple of trades. Swing and miss. I place some more with reasonable risk-reward profiles and still no luck. Finally, I catch a good move and it's the best of the day! I finish positive, with the big winner covering all the little losses and then some.
3pm –Things cool down a bit after the first two hours of the US being online. I sit on my hands and monitoring my indicators, just waiting for some good opportunities. The time passes and the market seems to cool off from all the excitement of the American open that came out today. It's finally time for England to close up shop. Goodbye England. My indicators show that there is a trade to be taken in midcap equity, so I initiate a long call position with expiration for the end of the trading day.
The End of the Trading Day Approaches
5pm – I decide to go blow some steam off and take a jog. I mentally go over the trades of the day, seeing what I did well and what needs improvement. I talk to myself about the plan for tomorrow and where I need to readjust my overall portfolio to limit the exposure in certain markets. The people I run past are all giving me funny looks as they realize I'm talking to myself and not into a Bluetooth device.
The Big Fish
7pm – The moment I have been anticipating all day. The Beige report will make or break this trading session for me. I am expecting the data to come out positive for the US dollar and fuel the movement for my current positions. The numbers are released and immediately there is a rise in volatility. The numbers are pro-US dollar strength! The market isn't reacting the way I thought it would though. The dollar seems to have dipped a bit since the release. Moments later though, a surge of upward momentum floods the market and my position is definitely in the black! Damn it feels good to have my homework and analysis validated with some profit! A job well done.
Time For Bed
8:30pm – Most of my trades expire In-the-Money and some lose money but overall I came out a winner thanks to my accurate analysis of the US Dollar today. I log all my trades in my journal with documentation of my rationale for entering each position. It takes me about an hour to finish the logging. I go brush my teeth and I am basically falling asleep standing up. I crash onto my bed, exhausted. The day was over and I came out victorious. The life of a trader. I must get sleep for tomorrow, the timeless battle between the bulls and bears begins again!
10:15pm – Time for Bed. Zzzzzz.