Binary Robot 365 was created in 2016 and they claim it was created by professional traders who developed "a number of trading algorithms". Okay, I have no idea who these "professional traders" are because they never tell me but at least we know where the reviews are coming from. An amnesia patient named John Doe: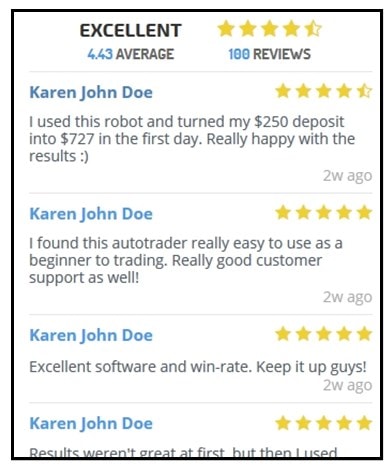 Wikipedia – John Doe/John Roe: These names are also used to refer to a corpse or hospital patient whose identity is unknown. Perhaps we turn up dead after using it? Walking dead anyone?
The AutoTrader is available for mobile and computer. Straight away I notice they claim to have an 85% win rate… well unless you scroll down a little bit then it's suddenly 83%. Not sure which one is it and over a how long period it was tested on a live market or whether it was tested at all but they say it so it must be true. I must mention that most robots claim to be that accurate but in reality, they score below 55% based on what we have experienced and I am sure this one is no different. But anyway, we must give them the benefit of the doubt, for a little while at least.
Great News!
We have found a Robot that will make you so much richer in less than 30 working days!
Show me the Robot!
.
What is the 85% Winning Binary Robot 365?
The BinaryRobot365 is a binary options auto-trader and signals platform. From what I could work out, this robot uses a list of six technical indicators: Williams, Stochastic, RSI, MACD, Williams and CCI… wait that's just five… Yeah, it seems Williams was mentioned twice on the list. Okay, perhaps a typing error, maybe it was a moving average or something? The FAQ mentions that the signals are generated via the indicators mentioned above and that they recommend the trend following strategy for beginners. It can also use Martingale and change the trade size based on the performance. However, I find no evidence for the robot is 85% successful aside from their marketing claim. On the plus side, you can get full control of your trading account by turning the AutoTrader off or disabling some or all the involved indicators. This allows you to fine-tune personal strategies.
In the FAQ and in an annoying pop-up, they mention that they offer demo accounts but surprise, surprise – once you register for a "demo", all you get is a real account and another annoying pop-up that tells you to deposit. Looking around in my newly opened account I found a list of functions that control the size of your trades, the max number of trades and the risk (Low, Medium and High). However, I could not find where to select and unselect the indicators that I mentioned earlier.
Costs and performance
The Binary Robot 365 is free, which automatically means that broker signup and deposit are required. I like that they recommend to only sign up with EU-regulated brokers but there is some confusion here. I don't see why famous scam brokers are in the mix of recommended brokers too. For example, GTOptions, OptionRally and CherryTrader to mention a few, have all been already talked about in our Scam Watch. All of them even show up as scams over and over again. However, when I signed up, I was automatically pointed to the broker Brokerz and I did not have the option to change to another one. I have to mention that I was using a VPN, which made it look like I was in The Netherlands, so maybe you will get different broker choices based on your location.
Getting back to the subject of performance: at the time of writing, Demo accounts are not available but in the past, they were, which allowed us to pseudo-test the robot. I let the robot take some 15 trades on the demo platform they offered – ranging from 5€ to 19€ in trade size. To use you can set the asset, the trade size, the expiry, the money management style, and the maximum number of trades to have open at one time. I couldn't locate an option to change what indicators are used.

After the trades were over, my balance went from 5000 to 5050€. Here is what's interesting though, this was during a weekend so the markets were actually closed. Of course, some brokers offer weekend trading based on simulated markets or based on the past week's data but this is not recommended for live trading, only demo. Looking at the results, most wins or losses are 1 pipette indifference so I can only conclude that those prices are simulated. Again, there was no such movement in the market at the moment of my trading because it was a Saturday, so it was a pseudo-test, not based on real-market data but that's all they gave us.
What Real Users Have To Say About BinaryRobot365
John confirms that users get directed to different brokers depending on their region:

He was contacted by a Greenfields Capital representative, who asked to be allowed to control John's computer remotely. Huh, what? You want access to people's computers now and when you don't get it you become upset? Well, brokers are going to new lows to get people's money. Good thing John had the common sense to deny him access.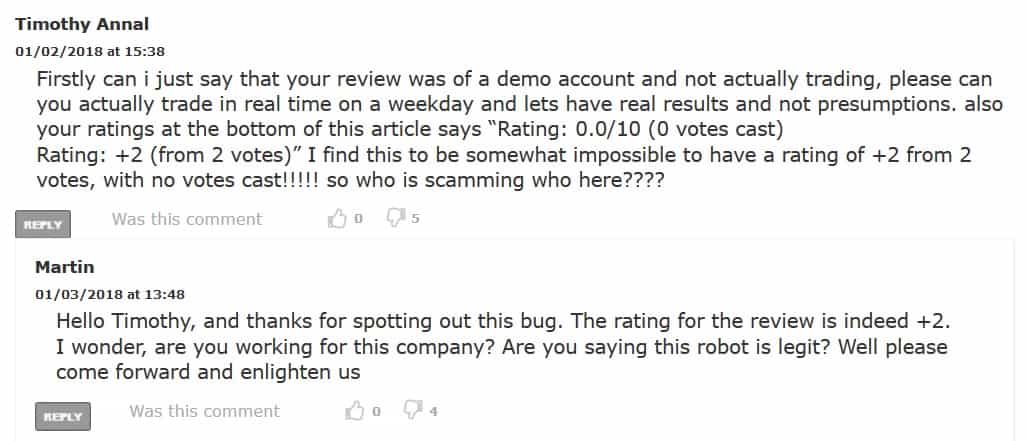 Timothy here is pretty upset… with us. He wants us to deposit our money and trade using BinaryRobot365 on a real account, not on a demo. But, Timothy, Demo accounts are supposed to use the same data as a real account i.e. actual market data, which means that we shouldn't notice any difference between Demo and Real. Why would they offer a Demo if the results are different from a Real account? Oh, wait, I know: so they can manipulate the price maybe? Because obviously they cannot manipulate the real market. How about you invest some money, document all of your trading on a Real account and come let us know how it worked out? But wait, we are not financial advisors and cannot tell you what to do with your money. Are you a financial advisor? Because you seem to advise us about our finances.
Another Robot That Sucks Or Useful Autotrader?
This autotrader claims a lot of stuff but doesn't deliver. They say you can choose your broker from a dropdown list but when I open an account I am automatically directed to a broker of their choosing, which is not regulated, by the way. They say that I can choose what indicators to use when in fact I can't – or the feature is so hidden that I wasn't able to find it. And finally, they claim you will get a 90% accuracy (or 85%, or 83%, depending on where you look) – that's winning 9 trades out of 10 – which is not happening in the real world.
Furthermore, BinaryRobot365 is a clone of another autotrading robot called Crypto Robot 365, which we've reviewed before. The two websites are carbon copies of one another, with a few names and words changed here and there. Bottom line: these autotraders are meant to make you deposit with their recommended broker so they can get paid an affiliate commission. That's the story today and that was the story always. So better stay away and keep your money safe.