With auto-trading robots, you are always one button push away from financial freedom and loads of money. And the good news – or bad, depending on how you want to look at it – is that robots are everywhere these days. You look left, there's a guy pretending to be a Money Messiah ready to give away a "secret loophole" that will make you a gazillionaire by the end of the day. You look right – you get the same promise.
We know for a fact that 99.99% of millionaire-making robots are pure scams and we hate Scam! However, we will always do our due diligence and expose them using evidence and common sense. And who knows, maybe in the process we will find that 0.01% that actually works. Is Bitcoin Evolution part of the 0.01%? Let's take a closer look.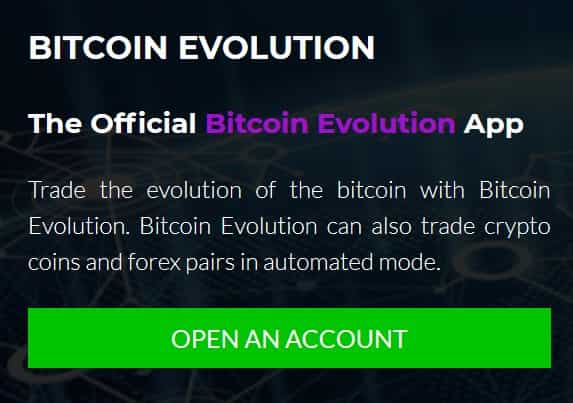 What is Bitcoin Evolution And How To Use It… Or Not
To put it in simple terms, Bitcoin Evolution is a trading robot for cryptocurrencies that can place trades for its user on autopilot but can be also used in manual mode. Well, if you use it in manual mode, it's not a "robot" per se, but let's not dwell on the obvious.
As soon as you enter their website, you will be made aware that you're dealing with the "official" app, not some fake wannabe. Great! We're gonna get some monies boys. Ok, the rest of the website is incredibly lackluster and is centered around the "evolution" of Bitcoin, but by evolution, they mean price increase since inception. It's nothing interesting, just some bla-bla about how Bitcoin was cheap and now it is expensive. Of course, this doesn't say anything about the performance of their robot but all the robot sales pages talk about Bitcoin price as if it were related to their app.
Apart from the above, all I could find were some pics of *obviously* fake trades – all winners, you know, the usual – and a FAQ section that let me know two things: Bitcoin Evolution is Free and Bitcoin Evolution can bring me unlimited profits. Yeah, bring it on! Eager to make my first million by noon, I signed up and I was redirected to Bitcoin Trader, which is an app that we've reviewed some time ago and since then we've seen it pop up all over the place under different names. So, you sign up with Bitcoin Evolution and you end up using Bitcoin Trader (not that it makes any difference, they are all useless). Also, an account with KontoFX (never heard of it) was automatically created, so keep in mind that this broker has your details if you sign up with Bitcoin Evolution – probably tons of phone calls will follow.
Now you have two options: you can trade manually on a childish platform or you can use their auto-trading feature.

I fail to see how trading manually can bring me unlimited profits unless I am a trading wiz, in which case I will not be looking for auto-traders on the net. But anyway, there's that. Oh, you also have some signals on the right-hand side, which are apparently generated by MACD, RSI and other well-known indicators but it is not clear how these work together to generate the signal. And if simply using these indicators would generate "unlimited profits" we would all be rich by now.
The second option is to use the auto trading mode, where you can set max trades, investment per trade and risk level. It's all very basic and it doesn't explain if there's an algorithm behind it or if the AutoTrader will simply open trades based on the indicators mentioned earlier.

Great News!
We have found a Robot that will make you so much richer in less than 30 working days!
Show me the Robot!
.
Is It Worth It? A Fair Warning
There you have it, Bitcoin Evolution (or should I say Bitcoin Trader) is one more entry in the long list of "Push A Button And Get Rich" list of robots. The robot lies to me even about its identity: sign up for "Evolution" and get "Trader", so how can I believe anything else they claim? I don't even know who I am dealing with: what company created the software? Where can I find them or see some of their previous projects? And I am supposed to believe I will get unlimited profits??? LOL sure, take my money. Oh wait, it's free! Please don't give me that argument because it's not free. An unregulated broker will get your deposit and good luck getting it out.
I am a bit on the edge here: when can we call something a scam? If they lie about the profits if they lie about the name if they don't give any tangible information whatsoever if they show fake trade screenshots? You tell me. But what I know for sure is that I won't be using this AutoTrader.