This Broker Ratings 5 out 5, Is that an Eye Check or a Rating?
Google Star Ratings – Not Exactly the "Most Recommended" Ratings for Brokers
Google star ratings are now available with some binary options reviews. The stars help tell which brokers are better than others. Should you trust the stars? Do they really know which brokers are right for you? Read the full story to find out more about Google stars and binary options.
Have you noticed how some of the websites listed on a Google search now have stars next to them. This is supposedly a rating system that will help searchers but may just be another source of internet junk. I bring this up because I have recently begun to see them associated with binary options broker reviews. Are we seriously supposed to believe a couple of stars make a broker (or any other website) reputable? Those stars don't appear there by themselves. They come from somewhere and somebody had to pay for it and the money probably comes from marketing.  That's the problem with so much of the content we see on the internet everyday. It's meant to make money…meaning it is an advertisement. You can't trust an advertisement to tell you anything but what it wants you to hear.
The Truth About Stars Ratings (Doesn't Really Mean Much Without A Review)
I would like to clarify a little about the Google stars, what they are and where they come from. Many of you are familiar with SEO and the process of getting your website "seen" by Google.  Google stars are part of that process. They are one of several ways that web page HTML can be marked up into a rich view snippet. I may have lost you with the technical jargon (I hardly understand it myself) but what it means is that the web page has been written to produce those stars. What does this mean? It means the operator of the web page makes those stars appear, they are not an objective review. Anybody with a review site can make Google stars appear with only a few lines of code. Look at this snapshot of HTML mark up containing the review "4.7 stars":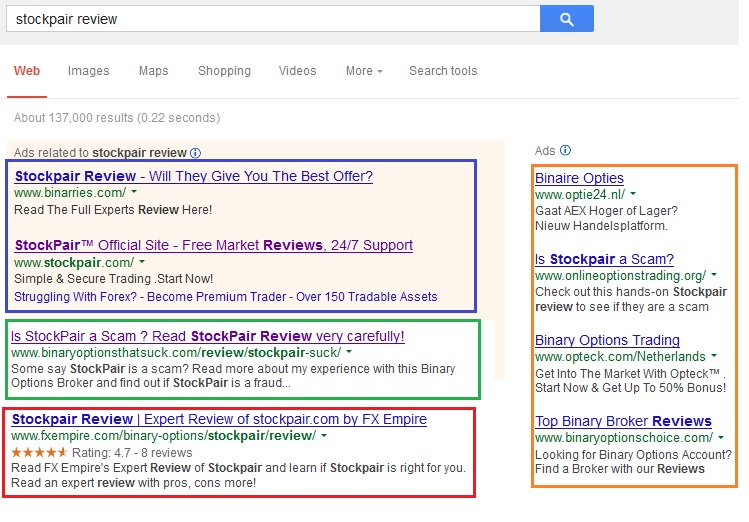 Blue – Paid Ads for Specific Keywords
Orange – More Paid Ads
Green – ThatSucks.com (former BinaryOptionsThatSuck.com) Review
Red – Example of Google Stars Ratings
After looking at this I am sure it is easy to see just how far you can trust a star rating. Are you really going to trust one now, knowing what you know? It is ridiculous to think that some people fall for it anyway and make their choices based on something as simple as a star. What about finding things out for yourself? What about reading the full review? What about checking into the user reviews? Doing your homework is the only way to find out if a broker is really worth all those stars.
BOTS Customer Review Systems With Ranks By REAL Traders (And Forums!!!)
One way to find out about a binary options broker for yourself if to start at ThatSucks.com (former BinaryOptionsThatSuck.com). It's a great place to get started with our reviews, reviews by real traders and even ask questions on the forums. BOTS.com is dedicated to explaining what each broker has to offer and why it sucks or not. Getting 4 stars out of 5 may seem like a great review but what is missing that kept the broker from getting that 5th star? Do they have easy withdrawals or low monthly maximums? What are the bonus trading volume requirements? Do they have 60 second trading? These are important questions and ones that could mean the difference between a good broker and a great one. Each broker has something different to offer. Doing your homework is the only way to find out if it is the right broker for you.
Conclusions
My conclusion is the same as always; you have to do your homework and learn binary options for yourself. You can not trust most of what you find on the internet and to do so is foolish. Trusting the star rating, using it as a basis for choosing a binary options broker, is something that sucks for real. You have to dig deeply to find out what makes a broker tick. You have to review the platform, read the terms and conditions, check out full broker reviews and follow up with real traders. As always, ThatSucks.com (former BinaryOptionsThatSuck.com) is the best place to get started for full reviews by our staff AND full reviews by actual traders. After you spend some time learning about the brokers and then checking them out for yourself you can follow up in our Binary Options Trading forum. There are chat rooms and threads dedicated to each and every broker, if you can't find the one you want simply start one and find out what the community says.