Tesler app is the latest trading software to hit the market. They have a game-changing algorithm that is guaranteed to generate results and best of all, is 100% suited for total newbies. The software runs on any device, installs in only 2 minutes and is guaranteed to make $5,000 per user, per day.
Tesler App – How it Works
This is how it works. The folks at Tesler want to make a slice of the $7.8 trillion in the global daily trading volume available to normal people, just like you and me. They have massive computer mainframes that scour the market for data, 24/7 I might add, in order to generate trading signals and send them directly to your account so there is no responsibility on your part. The software analyzes thousands of bits of market data, going back a full 60 minutes before the time of a trade, in order to maximize profit potential by capturing the strongest moves before they begin.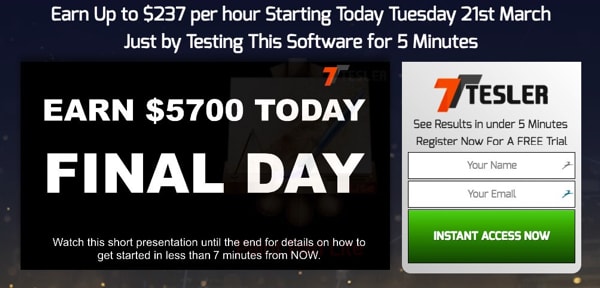 One example of the type of data that is being used is breaking news, a well-known market signal. The software scans the breaking news sections of CNN, CNBC, Bloomberg and many other sites looking for keywords. Keywords such as "better than expected", "central bank policy" and "war" are triggers for the market and are often a sign of upcoming movements.
The Tesler system is an automated app that can be used on your desktop, laptop, tablet or mobile. You might be thinking that your device is too old and out of date, or too slow, or that your connection isn't good enough but don't worry. The system is designed to do what it does, nearly instantly, on any device and at any speed because it connects directly to company mainframes located in downtown NYC.
If you don't believe it, and why wouldn't you, you can test the software first. You can earn up to $237, yes that's right, $237 per hour and all you have to do is sign up and participate in the test. Of course, the test doesn't really matter because the system is totally free. All you have to do is sign up, and of course make a deposit with one of their brokers, which are all on our do not trust list.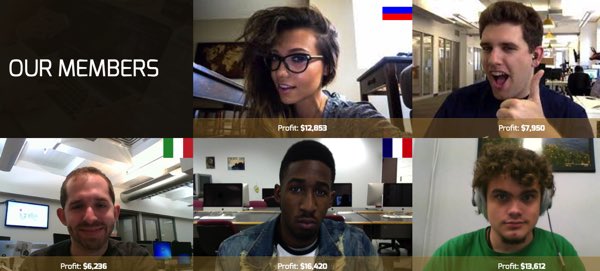 The Tesler App – How it REALLY Works
I know if you are like me you are saying to yourself that this sounds like another scam, and they aren't even trying to hide it. I mean seriously, one of the first things I see when I look at their site is the words GUARANTEED and 100%, two words that can not be applied to trading or binary options. Not unless you mean that trading binary with signal software like this is 100% guaranteed to make you go broke. They use these words in a number of places including claims that you are guaranteed to make profits, and that the system is 100% free.
While technically free, you don't have to pay them any money, you can't get the software without registering and depositing with one of their recommended brokers and we all know what that means. Marketing scam. As part of my research I found that the results are geo-targeted too, so be careful of getting fooled. I use a VPN and whenever I switch servers to a new country the folks who are making thousands of dollars "right now!" are always from the same country. When I used a German IP, traders in Warburg and Witzenhausen were making bank, when I used one from England they lived in Wales. Bottom line, as if you couldn't figure it out for yourself, this is a big old scam.
New And Improved Tesler 2.0!
In the time since our first look at the Tesler App the company has been able to advance its technology. They have released the fantastic Tesler App 2.0! It's even easier to use, great for beginners and can make you $5,000 per day. From what we have been able to discover this is nothing more than the very same app as the original Tesler App! Yes, my friends, these scumbags have rebranded themselves as a 2.0 version. All they did was make a new website and give it a new name. The crooks even used the same actors to make their crappy video.
Tesler App Might Hijack Your PC!
This is a big warning!!! Do NOT install unknown software on your PC! It is well known among big internet companies and webmasters, however, most people are not aware of the possibility of getting their PC hijacked by a 3rd party. If you've already installed an app like Tesler app, you should check your computer ASAP. This is a big warning, one that should NOT be ignored.