Let me tell you, people, this is the Crypto Wild West! We are living in the era of gunslingers, stagecoach robberies and snake oil sellers. Mark my words! There will come a time when you will tell stories to your kids and grandkids about these days. Everybody is on a Gold Rush, people are lying left and right, on every corner, there's a good-hearted guy willing to make you a millionaire for free and seems like each day a new crypto trading robot is built and unleashed upon the market. Guess what: today we focus our attention to yet another marvel of software engineering. The Bitcoin Compass!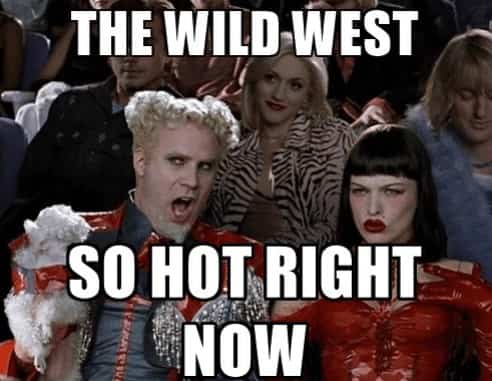 What Is Bitcoin Compass And How Does It Work
There are hundreds of Bitcoin and altcoin trading robots but most of them at least bother to explain how they work. Usually, it's a stupid, fairy-tale-like explanation but at least they take the time to come up with a story about how the robot came to life and how its algorithm was built.
That is not the case with Bitcoin Compass! They don't give any explanation whatsoever. All they say is that you can become a millionaire pretty fast and that you will make money while making money and in the meantime you will make some money because making money is great, not to mention you can be a millionaire. Got that? Yea, that's about it.
Now that you know how Bitcoin Compass works, let's see what it is: it's a trading software that places trades for you on autopilot or not, or maybe it is a platform where you open the trades, or maybe it's something else but the thing is that you will make money. Alright?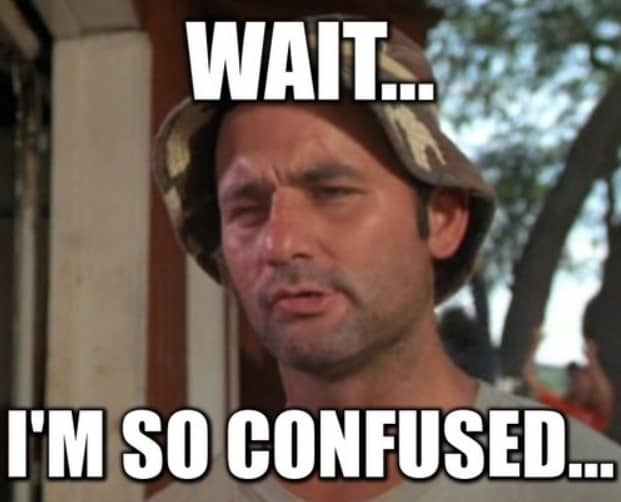 No, seriously, they do a screwed up job at explaining what this software is. First, they start with a 1-minute video about Bitcoin, with the usual personalities hyping it up. McAfee, Bill Gates, Richard Branson and a few others that I don't know, speak about how good Bitcoin is, what it is and how it will save the world or something like that. This has nothing to do with the software or its performance and the people in the video are in no way associated with it. Keep that in mind and don't believe for a second that Gates or McAfee are backing this up.

Look at their explanation above: "make your first investment of at least $250 and then see how much you can make. The sky is the limit". Ok, but how is that going to happen? Do I get software that places trades on autopilot for me? Or do I get signals and I have to input the trades?
Just below that "explanation", we get another piece of confusing information: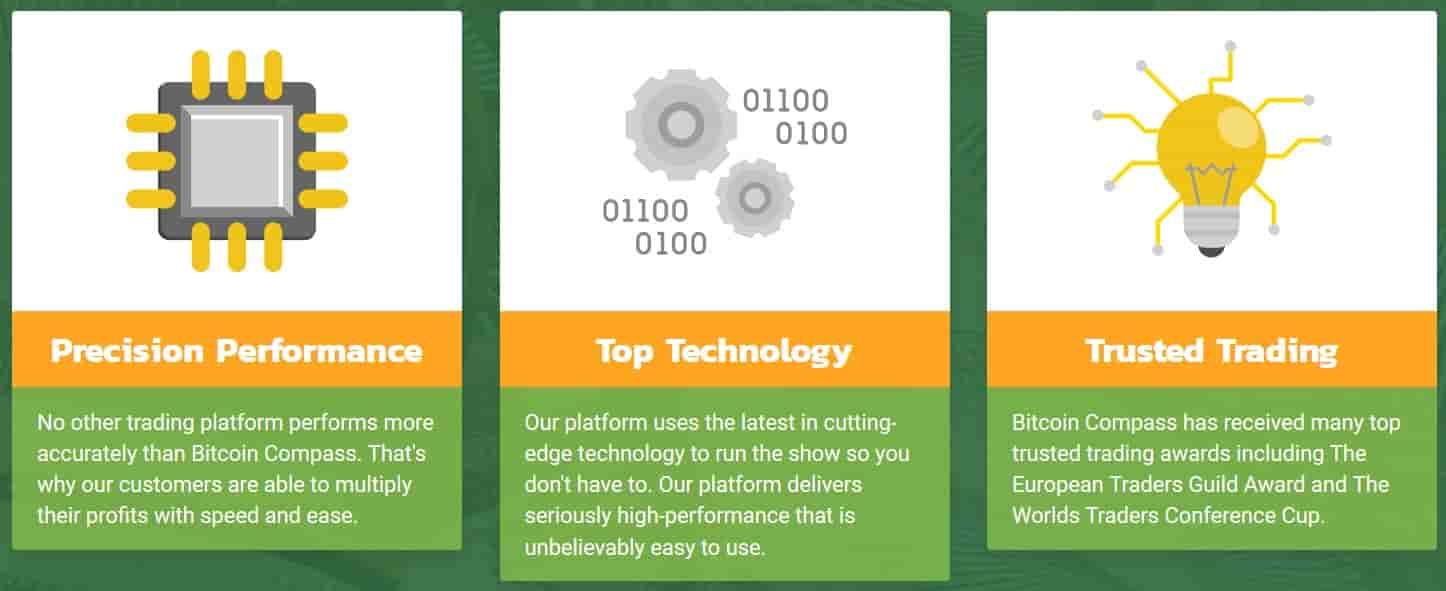 "No other trading platform performs more accurately than Bitcoin Compass…", "Our platforms uses the latest…" and "Our platform is unbelievably easy to use". So what are they saying? This is a trading platform? Huh?!? Oh but wait, it has received some awards: the European Traders Guild Award and the Worlds Traders Conference Cup… LOL? Those are fictitious awards. They don't exist. The lies keep coming and coming.
The Ever-Present Testimonials
Just like any "respectable" Bitcoin trading robot, the Bitcoin Compass must certify its legitimacy by showing us testimonials from "real" users. Ok, bring it: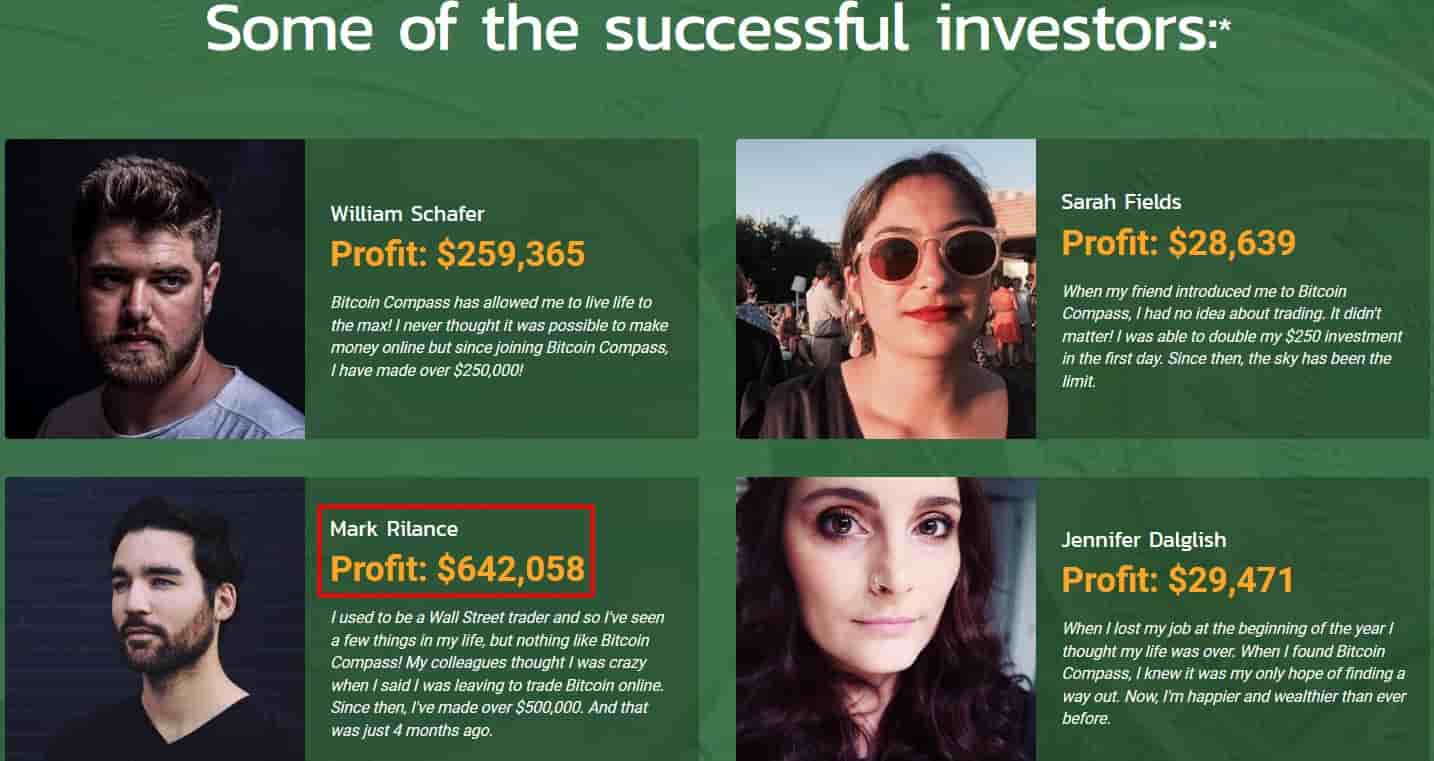 Let's take a closer look at Mark Rilance who made $642,058 in 4 months. He was a Wall Street trader but quit his job to make money with Bitcoin Compass and it paid off big time as you can see from the profit they claim he made. But let's see what Google has to say about Mr. Rilance: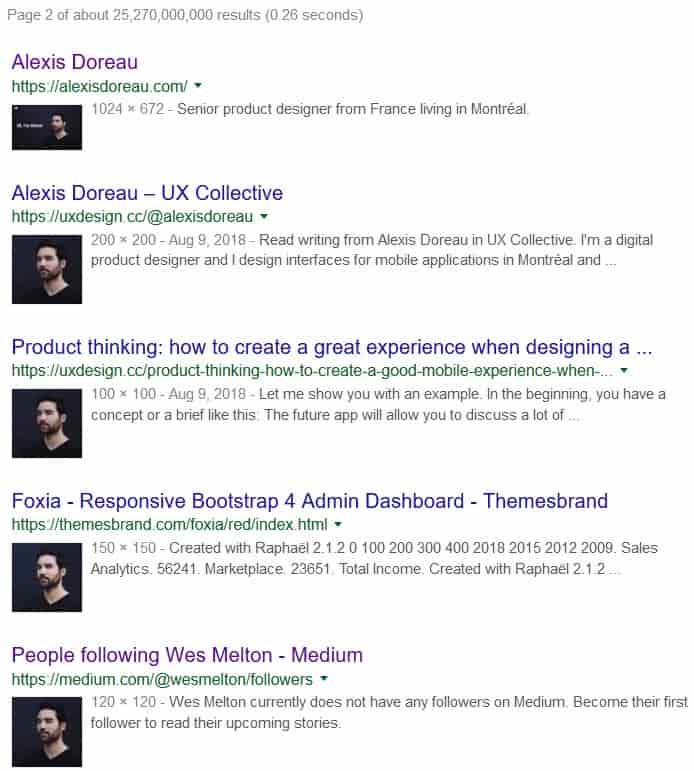 Well, looks like either this guy's name is Alexis Doreau and he's a French product designer or that's a stock picture that Bitcoin Compass people liked and simply decided to use. Anyway, he is not a user of this software and he wasn't a Wall Street trader. Needless to say that the other pictures have similar stories.
Bitcoin Compass Warning: Stay Away!
This trading software, platform, robot or whatever it is can only do one thing: part you from your money. It's a classic affiliate scheme in which Bitcoin Compass sends clients to a brokerage of their choice and then receive a commission for doing so. And that is not speculation! They actually say so in their disclaimer at the bottom of the page: "This Website may receive compensation for products and services they recommend to you".
So there you have it: promise you overnight riches – register you to their brokerage – get your money. It's that simple. "Stay Away!" is the best advice we can give because Bitcoin Compass is yet another online trading software That Sucks.