OneTwoTrade is owned by Up & Down Marketing Limited, located at Cobalt House, Level 2, Notabile Road, Mriehel, Birkirkara BKR 3000 Malta (UK phone number: 44 203 318 5580). The company is regulated by the Malta Gaming Authority, license number MGA/CL2/744/2011, which is in effect from 13 October 2011. Another address is provided by this authority for Up & Down Marketing Limited: Abacus, Suite 2, Psaila Street, St.Venera, SVR 9017. All this raises a question: is it better to trade with a Binary Options "broker" who is not regulated and keeps the address and the name of the owning company a secret or is it safer to trade with a company regulated by a gambling Commission? I don't have a clear answer to that, but in the eventuality of misconduct from the part of the broker, the trader has no way of getting the money back if he doesn't even know the real name or address of the broker. At least in the case of OneTwoTrade, you know where to find them and you can complain to the Malta Gaming Authority.
Update September 2016: Their UK phone number is now +22 203 6959746, and the owning company is still Up & Down Marketing Limited. We have noted in the past that the MGA listed a different address for this company but this is no longer the case. Both the MGA and onetwotrade.com list the same address now: Cobalt House, Level 2, Notabile Road, Mriehel, Birkirkara BKR 3000 Malta.
Is OneTwoTrade a Scam?
Update 2017: Checking on their traffic, we recognize an extremely low traffic for them to be considered an operational firm. We also tried to register but got the following message: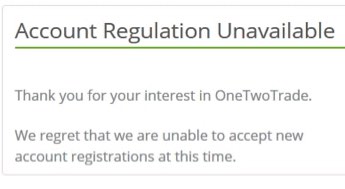 There are also many warnings and complaints so it's not strange to see them lose all the traffic. We also tried confirming with support but they were not there. According to recent news, OneTwoTrade has been unlawfully soliciting clients in Hong Kong to which the Hong Kong SFC regulator reacted by adding them to their alert list.
Check out our Recommended Binary Options Brokers
OneTwoTrade Company Policy Updates (September 2016)
Recently OneTwoTrade made a drastic change to their company policy: according to their chat representatives, OneTwoTrade no longer accepts new clients or new deposits! I initially contacted Live Chat to ask if they offer 60 second trading because it is not listed on their platform; the representative answered my question with a question of her/his own: "Do you have an account with us?" Ignoring his/her question, I typed in my question about 60 seconds trading again. He/she replied that I cannot receive that information (must be a secret or something). I closed the chat window because it wasn't going anywhere. Soon after, I opened another chat, hoping I will get another representative but I got the same person (Jasmine he or she is called and I am sure that's his/her real name…). Below you can read what "Jasmine" told me: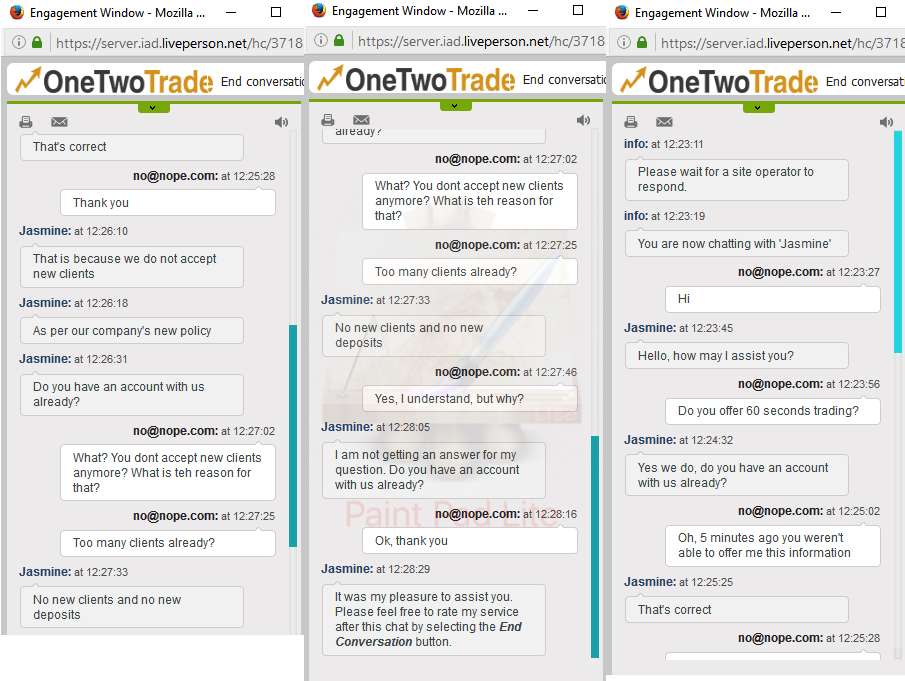 The information above was confirmed by multiple sources but we don't know if it's something temporary or if it's the "beginning of the end" for this brokerage. Either way, caution is recommended.
Editor's Note – Why does OneTwoTrade Suck in 50 Words?
They suck because they got so many complaints
Why doesn't OneTwoTrade Suck in 50 Words?
Probably the best thing about OneTwoTrade is that they are closed so you don't have to worry. Well, jokes aside, something I liked was their cartoon video regarding how people can use binary options to trade after news events.
OneTwoTrade Complaints
While searching the internet for unsatisfied customers, we found just the regular minor complaints, but I guess no company is perfect. However, the surprising fact was that we found complaints coming from employees of OneTwoTrade, regarding the work environment, lack of professionalism and that payment was 100% commission based and they didn't receive a fixed salary.
Update September 2016: Our Comments section below each broker review has become a great place to get a feel for what clients think of a brokerage. Unfortunately for OneTwoTrade, now that some years have passed since they hit the binary options scene, complaints have started to pile up and overall traders are not too fond of them. Most complaints target the lack of professionalism showed by OneTwoTrade, problems with withdrawals and account managers losing full accounts in one trade.
Update 2017: It appears that OneTwoTrade did it's best to wipe clients clean of every last penny before shutting the firm down. All the stories up until their final days tell the similar stories; account managers losing huge deposits in a few trades and then asking for more money.
OneTwoTrade Regulatory Announcements and Warnings
13.12.2016: CySec mentions OneTwoTrade in their list of warnings on unauthorized domains and websites. Source: CySec.gov.cy
12.09.2016: Italian Consob follows Hong Kong's SFC and adds OneTwoTrade to their blacklist. Source: Consob.it
26.08.2016: SFC in Hong Kong adds Up & Down Marketing Ltd, the owner of OneTwoTrade in their alert list for being unlicensed and yet soliciting their citizens. Source: SFC.hk
27.04.2015: Ontario state in Canada also adds OneTwoTrade and their other firm, HasOptions to their blacklist. Source: OSC.gov.on.ca
27.04.2015: BCSC in Canada warns against OneTwoTrade for soliciting clients in Biritsh Columbia and allowing them to open accounts with the firm. Source: BCSC.bc.ca
Check out our Recommended Binary Options Brokers
OneTwoTrade Bonus
The Bonus differs depending on the current promotion or special offer but as a general rule, the trader cannot withdraw the bonus until a turnover of 20 times is completed. If a withdrawal is made prior to a 15 time turn over, the bonus will be canceled, all the losses will be deducted from the initial deposit and all profits made as a result of the use of the bonus will be cancelled. However, the trader can refuse taking a bonus when he is offered one and maybe that's a better choice. At least headaches are avoided that way.
Update September 2016: If the client wishes to withdraw the deposit from an account that benefited from a bonus, he/she will have to reach a turnover of 3 (three) times the deposit + bonus. If the client wishes to withdraw the bonus, he/she will have to reach a turnover of 20 times the bonus + deposit.
OneTwoTrade Withdrawal
Withdrawals above 200 pounds do not incur a fee, but a Credit Card withdrawal below that sum will require the trader to pay a 39 pound fee, in addition to a 30 pound fee for any bank wire transfers. That's almost unacceptable and we consider it to be a huge disadvantage of trading/betting with OneTwoTrade.
Update September 2016: Each withdrawal carries a fee of 50 USD/GBP/EUR or 1% of the withdrawal amount, whichever is greater. Even if the client has not accepted any bonus, he/she will not be able to withdraw any money before turning over the deposit once. In other words, if you deposit $1,000, you will have to reach a trading volume of $1,000 before you are able to withdraw your money. Update 2017: The terms and conditions for withdrawals are really a horror story. For example, it says that if you deposit 1000 and manage to get your account up to 10 000 and deposit another 1000, you now need a turnover of 11 000 before you can withdraw. If you do not wish to comply, you will be charged a 20% fee on your total balance.
OneTwoTrade Extras
They have a lot of features that may be considered extra, but the best one seems to be the 110% Guarantee. A client who takes advantage of this special feature will be protected against his/her first 10 losses. To be more specific, if the trader loses the first 10 consecutive trades, OneTwoTrade will return the money to his account plus an additional 10%. Of course, conditions apply and we recommend you read them carefully (Section 28 of their T&C).
OneTwoTrade Ratings
User Friendly -/20
The website is available in 6 languages; it is well structured and does not require a lot of experience to use. The fact that OneTwoTrade only offers Up/Down and 60 second options makes it extremely newbie friendly but not so appealing to more sophisticated traders.
Update September 2016: We couldn't locate the button that changes the website language so we can only assume that the site is only available in English.
Number of assets and expiry times -/20
Their basket of assets is composed of 55 stocks, 19 currency pairs, and 16 indices. Unfortunately OneTwoTrade does not offer Binary options on any commodities. The expiry times range from 60 seconds to one hour and even longer expiry times, depending on the traded asset.
Update September 2016: Their asset index is composed of 138 stocks, 50 currency pairs, 8 commodities and 54 indices (more than before). However, we couldn't locate all of them on the trading platform itself.
Commissions, Support and Effective return -/20
There are no commissions to open an account but we must warn you that OneTwoTrade will charge a monthly fee for inactive accounts. That fee is 4.50 pounds and will be charged every month if the client fails to trade at least once per month. By agreeing to their Terms and Conditions you also agree to allow them to debit that fee directly from your Credit Card or your trading account balance. You can view your transaction history online free of cost but any mailed items (upon request) will be charged 11 pounds. Their withdrawal fees are too high as well and it seems they charge customers for almost anything. Live chat took us awhile to get hold of, but finally succeeded, and the chat went well. Their effective return can go as high as an excellent 85% but they offer that percentage on just a few assets. Out-of-money refund is available.
Update September 2016: There is no refund for Out Of Money trades anymore, the effective return ranges from 60% to 85%. The fee for inactive accounts is still present but the amount is not specified in their Terms and Conditions.
Deposit, Payment and Bonus -/20
The minimum deposit is 200 GBP and can be made via Mastercard, Visa, Moneybookers or wire transfer. In order to withdraw your money from an account which has been credited a bonus, you will have to turn over the bonus + deposited amount three times. In other words, if you deposited 1000 and received 300 as bonus, you will have to reach a turnover of 3900 before you can withdraw any money. Bonus percentages differ depending on the active promotions and to withdraw any bonus, you will have to reach a turnover of 20 times. If you withdraw any money prior to reaching a 15 times turnover will lead to a loss of the entire bonus amount. Overall, they have one of the most complicated, ambiguous and tangled Bonus and Withdrawal conditions I have ever seen. What I presented here is a simplified version of their Terms and Conditions; when you start reading them make sure you have an Aspirin close by because you'll get a headache almost for sure.
Update September 2016: Neteller has been added to their deposit methods. All withdrawals will be charged a 50 EUR/GBP/USD fee or 1% of the withdrawal amount, whichever is greater. The minimum deposit is now 250 units, depending on account currency.
Website Extras -/20
Nothing, broker appears to be closed.
OneTwoTrade Ratings N/A
 Check out our Recommended Binary Options Brokers