No! Just NO! This has gone too far. These days, scammers are expecting us to believe everything they throw at us, even without the smallest evidence that it works. They don't even try anymore to give some information about the software they sell (YES, they are selling it even if it's advertised as Free) and all they do is show short videos of rich people, yachts and Ferraris. Oh, and did I mention that you can make an average minimal of $1,500 per day with The News Spy crypto robot? Well, if you're interested, keep reading.
Great News!
We have found a Robot that will make you so much richer in less than 30 working days!
Show me the Robot!
.
What Is The News Spy And How It (Allegedly) Works
The software scans hundreds of news sources and then their team of analysts predicts a trend based on the data they've gathered. At first glance, this could work because at the end of the day, that's how fundamental analysis is done: look at the news and predict the impact it will have on a certain market. However, the whole thing is presented in such a cheesy fashion that I cannot believe they actually have "hundreds of news sources" and a team of analysts.
But OK, let's say they do have a news aggregator and a team of analysts with years of experience. Then please tell me, who is paying for all that? I am sure you agree that an analyst with years of experience will charge for his/her services, right? Nobody is working for free.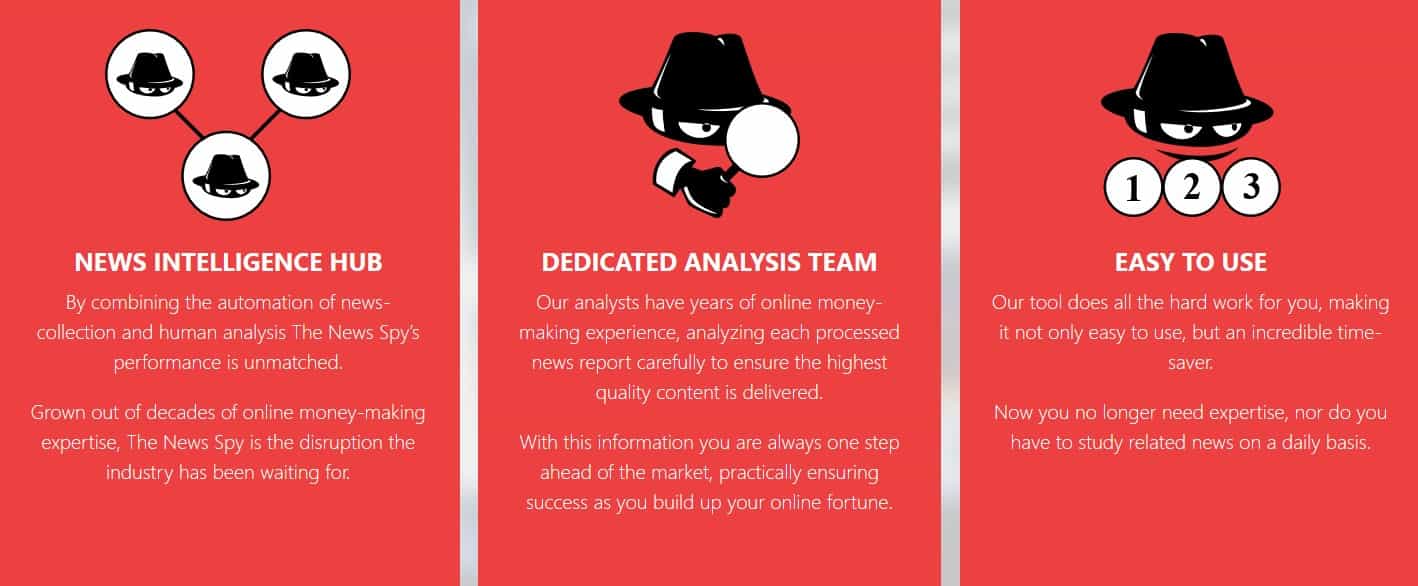 And besides, other than a short sales video and some pictures, they don't show any evidence of this news aggregator software or their team of analysts or even their trading robot. Speaking of trading software, you are just supposed to click Trade and "enjoy precise and accurate hands-free money-making powered by our award-winning algorithm". Uh, ok, now they have an algorithm, so the analysts have exited the scene? And it's "award-winning"!? Cool, let's see those awards, let's see the trading platform. No? Nothing? Ok then have a chick pic with money pouring out of the sky: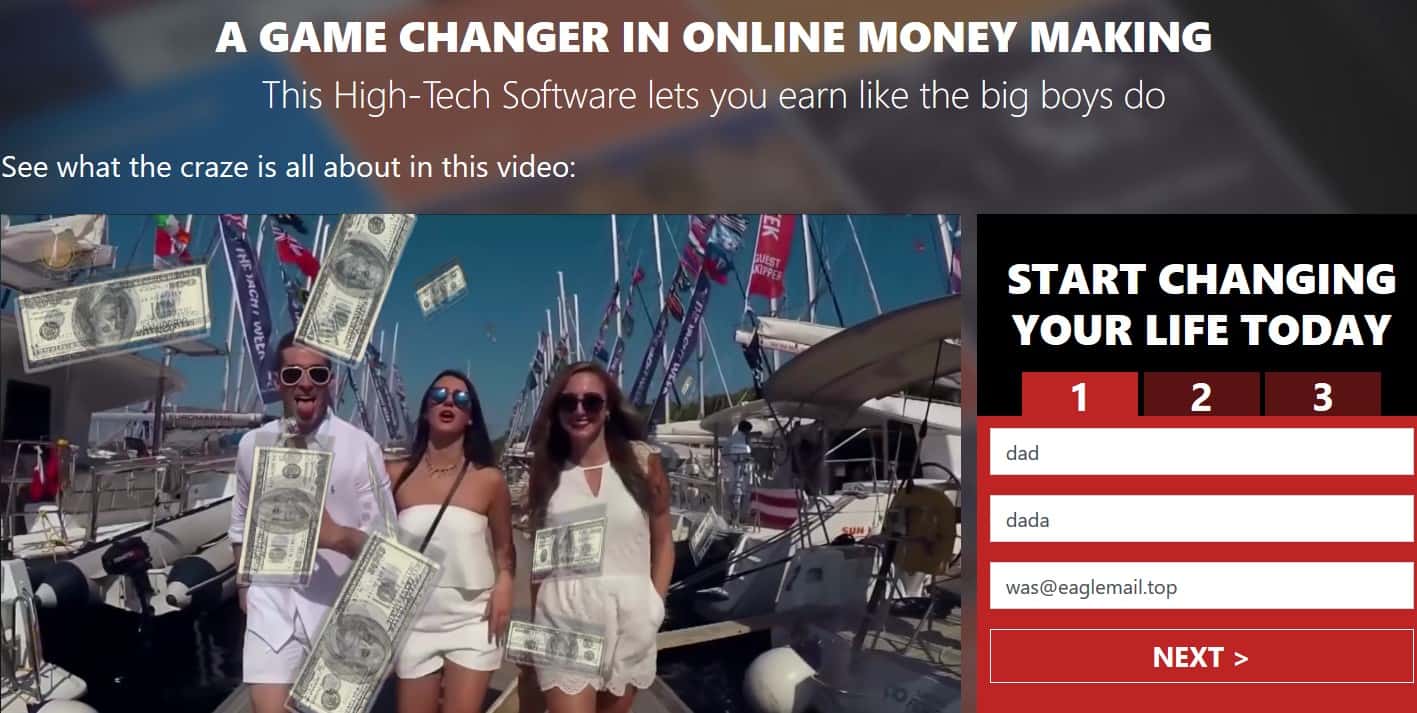 Want more evidence? Have some dude-pic on a yacht: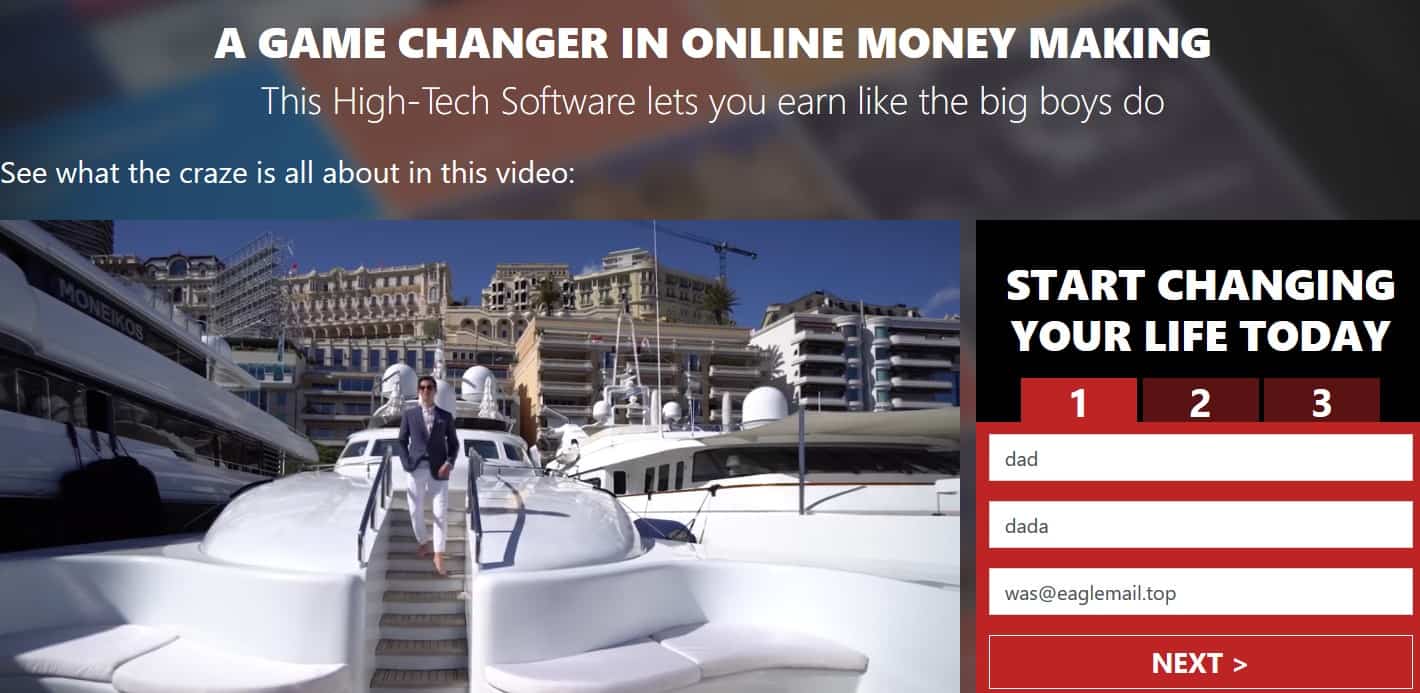 Ok wow, it must work because all these people made it big and I'm sure it's all because of News Spy app. Despite the "strong evidence" presented in the pics above, the News Spy creators are giving us more: charts that claim they have predicted rise and fall in the price of Bitcoin. But the manner in which they do is hilarious: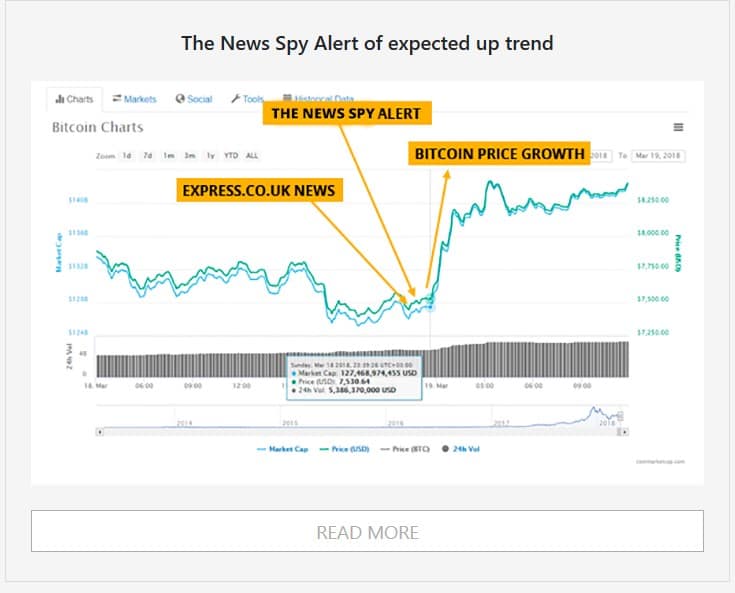 Dude, just drawing some arrow on historic charts doesn't mean your software actually works. Anyone can screenshot a chart and then slap some arrows before a strong move saying: "Look I predicted the move right before it happened!"
Fake Testimonials, Fake Reviews – The Story Is Complete
Just like almost all similar trading robots, News Spy is sprinkled with fake testimonials and fake reviews but at least they bothered to pay some actors instead of just writing a few words themselves.

However, it gladdens me to see that people are not falling so easy for these scams anymore. Here's what a user has to say about their testimonials:

Fiverr – the go-to site for scammers to find testimonial material. But apart from paid actors, it looks like The News Spy is also into paid reviews because some sites are ranking them 5 out of 5 stars, The Best Choice and "100% legit". I don't know how someone could objectively rate this auto-trading app 5 out of 5 but they do… and I'm sure the review is also "100% legit"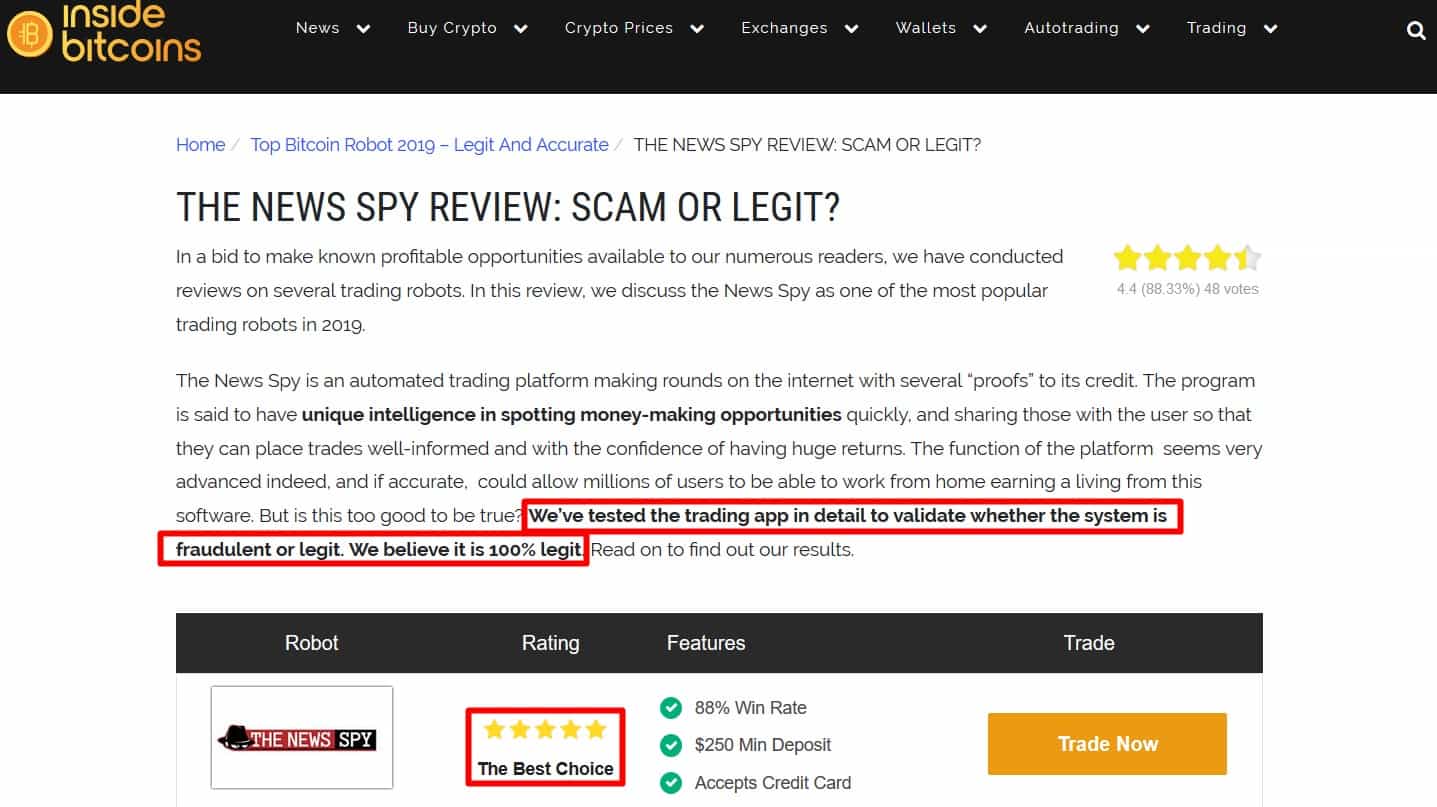 The Broker – Huh, what? That's Actually A Good Broker!
These crypto robots make their money by attracting clients with wild promises and getting them signed up with their affiliate broker. Then they receive a commission for the business they direct to the broker. That's the blueprint they follow to the T and the same happens here, but usually, the broker is unregulated, offshore and really shady. I must say, I was very surprised to see that News Spy directs automatically to 24Option, which is actually regulated, with a good reputation and also one of the oldest brokers around.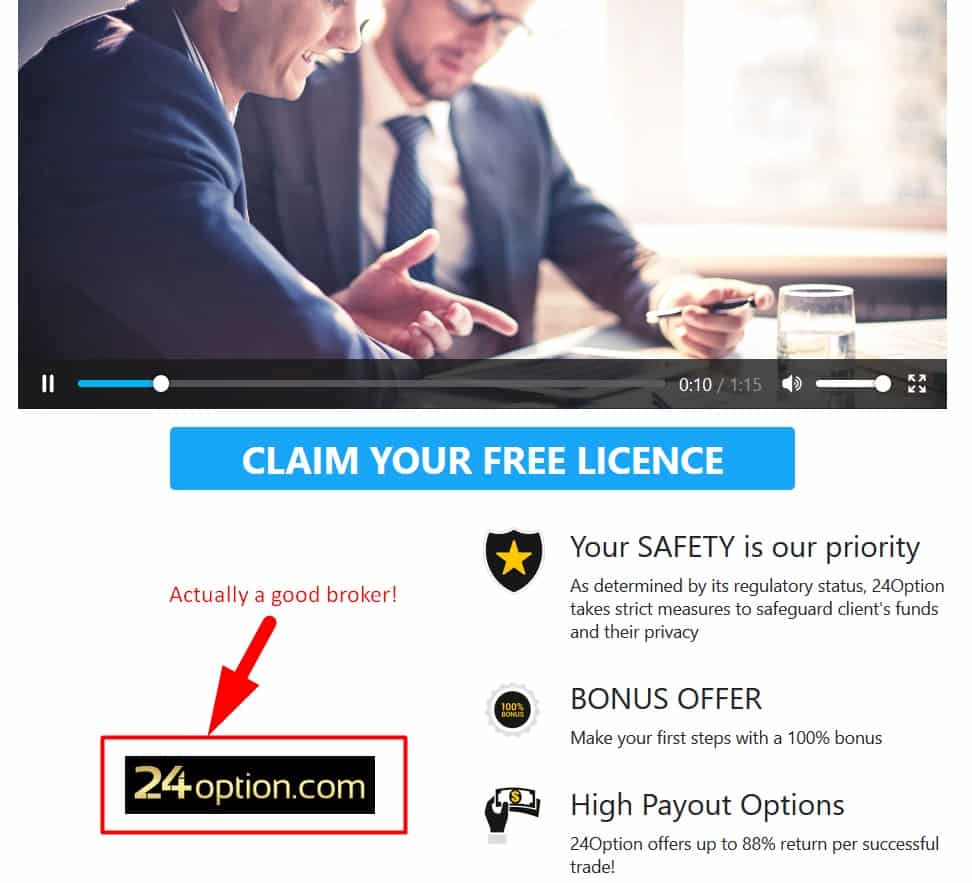 To get the software, you will need to fund an account at 24Option with at least $250 and if you already have a 24Option account you will need a new one if you want to use News Spy (the new account must be opened through their site).
What I am not sure about is 24Option's position: are they in cahoots with News Spy app or they simply don't care about where the clients are coming from and treat them just like any other new client? Either way, 24Option is a good broker but if you want to start trading with them, I think you should just open an account, without going through News Spy. That's just one man's opinion though, so please decide on your own.
Bottom Line: Good Broker, Bad Robot
The main difference between News Spy and every other robot out there is the broker they use. Other than that, this is just a ruse and the software itself will not deliver on the fantastic promises of $1,500 "average minimal" on a daily basis with just a few minutes of work. 24Option is indeed a good broker, so if you want to trade crypto, CFD and FX, give them a proper look. As for the News Spy auto-trading robot: stay away because it will NOT do what it promises.