Hurray! Cryptos are now unlocked. Wait what? Were they locked before? Well, not precisely but Crypto Unlocked tells us in their video that investing in cryptocurrencies are difficult because you need knowledge and the intricacies of registering with exchanges and conversion from one to other currencies can be avoided if we use their service. I can't really disagree, it is somewhat difficult and not a straightforward process to buy a coin. Unfortunately, everything else they say is a bunch of lies – which we will reveal here!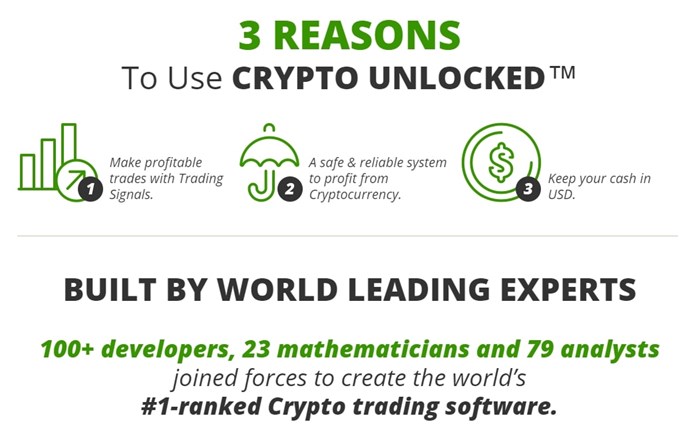 Ranked 1? By whom? How was the ranking done?
Crypto Unlocked Has A Magic Systen for Market Prediction
Crypto Unlocked website claims in their pitch video to have a magic way of predicting market movement. They say their system is based 100% on mathematical proof. The video goes on and on and is very pushy. He kept repeating "sign up, just sign up now, go ahead and sign up, hurry and sign up, SIGN UP NOW". I could go and on picking out all their lies in their long and boring video but it's easier to just refer to their own terms and conditions:
'Crypto Unlocked' sales video is fictitious and was produced to portray the potential of 'Crypto Unlocked' 3rd party signals software. Actors have been used to present this opportunity and it should be viewed for entertainment purposes only. We do not guarantee income or success. All income results are shown in the video and anywhere else on this website do not represent an indication of future success or earnings. – Crypto Unlocked T&C.
Sooo… you just said I could quit my job and become a millionaire without knowledge. Was it all fictitious? I guess after all there is some honesty on their website. But nothing that makes us trust them. Now, remember how they kept repeating we don't need to buy and hold cryptocurrencies because with their system we could get rich on any coins? Then this may come as a surprise to you:
Information on 'Crypto Unlocked' should not be seen as a recommendation to trade CFD and Forex. 'Crypto Unlocked' provides you with links to free CFD and Forex trading software that enables you to receive free signals from 3rd parties. – Crypto Unlocked T&C.

So whatever happened to cryptocurrencies? CFD's and Forex? That's right, this is a typical "get rich fast" scam. They trick you in with promises on cryptocurrencies and then send you to a shady unlicensed broker. Oh right, that brings us to the next subject, the broker and the deposit needed.
Crypto Unlocked Presents: Not a Bad Broker this Time
When it comes to lies, Crypto Unlocked delivers a 100%. In there, as they called it themselves, fictitious video, they tell us that we don't need to invest any cash and "look around, do you see any put your credit card number here?". The soon as I signed up, they asked me to deposit 250 dollars with ITrader.com. This company is actually regulated by CySec which is a positive surprise!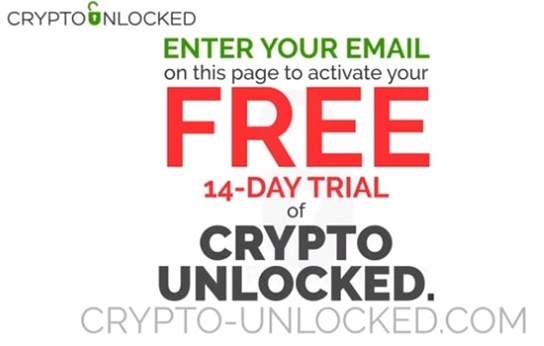 Hopefully, they will soon figure out what their affiliates at Crypto Unlocked are up to and shut them down. Obviously, this doesn't mean that Crypto Unlocked can predict the market. As they told you in their terms and conditions, it's all made up to lure you in. But remember that you still need to make a 250$ deposit which they did not tell us up front. Want to know what else they made up? Keep reading.


Free? 250$ is not free…
Bear in mind that you may get redirected to another broker based on your location and there is a huge chance of getting sent to an unregulated broker.
Crypto Unlocked Robot and Testimonials are Fake
Not only there is no 100+ developers, 23 mathematicians, and 79 analysts, there are no happy clients either. All the images are stock photos and not their real clients. Their system or so-called robot is fake too, it has been used before because it's just a white label robot.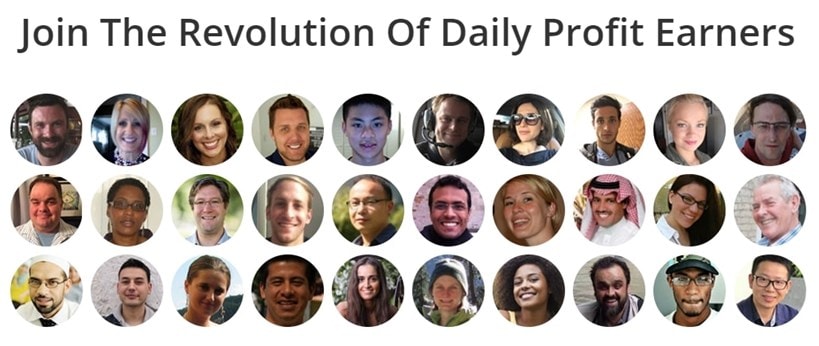 All you need to do is to Google one or more of these images to see they don't have anything to do with Crypto Unlocked.
They Hope You Don't Look
I don't get these scammers. Why bother creating all these lies and then admit in the terms and conditions that it's all nonsense created to give you the illusion that you can make money. No, wait, I do get it. They don't want to get sued so they have to include that in their terms and conditions but they really hope you are so hyped up by watching their pitch video that you don't even look in there!
Lately, this is pretty much the norm when it comes to easy money schemes so make sure you always read the terms and conditions.