I am not entirely sure if I am awake yet. I visited the Freedom Circle website and the pitch video that instantly started sounds so similar, word for word, to many other previously reviewed robot scams I feel like I am dreaming.  Or maybe more likely I am awake and the similarities are due to the fact that they bought or stole the script from another get-rich-in-your-pajamas scheme. To be clear, he actually mentioned the pajamas part… If you are an old-timer you might be having a flashback to one of the first binary options scams, "The Trader in Pajamas".
Moving on, what's with the name by the way? I quote: "The Freedom Circle is a social movement dedicated to helping hard-working people like you escape from the rat race and start enjoying unlimited time and freedom." A freedom circle? That expression is an oxymoron. Apparently the guys making this up didn't pay attention in the geometry class. A free person is not in a circle, that expression means you are stuck like in a hamster wheel. Just like the rat race you just described we should escape from…
Not a Freedom Circle but a Circle of Fake Reviews
Freedom Circle is a website that promises over 5K in profits daily and claims not to be "another push button scam" or "MLM scam". The guy behinds this system claims to be "Kyle" and says he will not insult our intelligence and that this offer is limited. . . ha, we've hear that before. He says this yet he show us fake testimonials from people who don't exist and expect us to believe it! He even has fake video testimonials made by actors from Fiverr!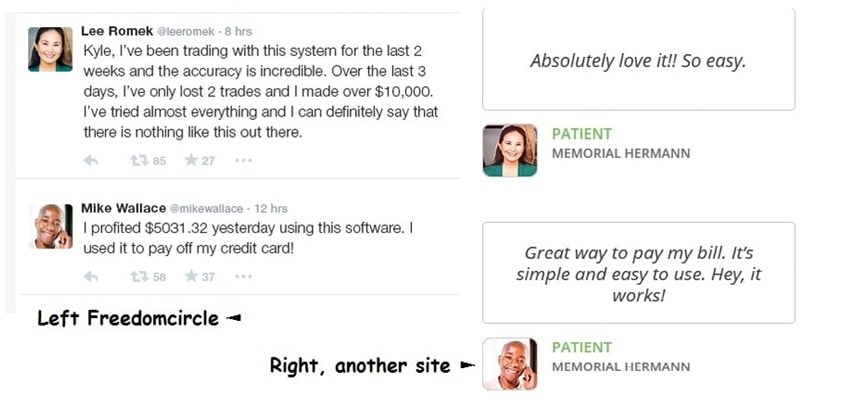 It's hard to take the website seriously because the "terms and conditions" does not work, the "privacy" tab doesn't work and neither does their "Affiliate" or the "Disclaimer" navigation links. To make matters worse, I keep getting a desperate popup begging us not to leave the site. I have reviewed many robot and get rich quick scams but this one is very poorly made.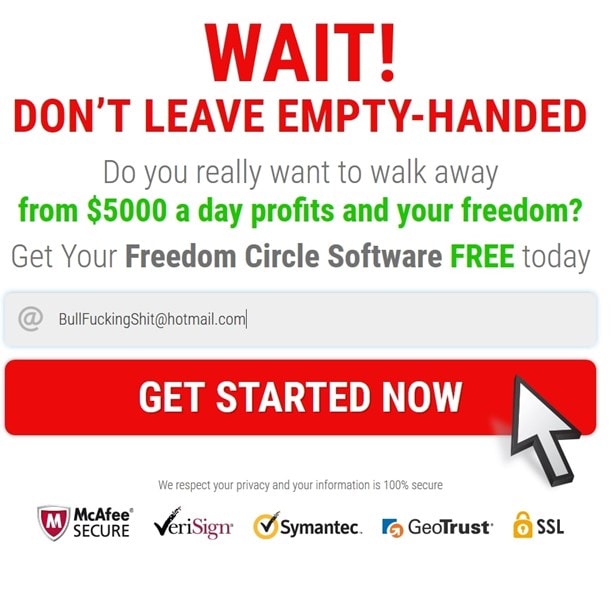 Where is the Proof – Maybe in Photoshop?
Other than photoshopped pictures of huge bank balances, there is nothing there in the way of actual information or proofs of reliability. Here you can see the "100% verified" account balance. Verified by who I ask . . . Photoshop? Fiverr Actors? Yourself? Nice try! PS. That picture of "Kyle Stanford" is just fake, yeah even the name. The picture is bought from a website selling images to online businesses. These things are easy to figure out thanks to Google's image search. Use the same method and you can find the Fiverr actors from the video too!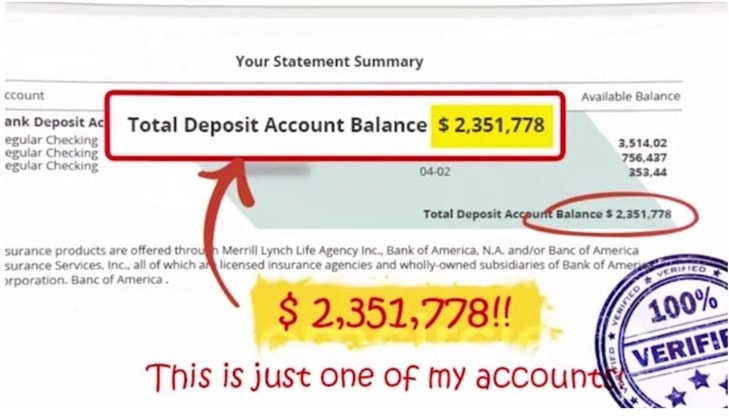 Free Means Shady Brokers
As usual, free and easy money means "we want you to make a deposit with…" fill in the blank with a crooked broker. I got Option 888 and the second time I got StoxMarket. Guess which other get rich extremely fast robot promised thousands daily and sent us to StoxMarket? The 1K Daily Profit Robot. Read that review and compare to this Freedom Circle crap. What do you think? Same shit different name? That's exactly what it is.
Freedom from the Circle of Scammers – 100% Verified Scam
As a beginner you may be wondering why we don't just make a deposit and try every robot. The answer is simple, there is no easy money making machine. There is no effortless money, no one holds a "secret formula" or robot. At best, this is just a bad attempt at scam marketing. The shady brokers the funnel sends you too are probably behind the whole thing. You can make money trading binary options but there is only one way, learn to trade on your own and for your own sake, choose a reliable broker.