Editor's Note – Why Does OptionMint Suck in 50 Words?
The platform is provided by SpotOption, surely it's nothing we haven't seen before but at least it is the most common type of platform out there. According to OptionMint's customer service, every first time depositor can get access to a big demo account to practice on and this doesn't suck.
Check out our Recommended Binary Options Brokers
Why OptionMint doesn't suck in 50 Words?
Because this is yet another lazy white label broker. There isn't much that really screams "We are OptionMint and we are different and better". In fact, I went and googled some other white label brokers and compared them. It's the same old "we focus on you" and "our platform is the most professional platform" that you'll find with every other white label broker out there. It's really lazy and it stinks, I guess that's why they need a Mint?
OptionMint Full Review – Not as Fresh as a Mint
OptionMint's platform is powered by SpotOption which is a major platform provider for binary options. They offer regular binary options trading, long term, pairs, short term, touch and ladder. Something I've rarely seen is the "Spot Follow" function that allows you to follow other trader's trades. With this feature, you can choose the most successful trader, set up your money management per trade and click follow. When a trader places a trade, it will immediately be copied to your account as well.
OptionMint's customer service claimed they are licensed by CySec when I asked if they were regulated. This is a typical attempt brokers make to misguide traders. In reality, it means that the SpotOption platform is licensed and regulated but not the broker itself. Further research provided us with no information on OptionMint being regulated. In fact, when I asked the customer service to provide me links that would prove they are regulated, they went completely quiet on me. Now that's a big warning sign that tells you to stay away from this company.
We also found another broker with the same address as OptionMint named OptionQueen. These are both the same company, they didn't even bother to change their Live Chat's title from OptionMint to OptionQueen. Hence, I want to warn you about them as well. To me, the whole thing is kind of… fishy, to say the least.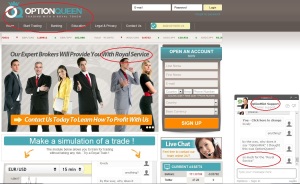 I can't find anything specific on their website that attracts me as a client. No special offers or VIP accounts of any kind that I could find. Perhaps those can only be offered to you by their account managers but I don't think that a sign up should be required just to learn about specific offers.
To conclude my review on OptionMint, I would suggest you stay far away from this lazy white label broker. They seem to be operating in a shady way. There are regulated and trusted brokers you can trade with instead!
Is OptionMint a Scam?
After I caught them lying about regulation, it is quite obvious we can't trust this company. Their sister company, OptionQueen, looks even shadier and they told me the same lies about regulation. The website provides an address located in Belize, customer service claims they are in Toronto and that the regulation is in Cyprus, by CySEC. This doesn't make any sense to me. Why and how would a Canadian company be regulated by CySEC? And how is Belize involved with Canada… or Cyprus?
In conclusion, OptionMint is another lazy white label that provides false information via their live chat and I would call that a scam.
Check out our Recommended Binary Options Brokers
OptionMint Complaints
Throught my research for OptionMint scam /fraud/ complaints I've discovered several negative comments; the first was lying to their clients. Sounds quite familiar by now, doesn't it? There are claims of withdrawals not getting processed and customer service being very poor. Account managers making empty promises and draining your account. Here is one specific complaint on OptionMint on a forex website. The trader claimed that the broker did not process his withdrawal but what makes this specific case interesting, is the response the client received from an OptionMint representative. It shows clear lack of professionalism and is extremely rude. Feel free to read it yourself, you be the judge!
OptionMint Bonuses
Bonuses vary from 25% up to 75% depending on how big your deposit is. There is also a 50$ "RF Bonus" which you can get when you refer a friend to OptionMint. For each bonus dollar that you receive you need to make a trade volume of 30 times.
OptionMint Withdrawals
Withdrawals take 3 days to get processed and after that it might take 5 to 7 business days before you receive the funds in your bank account. You cannot withdraw less than 100$ and bank transfers costs 25$.
OptionMint Extras
The only feature that would qualify as an "extra" is the "Spot Follow". You can view a list of successful traders on the platform and copy their trades using a specific amount of investment per trade.
OptionMint Ratings
User Friendliness 15/20
There is a window with description on how to use the platform. It's fairly easy to find what you are looking for on the website and you have easy and quick access to a not so honest support. The website is available in 5 different languages, Chinese, German, Japanese, Hispanic and Arabic.
No. of Assets and Expiry time 12/20
A total of 58 assets are available, these include; 19 Stocks, 12 Currencies, 7 Commodities, 20 Indices. The expiry times are like other SpotOption platforms, every 15 minutes for binary options. Short term expiries are 30 seconds and double up all the way to 300 seconds. Long term trades can be set weekly or all the way up to a year.
Commissions, Support and Effective Return 13/20
No fees or commissions for trading but a 25$ withdrawal fee for bank transfers. The returns are fairly good with the highest being at 83% for standard account holders. Support was available during a weekend which is a plus but was a bit slow and pushy.
Deposit, Payment and Bonus 10/20
The minimum deposit amount is 250$ and you can use CashU as well as Visa or MasterCard. I think the deposit and withdrawal methods are way too limited, I expected many more e-wallet services on their list. Payments take 3 days to be processed and an additional 5-7 days can be expected for the funds to show up in your bank. Bonuses vary depending on your account type but the minimum is 25% and the maximum is 75%.
Website Extra's 5/20
There is a feature called "Spot Follow" where you can follow profitable traders and copy their trades automatically.
OptionMint Overall Rating: 55/100
 Check out our Recommended Binary Options Brokers