Warning: Interactive-option.com regulation has been suspended by CySec. The message below was first seen over a month ago (4-3-2016).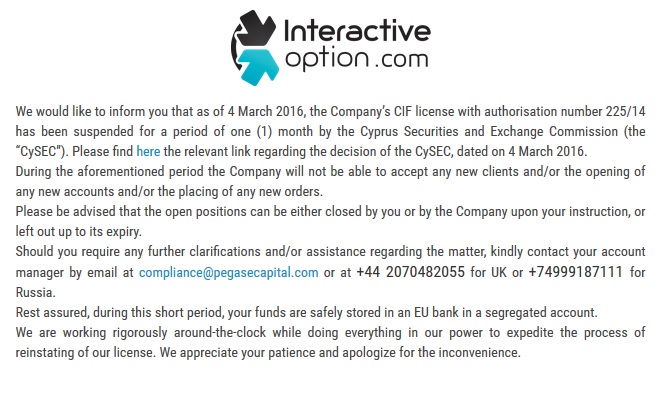 Editor's Note – Why Does Interactive Option Suck in 50 Words
First thing we always do is to find out what kinds of experiences the people have had trading with the broker in question. Interactive Option is regulated but reputation is as important as regulation, if not even more important. In this case, I quickly found too many negative comments, mostly regarding withdrawals.
Check out our Recommended Binary Options Brokers
Why Doesn't Interactive Option Suck in 50 Words
Interactive option is a CySEC regulated broker since 2014 and it's comfortable knowing there is an authority overseeing the brokerage. The website looks nice and professional and there is plenty of educational material as well. The platform is SpotOption and it's available on smart phones as well.
Full Review of Interactive Option – Regulated but Shady?
Interactive Option was founded in 2012 and got regulated in 2014. They are located in Ioanni Stylianou 6, Nicosia Cyprus and the company is owned by Pegase Capital Limited with CySEC license number 225/14. The website looks well-designed and shows that much work has been put into creating a decent education center with webinars, videos, e-Books and more. Interactive Option is not shy on letting you know they are regulated on various parts of the page. In fact, the first thing you notice on the first big slide on the homepage is the CySEC logo, telling you they are regulated. Overall, it's easy to find information on the website. The platform provider is SpotOption, a well-known licensed platform provider. It offers binary options trading, pairs, long term, short term, touch, ladder and Forex style trading. Many deposit options are available along with different types of accounts and up to 100% bonuses.
Up to 100 assets are advertised but strangely, I could only count up to 58 assets in their own assets list. What's up with that? I tell you what, you need to deposit 10 000$ to get access to the 100 assets! Needless to say that this is horrible. Other things I didn't like were the claims of 90% payouts but looking at their account types page the payout is advertised to be up to 85% unless you deposit over 25 000$. Any account holder with less than 2500 dollars can only get up to 75% returns which is way too low return in relation to the deposit! Luring me in with 90% and 100 assets on the main page but then offering me 75% returns and only 58 assets seems very dishonest.
So far, Interactive Option doesn't seem that awful despite the dishonest advertisement and they are regulated too. But are they playing by the rules? It's not until you start to search for scam and fraud claims that you notice something is not right here. Usually it takes some effort to find complaints on brokers but already on the first site on my Google search I found lots plenty of bad comments on multiple sites. Find out more below about the complaints!
 Check out our Recommended Binary Options Brokers
Is Interactive Option a Scam?
Interactive Option is regulated but even regulated brokers can suck sometimes. Just because there is a police force around, it doesn't mean thieves won't try to break into your house, right? The same applies for brokers. That's why reputation is important and in the case of Interactive Option their reputation is bad. There are lots of scam accusations and withdrawals that never get processed. But it gets worse, I read about clients claiming that the brokers wipe their accounts once a withdrawal request has been made. All to avoid paying out. Others claim it has been several months since they've requested for a withdrawal and even though they have fulfilled the required bonus volume, no money has been paid out. These are usually the trademarks of a scam broker – regulated or not.
Obviously there are clients commenting that they did indeed get their money out but how would you know if you would be the lucky one that gets his money? Further claims have brought to our attention that fraudulent auto-trader and signal service sites are working hand in hand with Interactive Option, as if it wasn't bad enough already. BinaryMatrixPro is one of them, according to a complaint on forexpeacearmy.com.
Interactive Option Ratings
User Friendliness 15/20
The website is well-designed and is available in these 10 following languages; English, Dutch, French, Russian, Arabic, German, Japanese, Italian, Portuguese and Spanish. There is a trading academy and information is easy to find on the website.
No. of Assets and Expiry time 13/20
There are 19 stocks, 12 Currencies, 7 Commodities, 20 Indices adding up to 58 assets which is far below the standards today. The 100 advertised assets on the main page are only available once you deposit over 10K. Expiry times are typical SpotOption, long term which can go as far as a weekly, month and yearly. Short term or so called "turbo" as in 60 seconds and up. There are the regular High/Low for 15-60 minute expiries.
Commissions, Support and Effective Return 10/20
The live chat was a bit hard to locate and it required phone number, name and email address which I think is too much information. The returns are first advertised to reach up to 90% but in the account type page it says that deposits under 2500$ only get up to 75% returns!
Deposit, Payment and Bonus 10/20
When it comes to depositing, things are smooth. C.C, Skrill, Wire, Webmoney, CashU, PayPal, Delta, JCB, eKonto, QIWI and a few more. There are several ways you can deposit but withdrawals seem to be a painful and impossible process for many clients. Bonuses require a volume of 40 times the bonus and 50 to 100% is offered to first time depositors.
Website Extra's 13/20
There is a news section providing a magazine, trending articles and press releases. They offer insight into the trading world and about recent economic events. Interactive Option offers signals too. For example if an asset is "hot or not" or indicate if an asset will go up or down as well as emailing signals to your inbox.
Interactive Option Overall Ratings (61) + Regulated (+3) = 64/100
 Check out our Recommended Binary Options Brokers

[interactive]