EmpireOption was launched in late 2010 by Riverjor SA, located in Montevideo, Uruguay at 1294 Luis Bonavita, WTC. Processing is provided by Brighton Digital Services Ltd with registered address 11A, Arcade House, Temple Fortune, London, NW11 7TL, United Kingdom. U.S. traders can reach them at phone number (212) 845-9749, French clients can call +(33) 975 181671 and their contact e-mail is: [email protected]. EmpireOption is not regulated.
Is EmpireOption a Scam?
EmpireOption does not appear to be a scam. An area of concern include some of the banking requirements. They are a little unconventional and designed to keep you trading and drain your account of money. Smaller accounts are discouraged from making withdrawals by minimums and maximums, trading requirements and FEES. The smallest account tier is the Micro. It allows a minimum balance of $200 and goes up to a maximum of $500, withdrawals cost $30 each and you must trade at least 20 times, with at least $25 per trade in order to be eligible for withdrawal. The largest account size is the VIP with a minimum balance of $30,000. This account has no withdrawal fees, no minimum and no maximum and only a 5 trade requirement. It also comes with unlimited free and immediate withdrawal as long as you maintain the monthly requirement. Is this a scam? Maybe not, it may be a way to reward traders who are trying to build account equity, not just skim a few bucks out of the market, because it allows you to build your account up to earn more rewards and is not dependent on deposit size. The flipside is that these requirements and fees, along with a bonus, will make it very hard for you to make withdrawals.
Editor's Note – Why EmpireOption doesn't Suck in 50 Words
EmpireOption doesn't suck because it is changing the way binary options are traded. As simple as that. The broker is based on SpotOption, but unlike other SpotOption brands has retained control of its own brand and banking practices, it is not part of the SpotOption payment network. This broker is based in Montevideo, Uruguay(we think) and is regulated there as a legitimate business under the country's commerce code (but not really, it doesn't provide any protections). Empire has recently changed many things about its operations that have increased its value to binary traders, especially those located in the U.S. The most important thing to note is the way it handles trader accounts (*Update: No US clients accepted) There is a progressive system that rewards traders for building account balances with things like immediate, free withdrawal.
Why does EmpireOption Suck in 50 Words
EmpireOption has gone to a lot of trouble to hide who and where it is. It using a network of front companies with international registrations, pretending to be located in London, and is not regulated. After that, the banking practices are onerous. At first they seem like they'd be pretty cool but in the end what they mean are fees, trading volume and restrictions. You just don't need that.
Should I Open an Account with Empire Option?
It's no secret new binary options brokers are opening to business almost every month since 2010, but some of those brokers are quite shady and therefore suspect of binary options scam (a big problem with white label brokers). The difference with this broker is that it is not a white label like the others. Most SpotOption brokers have less than 60% control of their websites and are tied into the SpotOption cashier system. Not EmpireOption. This broker has remained independent and in control of their own business, because it is an independent business, not a spin off. Empire provides its own banking and cashier services, among other advantages. Many brokers are using a prepared trading platform as their trading system and change a little their web site design to distinguish themselves from other binary options brokers, but they are actually more or less the same, or just a copy of a successful binary options broker. It took me only a quick glance at Empire Option to understand that EmpireOption is trying to do things differently and they don't want to be "just another" SpotOption brand. Their website is well structured and the entire experience is pleasant because you don't have to spend time to search for information which is scattered all over the place. Everything is where it's supposed to be. And the more I learned the more I liked it. The trading platform is very user friendly, there are many trading tools and options and the payouts are good. The whole trading experience and graphic design are top graded, similarly to all SpotOption based brokers, but with the new Spot2 platform they have gone above what the average broker is doing.  Empire uses the platform to its full potential, offering one of the most complete lists of assets around and make for some of the best binary options trading when coupled with the available expiries.
Update August 2016: Although their website is one of the better-looking ones, some information is missing. For example, we couldn't locate their FAQ section, their Asset Index and more importantly, the clear name of the owning company (we gave you their name above, but it took some "detective" work).
Update February 2017 – This is one of the better SpotOption spin-off's and includes all the bells, whistles and frills you could want. It's also not regulated, hiding behind a front company and has a poor reputation among traders and regulators so is not on our list of recommended brokers.
EmpireOption Complaints
One small but important step before depositing into any broker is checking a few search engines such as Google for any broker complaints. It's very simple, Bots.com are doing the work for you. The thing is that all brokers have complaints on the internet – if one doesn't, something fishy is going on – and Empire Option is no exception but considering that they are in business since 2010, the amount of complaints is very few and during the last couple of years they are even fewer so it's fair to say this company was indeed improved in terms of client's support.
Update August 2016: According to most of our readers that took the time to comment on our EmpireOption review page, this broker is heading into shady territory. Clients complain about problems with withdrawals and poor communication with the broker, unprofessionalism, and risky practices.
Update February 2017: The complaints have really piled up since the last time we updated this broker. EmpireOption is accused of many things including bad signals, shady brokers, pushy sales people and worst of all, inability to withdraw.
EmpireOption Regulatory Announcements and Warnings
14.12.2016: EmpireOption is on CySEC's list of unauthorized domains. Source: CySEC Warning list
29.2.2016: Spain's CNMV blacklisted EmpireOption for operating without a license. Source: Leaprate
2.9.2015: France's AMF has them on their blacklist as well. Source: FinanceMagnates
EmpireOption Bonus
The bonus at EmpireOption is average, around 30% for any deposit. This amount grows as your account grows. There also may be additional incentives from time to time (currently they are running a trading contest with accumulated 70K USD of prizes). The standard trading minimum volume is 30 times * bonus. In order to make any withdrawal of any kind you must meet the minimum trade volume.
EmpireOption Withdraw
We checked out the withdrawal policy at EmpireOption and found some interesting results. Withdrawal is based on account tier. The lowest account has a minimum of $200, maximum of $500 and requires 20 trades in order to qualify for withdrawal. The highest tier, VIP, requires only 5 trades and has no minimums, maximums or cost. The middle tier, Plus, has a ten trade requirement, a minimum withdrawal of $100 and a max of $3500. Micro accounts take 10 working days to process, Plus accounts take 5 working days to process and the best, the VIP, are immediately processed and sent to your receiving account. For withdrawals of over USD 1000, EmpireOption is entitled to make the transaction via wire transfer.
Update February 2017: Withdrawal fees are still here and compounded by trade minimums. They differ based on account tier: Micro account – 30 USD; Classic – 25 USD; Plus – 20 USD; Preferential – 10 USD; Empire VIP – 0 USD.
Empire Option Fun Facts
1. On their website, they show a thumbnail that reads "Regulated by: Norton Secured". Last time I've checked, Norton is an antivirus, not a regulatory authority/agency. Update February 2017 – EmpireOptions is now regulated by "McAfee SECURE".

2. On their home page, they say they are the Official Sponsor of Olympic athletes Federico Bruno and Gerard Giraldo and they show the medals won by these 2 athletes at the Rio 2016 games (a total of 16 medals). They don't actually say these medals were won at the Rio 2016 Games but the thumbnails and pics clearly point towards that. The fun fact is that according to Google, the 2 athletes did not win any medals in 2016.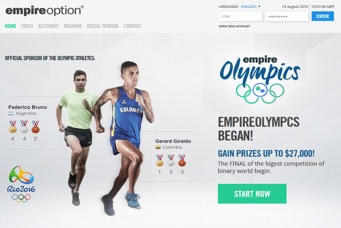 EmpireOption Ratings
User Friendly 19/20
EmpireOption is based on the popular SpotOption2 platform. The website is very user-friendly and has been recently improved. The trading experience flows nicely. The platform is modern and graphically attractive. EmpireOption.com is available in 5 languages: English, Portuguese, Spanish, French and Deutsch.
No. of Assets and Expiry time 17/20
The total number of assets varies during the day as one market opens and another closes. There are over 2 dozen international indices including the major U.S., EU and Asia-Pacific indices, 8 commodities, about 20 currency pairs including Bitcoin and over 100 stocks. Expiry are not that great however. The platform allows you to choose expiry that ranges from 30 seconds to end of day to end of the week, next week, end of the month, next month and the next on out until the end of the year, but very limited choices when it comes to short expiries.
Commissions, Support and Effective return 15/20
EmpireOption don't charge any fees or commissions from traders when they first deposit or purchase options. Withdrawals from the Micro Account are charged with a 30$ fee for all methods with that fee decreasing as your account grows. The really crappy part is that there is also a trade minimum to maintain account status which means you have to trade, have to win and have to leave your winnings in your account to avoid fees. EmpireOption support may not be the best I've seen. The effective return is close to average with a range of 70%-82% for In-The-Money. The Out-of-Money refund stretches from 0-5%.
Deposit, Payment and Bonus 14/20
A minimum initial deposit of $100 is required at EmpireOption for a Micro account. The deposit methods which are accepted by this trading platform are Money Bookers, Skrill, Payza, Credit or Debit Card and Wire Transfer. Withdrawals are generally available via the same methods with minimum fees applied. The first withdrawal of the month is free for all account types except Micro. Depending on your account your withdrawal will take anywhere from 10 days (Micro) to immediate (VIP). EmpireOption offers attractive Bonuses but in order to get the bonus you will have to request it, it is not automatic. The volume required to withdraw any money if you accepted a bonus is 30 times that bonus.
Update February 2017: Deposits are easy but when are they not? Account requirements here suck, making withdrawal requirements sucks and the complaints about not getting money out have piled up.
Website Extra's 13/20
Based on SpotOption trading platform, EmpireOption provides a nice set of trading tools and options, including Roll Over, Double Up, 60 seconds binary options and Sell Now. The trading technology provided by EmpireOption is modern and extra user-friendly. There are also some market reviews put together by EmpireOption, a live news feed bar, free trading signals and a trade simulator to test out trading ideas.
EmpireOption Overall Ratings = 78/100
WARNING!
This broker is rated average among our members and staff. Start your trading career with a
Top Rated Broker Now!