I saw this post on Facebook about a rejected idea featured on Shark Tank called Postero that is now making everyone rich. Skeptic, as usual, I decided to check it out and the link led me to a website called cnn.com.money-trending.com/shark… Being a multitasker, I happened to then close Facebook and forgot about checking the website out with the Shark Tank idea. When I finally saw the website, having forgotten about that the whole thing was just another Facebook ad, for a moment I really thought this was the actual CNN.com and that the story, therefore, must be true. So I went to YouTube to see if there was a video uploaded from the moment this Postero idea was rejected but there was no mentioning of this anywhere… something was fishy!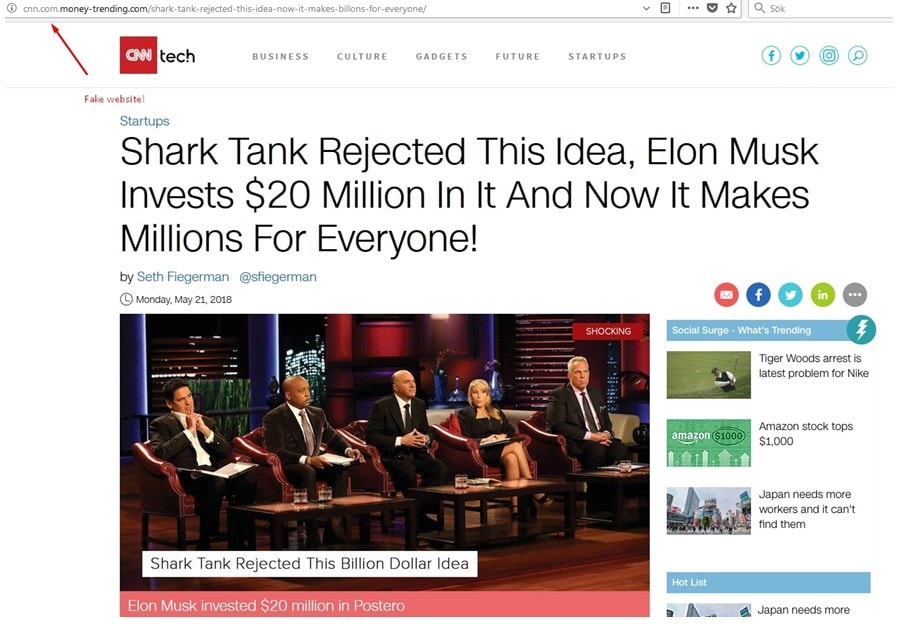 The second time I visited the page, the title was changed, this time Elon Musk was mentioned too!
Postero Was Not Reported by CNN
Moments later I realized the page I was directed to, was actually NOT the real CNN but a fake website often used to trick people into thinking the article being promoted is an actual news article! IT was pretty easy to confirm, all I had to do was to visit the real CNN money which is actually: http://money.cnn.com/ and NOT starting with cnn.com.money – take note on the difference! Besides, all the buttons on the fake website were not working which was a big giveaway right there. The writer Seth Fiegerman, however, does exist and he is an actual technology reporter for CNN so these scammers used his name in an attempt to give their made up the story some credibility.
Postero.IO – Famous Scammers
After reading all that, I decided to look into this and visited the website they were promoting, postero.io. Normally, when you see a *.io domain, you think "oh, another token or cryptocurrency" but in this case, you couldn't be more wrong.


In fact, the soon as I saw the page, I knew it was a scam. Because the guy who appears in their pitch video has already been exposed by thatsucks.com and other review sites. One of the scams he runs is called: Maximus Crypto Bot. If you read that review, you will find they even have a third scam: Maximus Edge Autobot.


The guy to the right appeared in the make easy money scam called Maximus Crypto Bot


This time he calls himself Robert and claims to be the CEO of Postero which is supposed to be a unique service that can make a short-term prediction on the cryptocurrency markets. Of course, it's all a big fat lie and here is why:
For one, their terms and conditions are exactly copy pasted from their previous scams mentioned above. You can put both side by side and see it's exactly the same and it says that the video is fake and created by actors! Well… we didn't need to know that from their own terms and conditions since we already know they appeared in other scams but hey, it's yet another proof.


These terms and conditions are typical for scam sites as of lately they pretty much all include this in their terms.

Secondly, all these people want is to send you to some scam broker and they don't have any new technology. This is actually also mentioned in their own terms:
"you acknowledge that some of the service and/or software components may be provided by a third party…" The third party is the unlicensed broker which we will expose below.
Just another White Label Robot
Once I registered at Postero.io, I was immediately redirected to a typical white label robot platform. This platform looks familiar, the usual scam robot that some affiliates use but under different names.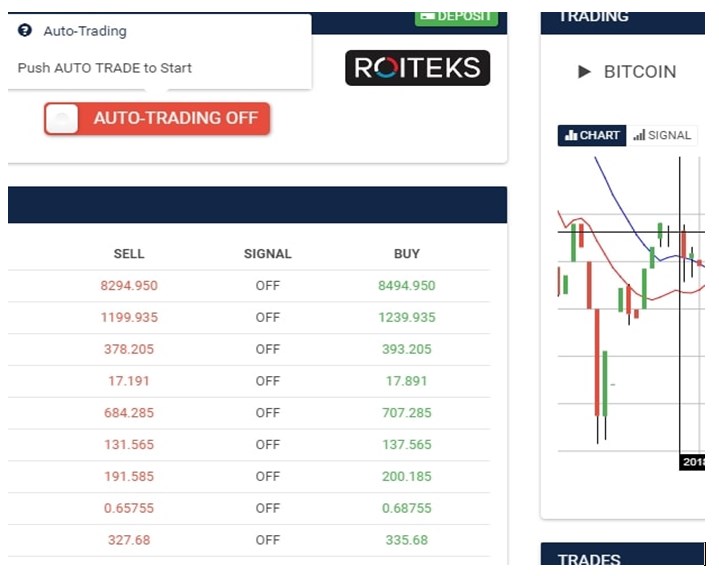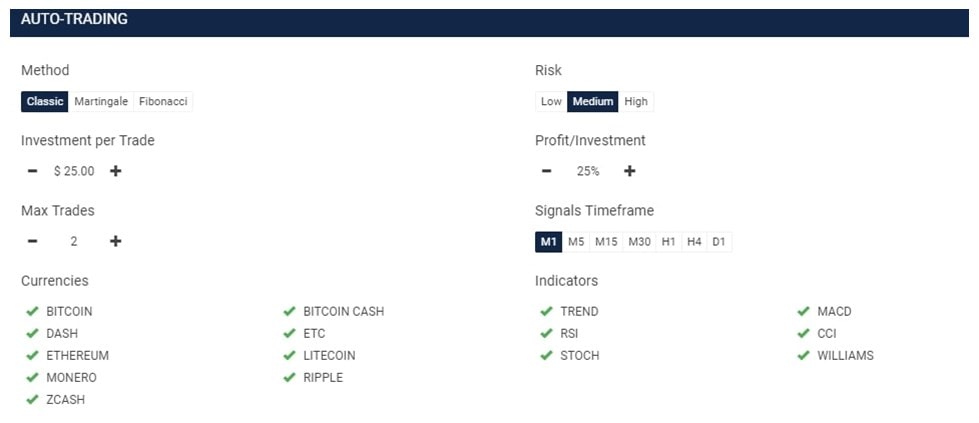 You may recognize the list of indicators mentioned in the image above! If you do, it's because they are the typical white label robot indicators. And there you have it, it's yet another garbage binary options robot and not an actual cryptocurrency technology that can manipulate the price for you.
Another Unlicensed Broker
The platform was in turn connected to a broker called; Roiteks owned by Green Oak LTD which is not so surprisingly already warned against by the FCA (financial conduct authority in the UK).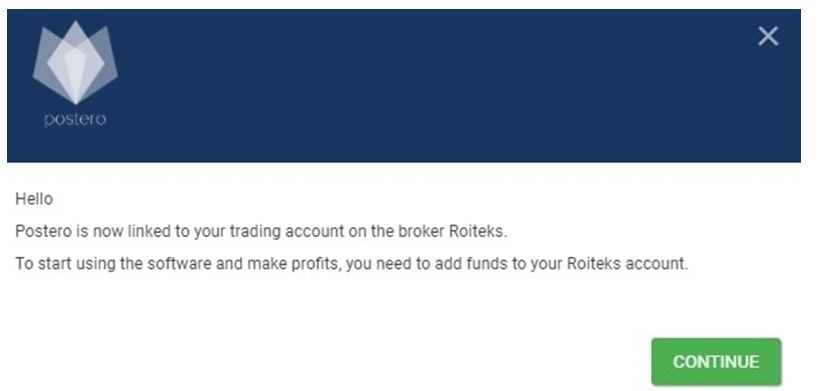 Was sent to the scam broker called Roiteks and asked to deposit 250$

Here you can read their full warning: Green Oak Limited FCA Warning. In addition, Australian regulator ASIC: "Advises this company could be involved in a scam" as reported here at moneysmart.gov.au.
Note that you may be redirected to another broker but the risk is high that it's an unregulated broker. Nevertheless, there is no money to be made here. You will be prompted to deposit 250 dollars and the robot will blow your accounts within a very short time. Next thing you know the broker calls you and asks you to deposit even more.
Fake Facebook Comments
As I explained in the beginning, the post or rather the advertisement that lead me to this scam was from Facebook. Under that fake CNN page I could find a whole bunch of overly positive Facebook comments. Everyone appeared to be living in wealth thanks to Postero… But don't get your hopes high. These comments are as fake as the fake CNN site.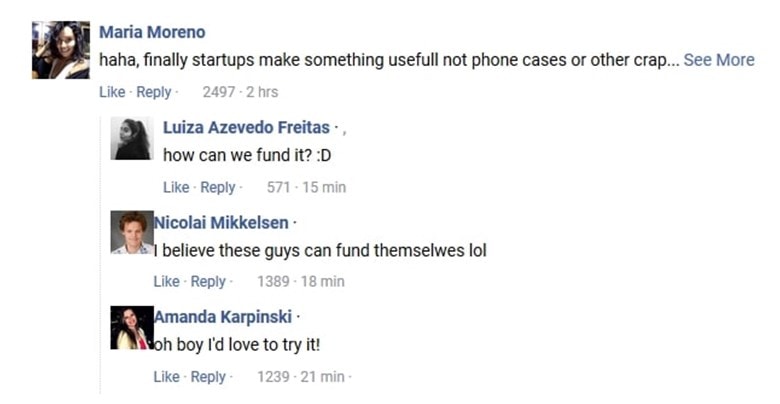 Fake comments with fake replies
If you try and click on "load more replies" nothing will happen. Like I said, none of the buttons on the website work except for the url to Postero.io. I even image Googled one of the overly positive Facebook commentators profile pictures and guess what! The same image is being used elsewhere but also for other scams. Check it out: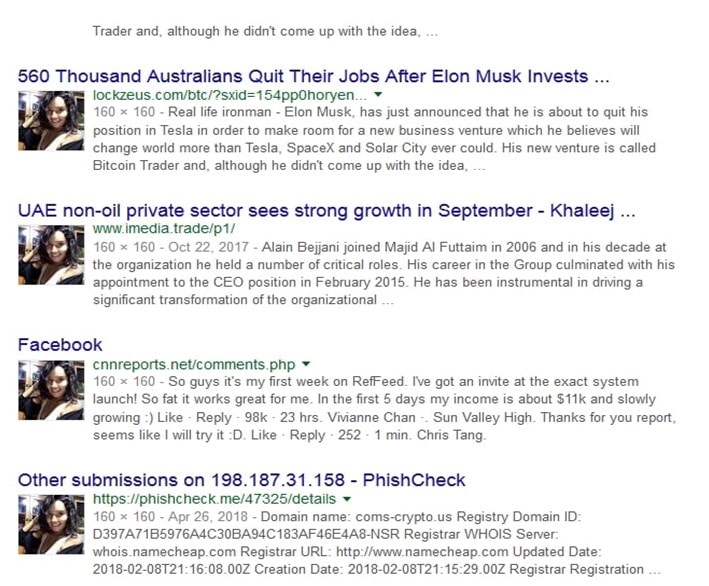 Same image being used for other purposes and scams.
Avoid Easy Money
There are many lies and fabricated stories on the Postero.io website. They are even telling you about giving away free money but as you saw above, they want you to deposit 250$ with a scam broker. This is how they make money off of you. They even photoshopped Kevin O'Leary and Mark Cuban tweets!


This is not new, theglobeandmail.com reported last year about Kevin O'Leary's image being used for get rich quick scams. And that fake title about Elon Musk… oh please, don't get me started on that!