How to Choose My Binary Options Strategy? Literally Speaking.
How to Choose Your Binary Options Trading Strategy from BOTS List?
Car keys… where are my car keys? Driver's license… need to have that too, but where did I put it? And what about the keys from the apartment, where are they? Oh I wish someone would organize things better for me… and speaking of organizing stuff, I realized that some of you are having trouble finding the strategies on our main website and once they find them, they have trouble choosing one that suits their needs and skill level. Well, the purpose of this article is to explain in simple, clear steps how to find and choose a Binary Options strategy. No fluff! Straight to the point:
Step 1: On our homepage, click on the section "Reviews and Ratings".

This will take you to a page where you can find all our reviews of brokers, signals, tools and of course, strategies.
Step 2: Now, go to the "Strategies" tab: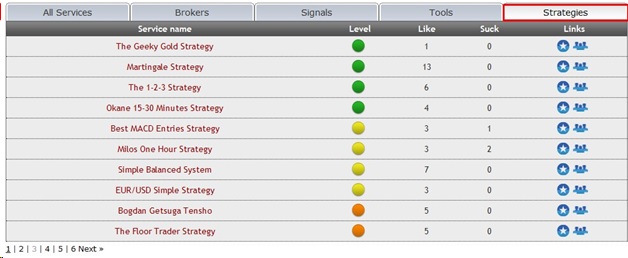 This page was created especially for helping you find the best strategies for your skill level and risk appetite. Although a strategy might be well suited for me or John, or Mary or Mr. X, maybe it is not the best for your style and this gets us to Step 3: Choosing the actual strategy.
Step 3: Here you have more than one option:
Read the reviews. It's that Star button to the right. This will help you understand the strategy better and find out its strengths and weaknesses. I strongly advise you to read the review before deciding whether to trade a strategy or not.
Click on "Level" and this will sort the strategies considering the level of education needed to understand and trade them. Keep in mind there are 6 pages of Strategies so you will have enough to choose from. Green is for Newbies, Yellow for Advanced and Orange for Experts. I would recommend only choosing Newbie and Advanced Strategies if you completed the College section of our School.
Sort by Likes. Click on "Like" and all the strategies will be sorted considering how many Likes they've got from our readers. Maybe you want to trade the most popular strategy or maybe you don't agree with our readers and feel a strategy is overrated. Share your vote!
Go to our forum discussion regarding a certain strategy (the far right button that shows three people). Some of the strategies have their own thread where people discuss them and share their experience with a particular strategy or even find ways of improving an existing one. Even more, if you like a strategy but it doesn't have a thread of its own, you can start one on out Forums.
That's about it. Now you know how to find a strategy, but if you are still having problems or you feel you didn't understand something after reading the review or article dedicated to that particular strategy, please join our Forums or share your thoughts in our comments section. Remember, there are 6 pages of strategies so I am sure you will find one that is suited for you. Good luck if you need it.