Oh dear, here we go again! Once again there is a new Holy Grail Robot and it claims not to be another "one of those internet scams". Isn't that unusual, another make easy money system that claims to be legit – could this be "the one"? Well, this time the robot is called the "1K Daily Profit Software".
Yeah, make 1K per day without lifting a finger. They claim there are over 180 people waiting in my location to get access to this amazing software that's gonna change my life, so I better hurry. Luckily, there are 11 spots left and apparently I "received a private invitation from a friend" of this… "John".
Sigh, another "John" with his "limited spots" again. If I had a penny for every fake person who called himself John and every robot service that claimed the spots were limited, I could… I don't know… fund NASA's future trip to Alpha Centauri. But ok, I will calm down for a moment and give this "John Becker" the benefit of the doubt and see what he has got to offer!
1K Daily Profit – How Does It Work and Is There Proof?
Right off the bat we get the typical pitch video on the main page of 1K Daily Profit, you know… the loooooooong pitch video meant to keep us listening. So I listened and John says he is gonna show me LIVE evidence of this Robot not being yet another internet scams and he promises that I won't be disappointed. In fact, he is gonna show me this once and then my link will be expired and I can never hear from John again. Wait, what is this? One of those Mission Impossible messages that self-destruct after the message has been listened to? Damn, better not blow up my monitor John….
But sure, that sounds good! Go on dear Johnny, I am all eyes and ears – sitting tight waiting for your proof. I was getting all hyped until he said his partner was "Goldman Sachs"… hold on, I just can't stop laughing right now – HAHA, Goldman freaking Sachs is his partner – HAHAHAH?
Did they make a Binary Options Robot together to share for free? Why isn't this on the first page of Forbes?
Next thing you know, dear Johnny shows us how easy it is to make money with this robot… Wait a second… Didn't you say like 30 seconds ago that this had NOTHING to do with any "BOTS"??? Now you are saying this a robot. But I noticed something else, something a beginner might not have noticed. In the video, he uses Banc De Binary. Guess what? That broker is closed and for good reasons, they were ripping people off!  Read more here: Banc De Binary shuts Down – What About the Clients?
1K Daily Profit Busted Big Time – Bad Editing and a Lousy Scam!
Ouch ouch ouch… This has to be the worse video editing I have ever seen. Why? To a newbie, this might be hard to observe but please, take a minute and see the picture shared below. John claims he has been out eating his tuna sandwich in the Bahamas (I hope it was Dolphin-safe tuna) while his robot (that he said was not a robot remember…) with 99.8% accuracy has been only winning. Huh, really? Let's see the "hardcore evidence": It says "Lost: 0". Good huh? But then look at the trading history… You can actually see that the "not a robot but a robot" only won 4 out of 8 trades! HAHAHA busted!!! Can't see it? Look at the column "Payout" and see how many times he got 0.000 – ZERO bucks back and look at the entry and expiry prices! 4/8 trades are only a 50% win rate and in Binary Options, that is gonna quickly result in a blown account. Awwwh, "John", you said you were going to be honest with us =(.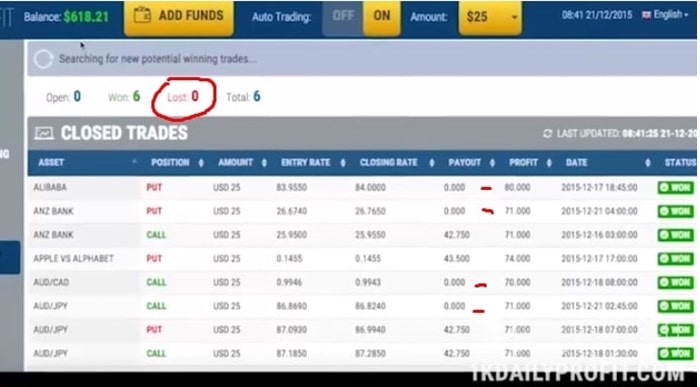 Watch the areas I marked in red. See the payout was zero meaning he lost, yet the obviously photoshopped icons to the right read "WON" and it says "Lost: 0" on the top menu. Also, notice the expiry rate vs the closing rate. For a put, the closing rate needs to be lower if it is higher that means it is a lost. This robot sucks more than their editing!
Fiverr Actors, Personality Disorders and Utter Nonsense
Not sure how many holes we have found in his story so far but here is another, yet not so shocking revelation: The picture he shows is not of a "John Becker" but a "Larry Elision" – maybe he is suffering from 'Dissociative identity disorder'. Seriously though, I think even that Larry name is a made up name and the guy in the picture really is just a model and has nothing to do with any of this. In fact, if you make a Google Image Search, you get "Best Guess: Con Artist". Wow, mind-blowing how smart Google is huh? And what about the testimonial girl in the video? If you have read at least one or two of our previous Robot reviews you are probably screaming at your monitor "SHE IS FROM FIVERR". Fist bump, you are learning. PS, did I say which broker I got assigned when I signed up to 1KDailyProfit? (with a fake email of course). I got StoxMarket, a broker already warned by multiple authorities after getting too many complaints. They are blacklisted in Russia, Canada, Italy, France and Spain just to name a few!  
1K Daily Profit Verdict: 99.8 + 0.2 = 100% Scam – Lose 1K Daily!
Can we wrap this up now? Fake personas, fake testimonials, fake and BADLY edited results, lack of actual evidence, Goldman Sachs, 50% win rate and even Google tells you that John's image is closely related to fraudsters. Yeah, my final verdict has never been stronger, this is not 99.8% but a 100% scam and very busted!