Bitcoins Wealth Club Review
Why The Bitcoins Wealth Club Sucks?
It is a multi-level marketing scam in which they will implicate you in their crimes. When you get burned you won't just lose money, you may lose friends and your freedom.
Great News!
We have found a Robot that will make you so much richer in less than 30 working days!
Show me the Robot!
.
Why The Bitcoins Wealth Club Might Not Suck?
I don't why it might not suck this is such a scam I can't even fake it.

To start, there is not one shred of information about the company behind this website. There is no address, no phone numbers, and no way to contact them.
What is The Bitcoins Wealth Club?
When I first began researching this review I thought, oh well, here goes another of the same old cryptocurrency scams. They're going to tell me how much money I can make and then set me up with a shady CFD broker. Boy was I wrong. BitcoinsWealthClub.com is not only a cryptocurrency scam ripping off wannabe traders, but it's also a multi-level marketing scam and a home base for anyone who wants to start scamming people themselves. I would warn you though if you think you are going to use them to scam other people it's more likely you are going to get scammed yourself.
BitcoinsWealthClub.com is a website offering a path to riches paved with cryptocurrencies. From the start, they let you know you can make money trading cryptocurrencies but tease you with additional, passive streams of income including mining and marketing the system they are offering. Basically, they want you to trade a little, use the money to invest in a mining operation and then tell all your friends how great a job you've done and how much money you are making.
Signing up for the system is free and comes to a 9 module course you must follow in order to set up the wealth system. These include videos about what cryptocurrencies are, simple methods of buying, ways to accelerate your wealth building, and last of all, how to trade. The course fills you in on how to use all the tools in their wealth-building portfolio.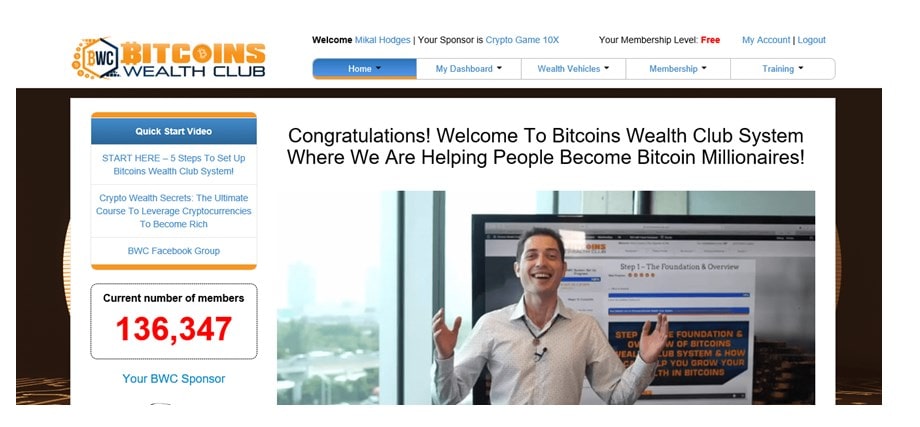 The tools include a mining pool (for BTC mining), automated trading, trading signals, and a social media network. When I looked into the tools individually this is what I discovered. The mining pool they use is called the Bitclub Network and is widely regarded to be a scam. One reviewer referred to it as a Ponzi scheme. The trading signals and automated trading, well, those types of things just plain suck in most cases so even if it is legit it's not worth your time (they have a half dozen to choose from, FYI). The 3-T Network is the best part of the scam. Once you get hooked on their nonsense the 3-T Network (three-tier marketing network) will teach you how to market the system yourself for "passive income".
What I want to point out is this. The system is set up for you to make a deposit with a broker, a scam broker, and make some "profit". You are convinced to keep that profit in their system with the mining contract, "deposit your winnings and leverage them for passive income." All the while you are getting your friends to join, building up the amount of money in the system, until they decide to cut you all loose, take the money and run.
Is The Bitcoins Wealth Club A Scam?
Is BitcoinsWealthClub.com a scam? Do leaves grow on trees? Hell yes, this is a scam and a very sophisticated one at that. Not only do they convince, try to convince, you to deposit money with a CFD broker they take it a step further. They convince you to market the scam for them and the worst part is that the affiliate program looks like a good one (if you can trust them to pay you and I wouldn't). Are there millions to be made with cryptocurrencies? Yes. Is this the way to find them? No, not a chance.