SpotOption Platform Review
SpotOption Platform Review – The most Popular Binary Options Trading Platform

The Spot Option trading platform has been in development since 2008 (which is a relatively long time in comparison to the competition) and since then the developers have structured a relationship with Reuters to receive their data and price feeds, which has helped to ensure trading accuracy and up to the minute market moving events. 
The front screen on the trading platform is an attractive design with special attention paid to clarity and ease of use, which will enable traders to make faster trading decisions when intra-day strategies are implemented.  This is also helpful for new traders that might not be fully accustomed to the typical elements of a binary options trading platform.  Additionally, the platform offers some of the best tools for risk management of any of the Binary Options platforms I have seen. Recently a new and improved Spot2 platform was released which still maintains all the high-level features and excellent functionality but adds a new visual dimension and makes it more pleasing to the eye.
SpotOption Platform Ratings
Platform functionality (9/10)
Platform efficiency (8.5/10)
Ease of use (9/10)
Additional information (8.5/10)
Average number of assets and expiry times – (60 Seconds, hourly, daily, weekly) 8.5/10
Trading tools available – rollover, double up 7.5/10
Trading options available – (Up/Down, One Touch, Options Builder, 60 Seconds, Pairs added on the new Spot2) 9/10
Prices & Rates: Accurate
Recent Improvements and Additions 
SpotOption is constantly trying to improve and as a result, they have recently introduced new features on their platform. This means the usability of the platform has increased because now it appeals to more traders. Let's have a quick look at the new features:
Ladder: This is by far my favorite, mainly because traders can profit more if price goes further in their favor. Predefined strike prices are given to the trader, in a ladder style: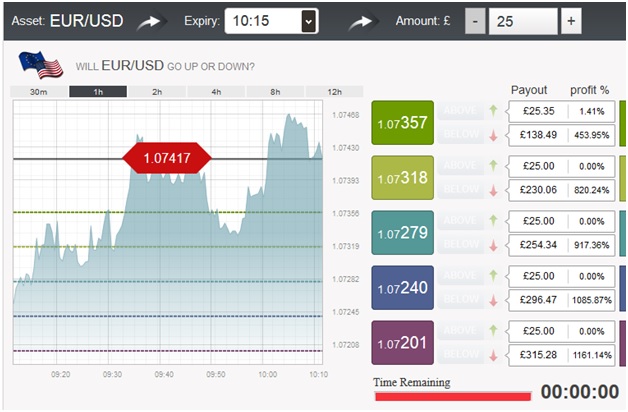 As you can see the further the strike price is, the bigger the potential profit. This is the feature with the highest profit potential but the risk is also increased because if you take a closer look you will notice that counter-trend trading will bring you the biggest rewards. Nonetheless, the feature is a great addition to the SpotOption platform.
Forex: Now Binary Options traders can get a taste of trading big brother Forex in a simplified and user-friendly way: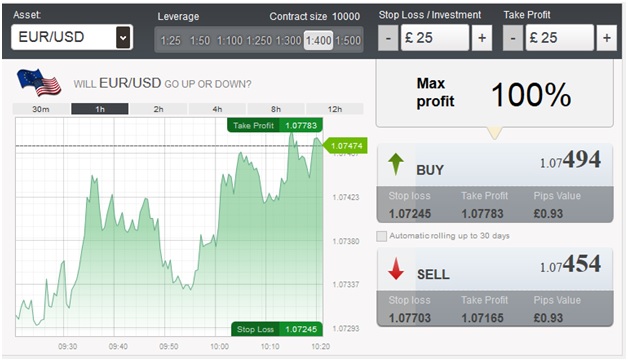 The Stop Loss and the Take Profit levels are already set by the platform but they can be adjusted by each trader to suit their needs. The same goes for leverage: it can be adjusted with the click of a button. Considering that these are the things that can create the most confusion when it comes to Forex, it's a good thing that SpotOption decided to make it easier.
SpotFollow (or IFollow): According to SpotOption, this feature is meant to make trading more social and to allow newbies to follow the trades of more experienced traders: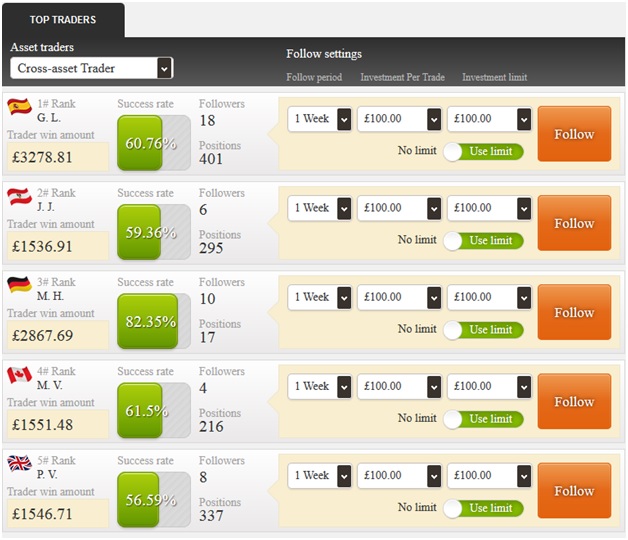 Although I like their Forex and Ladder additions, I am not so impressed by this one for two reasons: first of all, I don't know who are these people that I am supposed to copy. I don't know their names and I cannot talk/chat with them and this kind of takes away from the social aspect of the iFollow. Second, I cannot be sure they are even real people. Call me paranoid, but the binary options industry is full of lies and this could be just a gimmick to make me think "Oh, all those people make money so I will invest too".
Overall, these new features are a welcomed addition to an already good binary options platform and ultimately they bring more freedom, opening new doors to profit. Each trader must assess if the features are something they can incorporate in their trading style and if the answer is Yes, I'd recommend asking your broker for a full tutorial on their usability and details.
Why SpotOption doesn't suck?
The most impressive aspect of the trading platform is its flexibility and clarity of use.  Trading choices are divided by tabs at the top of the platform, so the type of option contract can be chosen with little effort.  This is helpful because in some cases is it possible to make mistakes when placing trades (especially in short term intraday positions) and this level of clarity lessens the potential for opening an incorrect position.  Hedging positions is also possible, which is another nice flexibility feature.
The platform also offers one of the most useful additions to the typical Binary Options platform, which is the "Options Builder."  This is a highly valuable tool, as it allows traders to structure their risk management plans by offering customized expiry times and risk profiles. The new and improved Spot2 version adds Pair trading which pits one asset against another and compares their performance. The trader consequently profits if he/she chose the better performing asset. In all, the platform is very clearly structured and designed for efficient use. 
Why does SpotOption suck?
In my experience, the major weakness of the platform was the trading portfolio feature.  When opening this feature, active positions are not displayed unless you choose specific data and time parameters.  I found this to be especially troublesome because it gives the impression that there are no open positions when, in fact, there might be.  This can be a risky occurrence, especially for short term traders looking to open and close trades quickly. 
Another negative was the trade confirmation window, which requires you to approve of your trade in a new window before it is actually executed.  While this might be preferable for some, more conservative traders, I consider this a negative as it reduces the flexibility for news trading by limiting trading speeds. 
Platform Technology
Since Spot Option is one of the more established platforms in the industry, it is not surprising to see that they offer some of the newer advancements in platform technology and execution.  This can be seen in the Option Builder field tab, which allows you to determine your option criteria, with asset choices and expiry times.  This risk management feature is one of the Platform's strong points and this will be seen as particularly attractive for more conservative traders with clear risk tolerance levels. 
The other platform trading choices can be seen with the One Touch and 60 Second trading choices.  The One touch will be familiar to traditional options traders, as this entails price activity "touching" a predetermined price level within your chosen expiry time (for example, one week or one month).  The 60 Seconds feature is characteristic of the more modern, internet based trading environment, as these contracts will expire within 60 seconds of execution.  This will be an attractive feature for more aggressive traders, or those trading based on fundamental news releases.  The platform itself is web based, and trades can be placed immediately after inputting your log in information (which is another aspect making the platform convenient for short term or news driven traders).
One downside is the limited ability traders have to alter the trading station to tailor it to your individual needs or specific asset classes.  If this is important to you, you might want to look for another platform.  Newer traders, however, without much need to change their trading stations might actually find this preferable, as most of the features are already clearly laid out and easy to find.
Finally, the Platform does offer some of the more common features, such as roll over and double up.  In rollover, traders are actually able to delay expiry time (at a cost) by as much as 30%, and this can be extremely useful when positions are working against you and creating losses.  This comes along with the double up feature, which allows traders to open a second position, using the same market conditions and price levels. There's also a "Sell" feature which allows the trader to get out of a position before expiry and receive back a portion of his initial investment. 
My Trading Experience with SpotOption
Given the flexibility that is given to short term trading styles with the SpotOption Platform, I wanted to enter into some intraday positions to really test out the strength of these features.  Typically, short term trades are not my style or favored approach, but the 60 second trading choice really caught my attention and I wanted to give it a try.  Since this type of trade is not something I normally deal with, I decided to trade using a low volatility currency pair (the EUR/USD), which typically tends to obey support and resistance levels more than most other asset classes. 
To structure my trade, I first looked at my long term charts to get a sense of the general trend.  It was clear to me after doing this that most of the momentum is in the downward direction so I waited for a rally on the short term charts to enter into a 60 second put option.  In this case, I waited prices to move up to 1.3600, while at the same time showing an overbought reading on the 5 minute RSI indicator.  Once I saw that prices were stalling at 1.3595, I entered into my 60 second put position.  Prices ticked a few pips higher but never broke the 1.3600 barrier, and markets quickly gave up on the attempted rally and dropped back through 1.3590, which is where prices finished at the 60 second expiry. 
Overall, the trading experience in this case was favorable expect for the fact that I nearly missed my entry level because I was forced to approve the confirmation window before the trade could be triggered.  Needless to say, I would have been very unhappy if this caused me to miss my position, so I am a little unclear why the Spot Option Platform pops up this window for such short term positions.
Pros
100% web-based
Customer support team is friendly and offers live support
Some great extra trading features- OneTouch, OptionBuilder, 60 Seconds, Pairs
The Today's Call and Put percentage among traders
Fast/Pro Trader
Cons
It is quite suited only for beginners and intermediate traders; advanced traders might not like it.
The charts are too small and hard to read.
Too many brokers are using this platform, many of them are not considered as good brokers