Approved for Advanced Traders
Trading the Binary Options Market with the Double Red Strategy
Full Review of the Double Red Strategy for Binary Options

The Double Red Strategy is a popular strategy for binary options traders. This strategy is based on options scalping techniques and is not suited to beginners. Options scalping is very risky, the short term binary options used to capture those moves are also very risky. The Double Red Strategy is best used when the market is calm or range bound.
Double Red Introduction
The double red strategy is a binary options trading strategy that aims to catch a short-term bearish movement on an asset; usually in a matter of minutes. This type of strategy is also know as option scalping. This can then be used to trade the Rise/Fall or High/Low binary options trade, with a very short expiry that should not exceed 15 minutes. Because of the very short-term nature of the trade it carries enough risk to be considered pure gambling.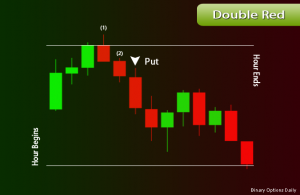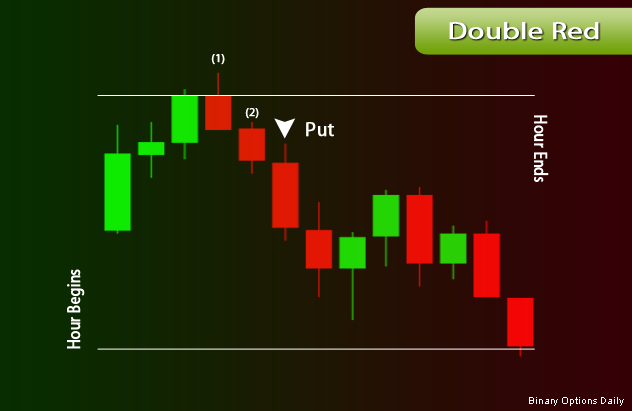 What Is The Double Red Strategy
The double red strategy is a short term reversal system based on price action and resistance. The trade is set up on the 5 min charts and is signaled when two bearish candles form following a test of resistance. The signals generated with this system are good for 30-60 minutes and no longer. How it works is like this. You are following asset XYZ and wish to make a day trade. First identify support and resistance levels on the weekly and daily charts, then narrow your focus to five minute charts. On the five minute charts you will be playing off of your long term resistance lines, if none are close by then you may have to look for potential short term resistance levels. Then, when price hits your resistance level wait for two black candles. If the second black candle closes lower than the previous two candles you have a signal to buy puts.
Why the Double Red Does Not Suck: My Opinion
I usually like to run away from the ultra-short term expiry trades in the binary options market because of the extreme uncertainty of those trades. However this is one strategy that can be used successfully to trade these ultra-short expiry binary options. Personally, I like this strategy because it is quick and pretty straightforward – to make a decision you simply have to identify two consecutive candles in red. If the setup occurs very well, you may even use it to target the high pay one touch out trades that offer up to 300% returns on trades.
The simplicity of the Double Red is what catches the eye. You are watching your resistance lines and there are two sequential bearish candles on your chart. The close of the first candle in the pattern is lower than that of the previous bull candle. The second candle opens above the low of the first candle and closes below it, and there goes your double red. Once you get the formation, head over to your binary options platform and execute a short expiry trade. That's it. The chart used in identifying the pattern is a 5-minute chart, so your expiry should be opened when the third candle has retraced slightly upwards into the body of Candle 2. Bias is bearish, so select Fall (Rise/Fall) or Low (High/Low) and set your expiry to between 5 to 15 minutes.
Why The Double Red Strategy Sucks
If you try trading the Double Red during a news release, you should prepare for a day of redness and sadness. The unpredictability of the news will take the trade out and you will lose your money. If you cannot identify candlesticks properly, then this trade is also not for you. Another reason why it sucks is expiry, you have to be very careful of how much time you give the trade. If your expiry is too short or too long, prepare to see double red on your account. Also, you have to be very quick making a trade. If you are the nervous type who cannot execute trades quickly and smartly before prices change, the trade will show you a double red card.
Conclusion
The Double Red Strategy is a risky and unpredictable trade not suited to beginners. The nature of short term trading like this is too unpredictable. Experienced traders will also have a hard time with this because it does not take into consideration trend, resistance or any other indicators.  Unstable price actions are the norm as the price will lurch around in an unpredictable manner. Under such conditions you cannot make a decision and execute a trade at the same time. You are better served trading this strategy when there is no major news event taking place. In addition, try to do your analysis and take the trade when the trading time zones overlap. This is what guarantees the required volatility that is just enough to keep you profitable, but not too unpredictable as to destabilize the trade. Finally, practice the Double Red on the demo platform of a Binary Options broker. That is the only way you will master the trade.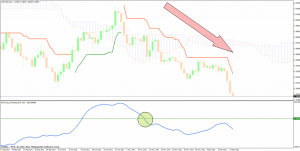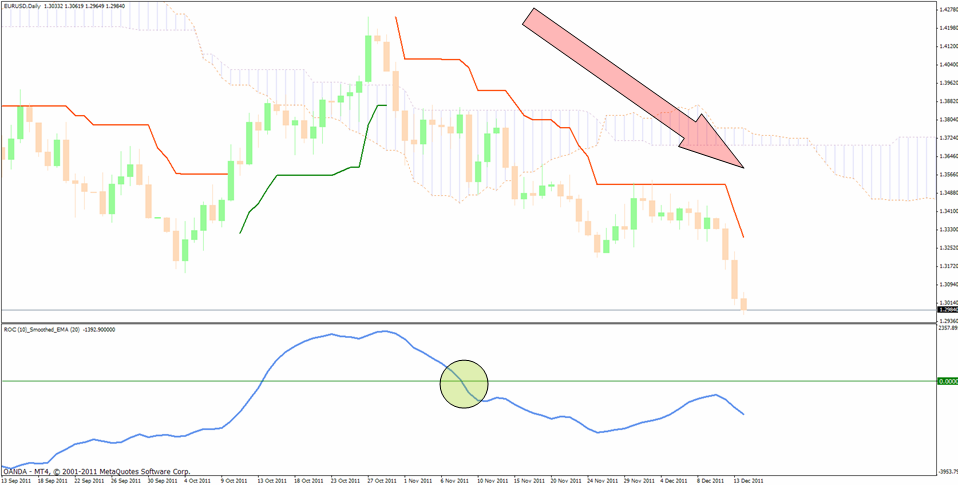 Talk about the Double Red Strategy on Forum!