Arsalan's ADX and EMA Cross System – Adjusted for Binary Options Trading
Full Review of Arsalan's ADX & EMA's Cross System
No he's not Aslan from Narnia, this is Arsalan and I found his strategy on forex-strategies-revealed.com. He uses only two indicators and has been experiencing consistent profits with this strategy that he calls "ADX & EMA's Cross System". The rules are quite simple to understand even for a beginner, if he's looking for a good strategy he can start practicing with immediately. While setting up my charts as the strategy required, I noticed that it looks very promising and gave me a  good feeling it will work as a binary options strategy! Read on to see if my first reaction was right.
What is Arsalan's ADX & EMA's Cross System?
This strategy uses Average Directional Movement Index, (ADX – period 14) and EMA's set on period 3 and 10. If you are not familiar with ADX I recommend that you take a look at this great article: Average Directional Movement Index – The Money Maker? You don't have to study all the details about how ADX works if you are not interested but it can help you get perspective on this strategy.
Let us just jump ahead to how the strategy works. Allow me to explain it as simply as Arsalan does it in his presentation of the strategy.  Arsalan wanted to make the indicators easy to read so he suggested that your EMA 3 and +DI should both have the same color. The same goes for the EMA 10 and -DI. For example, if EMA 3 is green and EMA 10 is red we can quickly spot a call signal when the green crosses the red from below, going up. All you need to know is that, when green crosses red from below it means this is a possible call opportunity and when it does the opposite it is a put signal.
To take a signal you need to confirm that this cross is occurring on both the EMA's and the ADX or else the signal is not a valid setup. The opposite, green line crossing red from above for put setups, is true. Arsalan uses the daily charts when he trades with this strategy and mentions that it works very well with stocks and  currency pairs. Something to keep in mind is that both the EMA and ADX can change their positions if the candle reverses before it closes. To avoid such false setups, always wait for the current candle to close, confirming your call/put entry!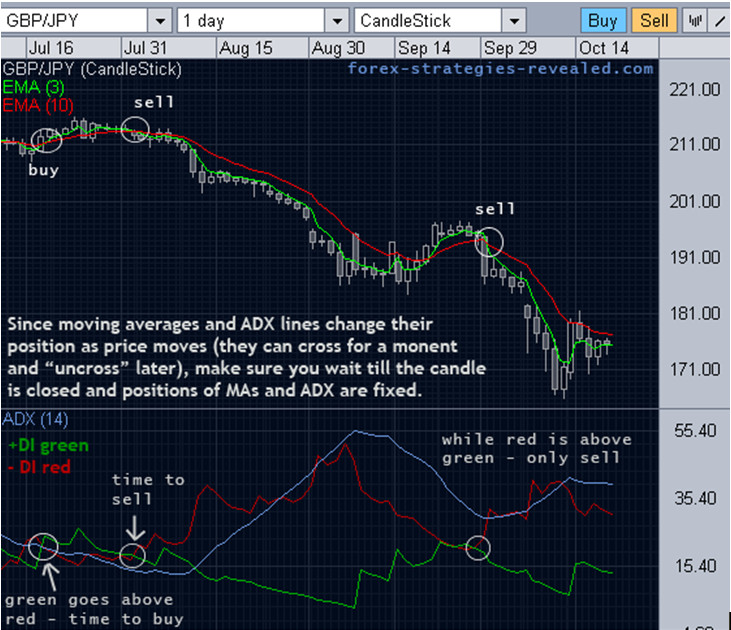 Notice the red and green colors, +DI matches EMA 3 and -DI matches EMA 10. Ignore the blue ADX line as it is not mentioned in the strategy, hence it is not significant for finding setups.
Call Signal:
Enter calls when ADX makes a bullish crossover, confirmed by a bullish moving average crossover. Wait to enter until the current "signal candle" is closed so that the position of the ADX and EMA lines are fixed in the desired direction.
Put Signal:
Enter puts when ADX makes a bearish crossover, confirmed by a bearish moving average crossover. Enter when the current "signal candle" is closed so that the position of the ADX and EMA lines are fixed in the desired direction.
Unfortunately, there isn't any info about expiries because this is a FOREX strategy. As for the timeframe, Arsalan suggests using the daily charts but I think you can try it on M30 and above for binaries. We can talk more about expiries and timeframes in the forums!
Why does Arsalan's ADX & EMA's Cross System Suck?
I can't really say anything bad about this strategy. It doesn't suck at all. The only part that sucks is that we can't say anything about expiries or how well it works on lower time frames.
Why doesn't Arsalan's ADX & EMA's Cross System Suck?
This is a pretty solid strategy! The ADX is a strong and reliable indicator that keeps you in touch with the trend. With the use of correct colors and Arsalan's explanation it is easy to use even for a beginner. Perhaps the best advantage is that this strategy has been tested live and has been making consistent profits for the creator of the strategy. Furthermore, what makes this strategy rock even more is that it is supposed to be used on higher time frames where signals are more reliable
Not King of the Jungle but Bulls & Bears?
Even though Arsalan isn't Aslan the lion, with his strategy you can become a king of the bulls and bears. One of the things I really like is the chart, the chart isn't messy and there are no complex rules to keep track of. Just keep an eye on two different colors and confirm when they cross each other and you have a profitable strategy. Arsalan has successfully traded live, using his system, so it should work for you too if you put a little effort into it. He suggests you demo test the strategy first till you are comfortable with how it works. Higher time frames like the daily are preferred but I took a peek at lower time frames and it looks promising even on the M30.