August Trading Tips Results – The Yen And Yang Of Binary Trading
August Tip from the Geek Recap – After a Good July, Markets Hit the Geek

 My great July was followed by one sucky August. Light volume, taper fears and international conflicts weighed heavily on the markets turning it into my worst month on record here at BOTS.com. I made a total of 20 tips in August and posted a net loss for the month. Out of my 20 tips, 10 are out right losers. 3 closed in the money and 7 were still open at the end of the month. Don't forget to check into Communitraders to check out all my trades.
August Financial Recap
 I first want to say that I am loving Communitraders. It is a great platform and an even better place for keeping track of my Geek Account trading. As a reminder, CT list trades by the date they closed so any of my trades left open from last month that closed this month are included in this part of the recap.
A total of 29 trades closed in August. There were 20 losers (ouch!) and only 9 winners. At this time there are still 6 open trades, 4 in-the-money 2 out-of-the-money. This is a 31% win/loss ratio, well below the break even point for binary and below my average of 58%. The total cost of trading for August was $2900, my total return on winning trades was $1665 resulting in a net loss of $1235 (double ouch). This is where I remind myself and all of you of the importance of money management. I only trade in specific amounts in order to keep losses low. I could easily have lost much more than this without money management.
Total Cost Of Trading = -$2900
Total Return On Winners = $1665
Net Profit/Loss = -$1235 ( -42% return of investment)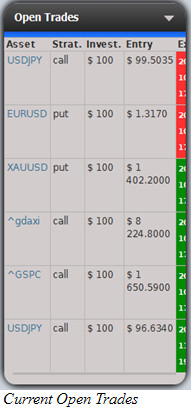 Recap Of August Trading – One by One

 The S&P is the primary asset that I trade and usually the one I do the best with. This month I made 4 tips on the S&P not counting any extra trades I made. Out of those four  2 closed out of the money, 1 closed in the money and one is still open. There was a lot for the market to think about in August and not many traders actually in the market. The lack of volume was one of several factors contributing to this months losses.
USD/JPY Still on Table
The USD/JPY is another asset I have been trading heavily. The Japanese stimulus package and impending taper in the U.S. have this pair on the move daily. I made four tips on the pair, one winner, one loser and two open trades currently in the money.
Eur/Usd is Tricky
Trading the euro was tricky last month as well. I made three tips on this pair and managed to win none  of the them. The currency markets are a tough place to speculate, have no doubt about that.
Gold is a Loser
I've been keeping a close eye on gold lately as well. I am bearish on the metal but the recent retracement posed some difficult trading scenarios, not to mention light volume etc etc. I only traded gold twice last month and both of those were losers as well.
Apple, my Nemesis
Those of you who follow my trading know that Apple is my nemesis. I like the company and the stock but it is a tricky trade even without the hurdles of August. It was however not my worst performer this month. I made three tips on Apple, one win one loss and one still open.
FaceBook, DAX – 50/50
Facebook became active in August. The companies earnings reports showed that it can make money. I traded the asset twice, profiting once and losing once.
I also traded the DAX twice in August. One profited and one lost.
  Follow the Geek's Trading Tips LIVE on CommuniTraders Social Trading Platform!