June Trading Tips Recap – Not the Best Month of the Geek
Trading With the Geek Recap of June Trades – Now on CommuniTraders
Well, I just finished my recap of June trades. I knew that I did not perform as well as I like to but did not know the actual results until now. Unfortunately, June was a losing month for me. I failed to recognized, or at least to act correctly upon, the oncoming summer, tapering fears, FOMC meeting and other factors that sent the markets into correction last month. Not to fear though, losses were contained through careful money management and position sizing rules that I never ever stray from. Even when I see my buddies like Bogdan posting such huge gains on CT.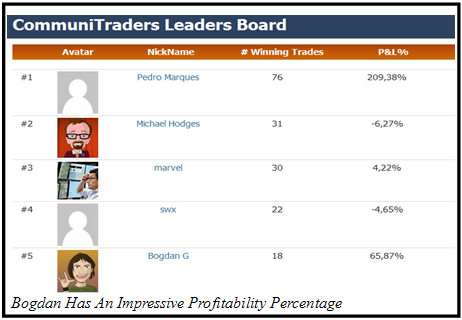 How I Did
 June was a tricky month. Looking back at my articles I see that I gave some warning to expect volatility and that is what we got. I made a total of 21 trades for the month, one week I entered into a weekly and a monthly call on the SPX which accounts for the 1 extra trade. Out of those 18 are closed, three will close in July. Out of those 12 were losers (boo) and 6 were winners, the three unclosed trades are currently in the money but I won't count those until later. 
Total cost of trading was $2100, net loss not counting open trades was -$720. This about (-35%) of investment and about (-3.5%) of total account value. Assuming that the three open trades close in the money which it appears that they will (no holding breath here, the crazy market could go anywhere) the total results are a little different. Total unrealized loss would only be -$480. This is equal to (-22%) of investment and (-2.5%) of total account value. Including the 3 open trades I currently have ten trades on with 7 in the money.
Total Cost Of Trading = -$2100
Total Return On Winners = $1620
Net Profit/Loss = -$480(-22.8% return of investment)

Burned By The Spider – SPX

 As many of you will know, the SPX is my favorite index and the one I trade most often. I'm usually pretty good with it but I do get burned from time to time. This month was one of those months. I made a total of 5 trades on the index this month, one not yet expired, for a total of 3 losses, one win and one in still in question. 
Euro Trouble – Eur/Usd

 The Euro made a crazy move whip saw in June that I just could not get on the right side of.  The currency bounced between upper and lower range extremes as it's value versus the dollar was impacted by tapering fears, an earlier ECB rate cut and weaker than expected data. I made four trades on the Euro and lost on each one.
Yen Corrected And Returned To Trend
 The yen entered into a correction versus the dollar in June. Questionable economic data and profit taking helped to send the pair back down to the 95 level, Abe's original yen value target. Upon hitting that level support immediately kicked in and sent the pair back up to challenge and surpass the 100 level. I made four trades on the USD/JPY and profited from 2 of them.
The Financials
 I have been bullish on the financials for a while and I still think my longer term analysis is correct. However, the trades I made on JPM and BAC were affected by the general market. The June Swoon took its toll on these trades as well. I made four trades on JPM and BAC together with 2 losing, one winning and one still in question but currently in the money.
Gold Shines For Us Bears
 Gold was my redeeming trade of the month. My bearish sentiment on the metal turned into real money for me. I made a total of four trades on gold with three closing in the money and the one still open so deep in the money I have little fear it will not profit.  I am still bearish on gold and have entered new bearish positions this month.
Follow the Geek's Trading Tips LIVE on CommuniTraders Social Trading Platform!