The October Scam Watch – GTOptions, No1Options, CherryTrade and More
Monthly Scam Watch, Tenth for 2015 – October Complaint Report
If you want to drive a car you have to know HOW to drive a car. If you have no idea how to do that, you cannot buy a car, give it to an unknown driver and then call yourself the driver of that car. You are not the driver, he is. You cannot open a binary options account and let others trade for you (especially if you don't know who they are) and then call yourself a trader and expect a profit. People, stop letting others drive your cars and then complain they've crashed it!
GTOptions is moving Gran Turismo style on clients' money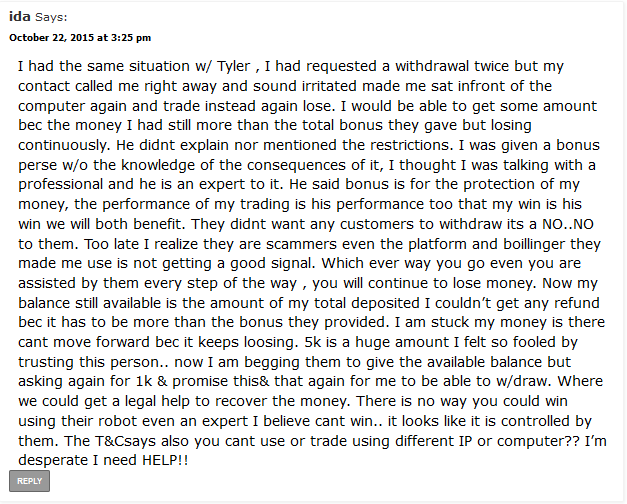 Ida, you need to file a complaint with their regulatory authority and with the proper law enforcement agencies… but wait a minute: are they regulated by anyone? No? Why not? To whom are you going to complain? What is their physical address? Do you know the name of the owning company? No? Too bad, because these are just a few of the questions you should have asked before investing a dime. That being said, I sincerely hope you get your money back, but the chances are slim. Needless to say but here goes: do not give them the 1K they are asking for.
No1Options allows no1 to withdraw (to read full comment click here)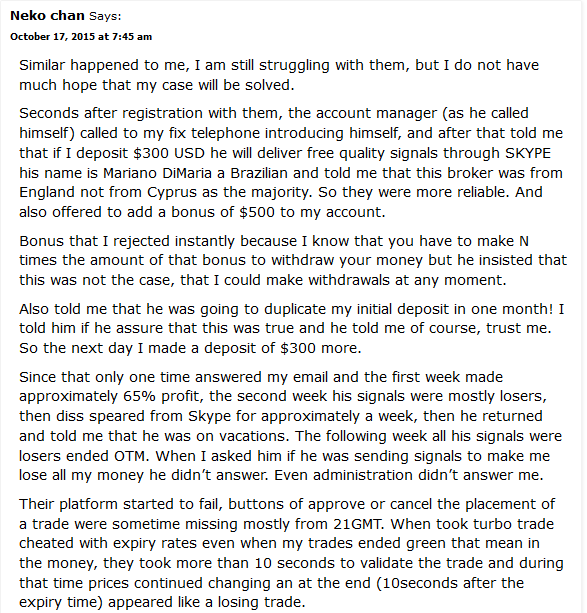 So you meet a guy and 5 or so minutes later he says he will give you 100% Return On Investment (ROI) in 1 Month. Let's say that again: he will double your investment in one month! And all it took for you to believe that was him saying: "Of course it's true. Trust me". Well, look where trusting him got you. And following that Freeman guy who is a known scammer won't do you any good either. Learn to trade if you wanna be a trader.
Cherry Trade… what would you expect from a company with such a name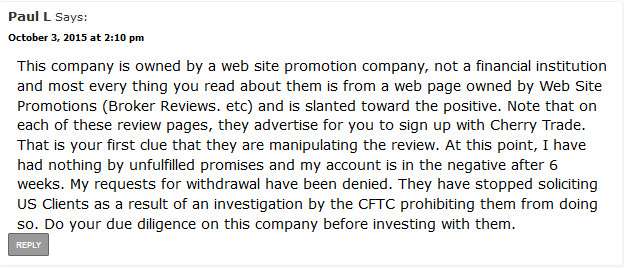 Yes, many binary options brokers pay for positive reviews – not saying it's a good thing, just confirming a fact. Try again to withdraw what money you have left but I don't know if any authority will step in to help because Cherry Trade is not regulated anywhere from what I know.
EveryOption…wow these guys should really try to pick better names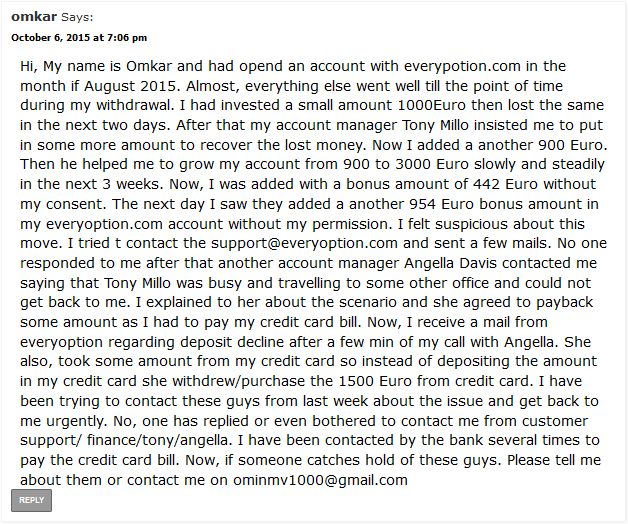 Do not let others trade your account! Funny, that sounds familiar. Maybe it's because I've said it 1000 times before! And what do you mean by this: "Almost, everything else went well till the point of time during my withdrawal. I had invested a small amount 1000Euro then lost the same in the next two days."??? For you losing 1000 Euro in 2 days means things are doing well? Sorry, I need to go.
Omkar is not the only one who complains about EveryOption:
Yea, I don't think even one of these account managers give their real name. That by itself should be a warning sign. What you're doing is good: spread the word about their bad practices and hope their reputation will be hurt. But I have to say it: Do not let others trade your account!
Option FM… really, sounds more like a radio station than a brokerage (to read full comment click here)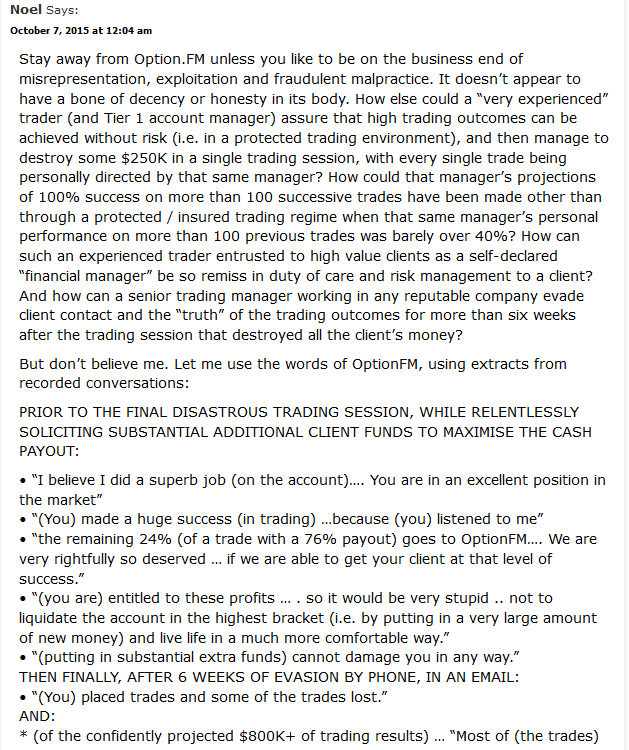 By all means, go to the authorities and do whatever it takes to get your money back. I am sure this radio station Option FM is regulated by a serious authority and their account managers can provide you with solid proof of their successful trading. I am sorry for my tone, but you seem a rigorous, methodical and serious person and I cannot understand how such a person can simply trust unknowns with their money… especially because we are talking about a quarter million bucks. Man, with that kind of money you could probably open your own brokerage. It's great that you've recorded your conversation; maybe that can serve as proof in a court.
Oh look, someone is defending Markets World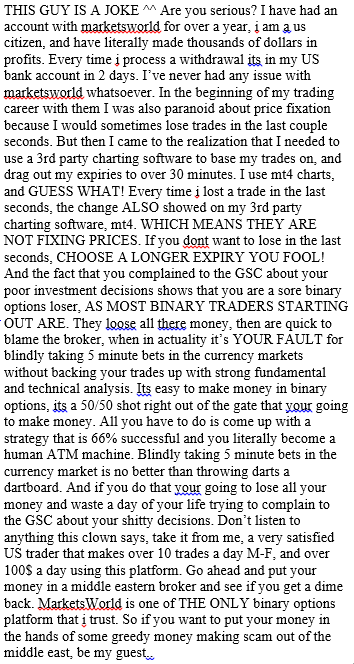 Stop screaming at us! Just choosing a longer expiry doesn't mean you cannot lose in the last seconds. You call the guy you are replying to a "clown" and say we shouldn't listen to him, but instead trust you. Sure… hold your breath while I do that. You trust Markets World – fine. That's your choice, just how mine is to pass.
UBinary. Regulated? No. That's fine, I'm gonna complain to the CySEC anyway.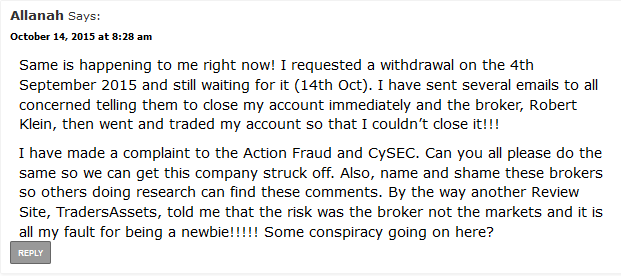 Sorry, but I don't understand why would you complain to the CySEC about Ubinary? They are not regulated by CySEC. They are not regulated, period! That's like complaining to the Police in the U.S. that a robber in New Zealand doesn't have a valid gun permit. Do you think they care? And about the guys from that another site telling you the risk is the broker, not the market… lol, the market is always a risk so I don't really know what they are mumbling about. How can anybody say the market is not a risk is beyond my understanding.
Nobody is protected against scam, not even war veterans. Sorry to hear it.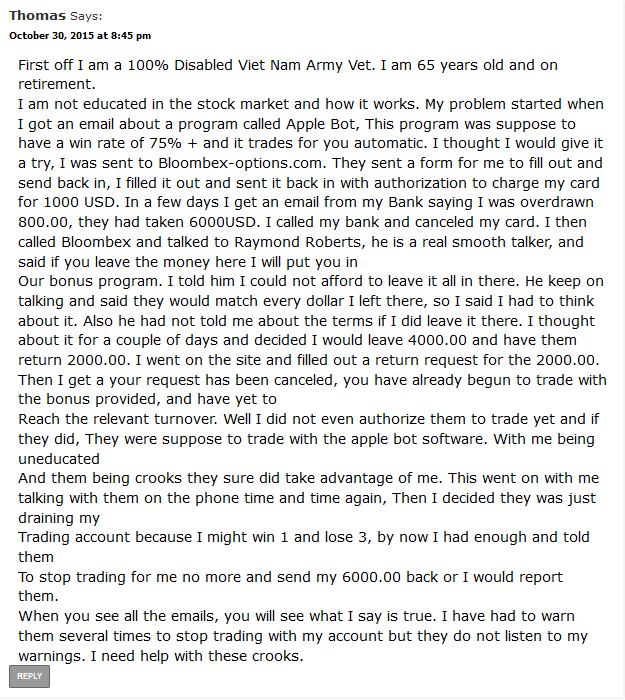 We completely believe you, there's no need for emails and evidence. This is a well known scheme. These apps/robots that promise to make you lots of money really quick are everywhere these days. But to get them, you need to open an account with a broker to activate your account, and for those crooks who sold you a bad signal service or some software to get paid. Now the broker will promise you mountains, but before you realize what's happening, you're already attached to a broker and have money invested, and possibly lost already.
The best advice I can give you is to STOP everything you're doing. Call your credit card company, get your money out as quick as possible and do not believe anything they tell you from now on. Binary options are not for you, not at this moment. Join our forums and go to our School, see if you want to trade BOs, or invest your money elsewhere.
Scam Watch Comes Again Soon!
That's for this week Scam Watch. We'll be here in 2 Weeks time, with more complaints, comments, feedback, or whatever it is you had to tell us, and we had to answer. See you around! Questions? Feedback? Suggestions? Leave a comments below, check in to our forums or contact us on Info(at)BinaryOptionsThatSuck(dot)com!