Scam Watch October – FinPari, BigOption, Banc de Binary, Opteck and More
Same ol', same ol'! Brokers still use fake names, they cancel trades that are about to close In The Money, they lie about the expectations of profit, they trade your money without permission… The regulators are not doing much – well, a fine here and there, but that's  a drop in the ocean – so unfortunately this is not going to stop until they go out of business or until you stop giving them your money. Please stop giving your money to brokers that you cannot fully trust!
Finpari opens this month's Scam Watch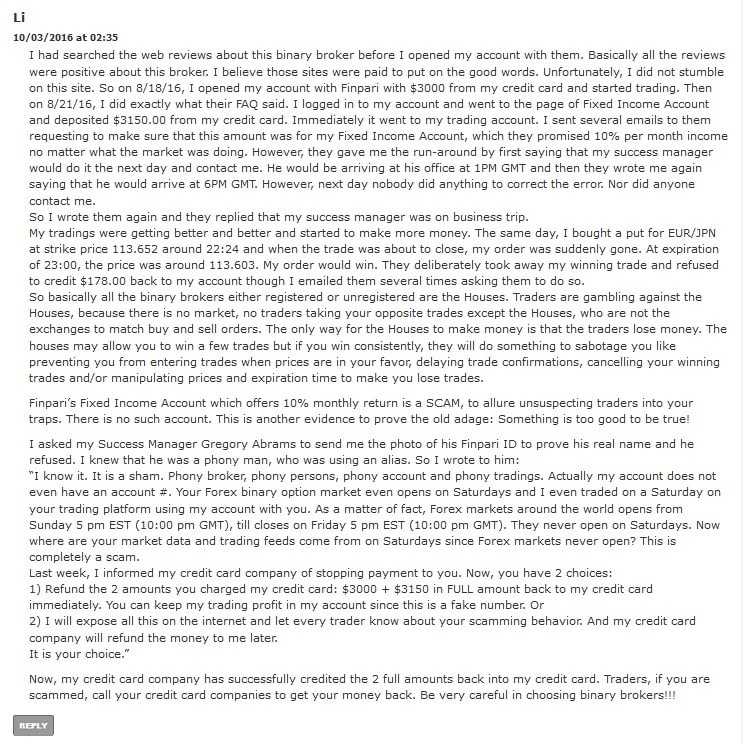 First things first: I am very glad that your credit card company returned the money to your account. And Yes, most binary options brokerages act as Houses and take the other side of your bet. I am calling it a "bet" and not a "trade", because it's impossible to have trade data on Saturdays, so obviously you cannot trade then, as you pointed out. Now, let's talk about that 10% monthly return… Guaranteed! That means I can deposit 1 million at the beginning of the year and end the year with 2.2 cool millions in my pocket? Guaranteed? WOW, some of the best hedge funds have a yearly return of 40% (and obviously that's not guaranteed), so if Finpari can make 120% per year… I don't even know what to say.
BigOption – Big mistake to trust them?

Sorry for the lost money, Edward. We are trying to review all these brokers and "easy money making machines" so guys like you don't become their prey. As you can see, BigOption is "Not Trusted" by us and about that Millionaire Blueprint, well, check what Bill and Tom have to say. To make things simple: if someone tells you they are going to make you a lot of money, don't believe them. It will save you a lot of money and headache.
Banc de Binary visits our Scam Watch again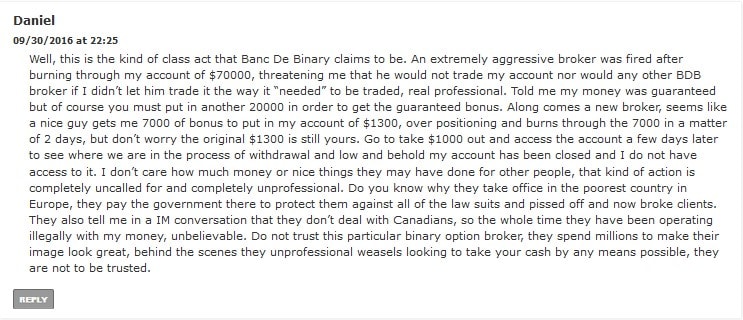 I've been saying this for a long time: don't let the broker trade for you and instead, learn to trade for yourselves. Come on, they don't want you to win in the long run; maybe they will give you a few good trades to gain your trust and make you invest more, but they work for the broker and in most cases, when you win, the broker loses. This doesn't apply only to BDB. Most brokers work like this. And about your $1300: if you received $7000 as a bonus, you need to reach a certain trading volume before you can withdraw so I believe that's the reason why they don't allow you to do it. Maybe more info can be found in their Terms and Conditions.
Opteck – long time no see

As you can see, Opteck is one of the brokers that are "enjoying" a bad reputation. I believe that the trader should be the only one doing the trading, never the broker, even if they have a good reputation. I am still puzzled about brokers having free access to clients' accounts. This is the Wild West. Needless to say, you did a good job not sending front and back copies of the credit card.
Tradorax keeps going downhill

Sorry to say, but Tradorax had a good start and soon they went downhill. We recently updated our review to reflect the new situation better. What you describe is typical behaviour for a shady broker: one representative/account manager blows your money in one way or another then someone from the brokerage informs you that he/she has been fired for doing those things. Then they assure you the new account manager will be better but that's not the case. You have to make it stop. Take out what money you can, maybe call your credit card company and try a chargeback and don't invest more money with them, no matter the promises they make.
CTOption continues to disappoint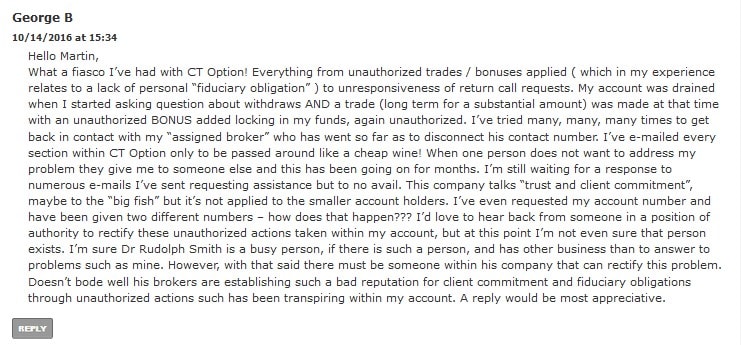 Well, George, recently we've updated our CTOption review because complaints like yours keep piling up. Surely someone in that company can rectify the problems you are referring to, but the question is: Do they want to? I am sorry to say that I don't think so. Unfortunately, they are not regulated so your options are limited. Also, they are not one of our Recommended Brokers so we cannot do much to help you. Try to get as much visibility for your problem as possible; a good choice would be to post it on our Forum.
OptionBit… and Copy Buffett again
Whatever you do, PLEASE DON'T give them your signature. Sorry for the $250 but that's a pretty small price to pay. I know, it's still money but others have lost more. As for Copy Buffett… please don't fall for such cheap scams; we have a full review on it and it's not positive to say the least.
BinaryUno – Rip-offs according to Dave

Yes, we know you have to trade 30x the bonus. It's written in our review. This is the case with many brokers, not only BinaryUno but that surely doesn't make it OK. To avoid problems like the ones you are having, I recommend you read our reviews before investing with any broker because as you can see, they are NOT Trusted by us and also not regulated.
Scam Watch Returns Next Month!
Stay tuned for our next Scam Watch and in the meantime, please read our reviews before investing. We update them constantly – that's a big part of our job – and we do that so you can avoid scams. Also, keep in mind that we can help to a certain extent if you are having problems with one of our Recommended Brokers, but with other brokers, things are different because we don't have a working relation with them. All we can do is publish your story and make it heard.