September Scam Watch – EmpireOption, TitanTrade, Banc de Binary and More
Martingale, "make-me-rich" robots, restrictions to withdraw and account managers that trade instead of the client… unfortunately that's the binary options scene right now. This monthly piece is meant to open the eyes of traders and to make them more aware and harder to fool. Learn from the mistakes of others and don't give your trust lightly.
Empire Option is playing tricks on its clients.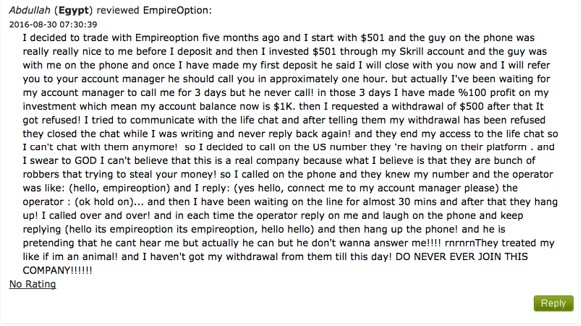 Try requesting your withdrawal directly through the platform. Go to "My account" and select the necessary steps (I don't know what is the exact procedure but you should be more familiar). Unfortunately this is the main problem with unregulated companies: they are not afraid of anyone so they can simply stop talking to you. There's no one you can complain to, sorry. Try econsumer.gov; it's a website where you can report international scam. But don't get your hopes up.
Option Robot + Empire Option = Bad Idea

Why would you sign up for these autotraders? Please don't. So far I haven't heard a single person say they are satisfied with such products (unless they are affiliates) and usually the brokers they recommend are very bad as well. Please ask your bank to deny any payment to Option Robot AND Empire Option.
Refer A Friend to TitanTrade? Not if you don't trust the broker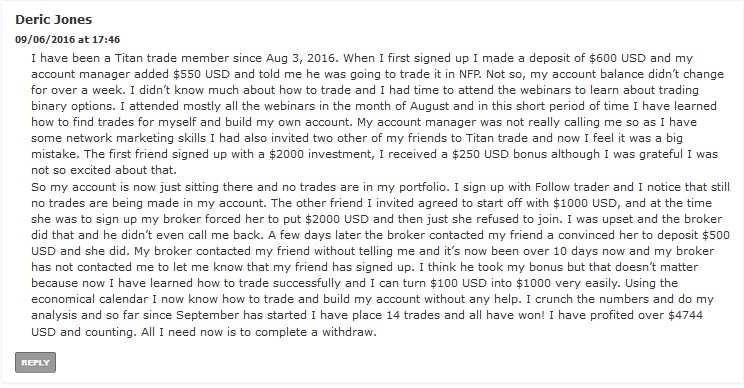 So you didn't really like the brokerage and didn't trust them completely but you still referred 2 of your friends to them and let them deposit $2,000 and $1,000 respectively? You feel it was a big mistake and you're right but anyway, you say you can now turn 100 bucks into 1,000 "very easily". If that's true, you should make up for your mistake by paying your friends the money they are about to lose because you referred them to Titan. Hope your withdrawal goes through and they don't give you a hard time.
CodeFibo? What's that?

"Financial experts? they cannot even read a simple instruction" Hahaa, love that line, but man, I think they don't want to read that simple instruction. The goal of many brokers is to lose all your money making stupid trading decisions. Try a chargeback as soon as possible.
Banc de Binary spent some time away from our Scam Watch. Not long though

Oh, so now brokers say you deserve a "slap in the face" if you don't do what they say…? It's horrible this is happening and really all I can say is to stay away from such individuals and from software like Option Robot or similar. And please do research before investing any money, not after. Try to withdraw but they will probably pressure you into depositing more. Please don't.
AnyOption , martingale and account managers.

Abdul, you might be surprised by what I am about to tell you but here goes: it's actually a good thing that your account manager doesn't trade for you and doesn't offer trading advice. The only one who should be trading is you. If you don't know how to trade, take a break (pay attention to account inactivity fees while doing so) and learn to trade. Go to our Binary Options School and join our Forum. You will get all the help you need there.
Banc de Binary again. Twice on the same Scam Watch…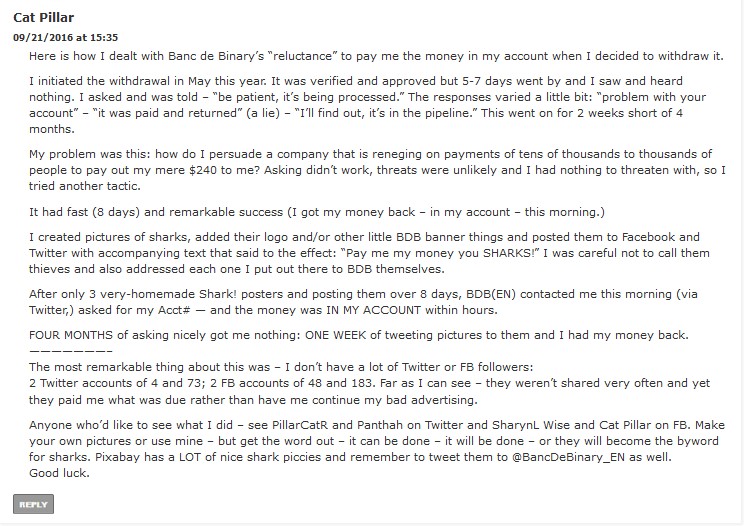 Good idea and more importantly, an idea that got your money back. Nice job. However, I believe that the higher the sum, the higher it will be for someone to get it back (and I am not only talking about BdB). If it's in the thousands or higher, I don't think that a few shark pics will get the job done (but I really hope I am wrong). Anyway, there's one important lesson to be taken out of this whole story: brokers don't like bad publicity.
Trust Opteck… should you?

Too bad you gave Opteck 22,000 USD and now you cannot afford to pay advance fees for the lawyer. Anyway, I believe you need to read our article Binary Options Regulation – Everything You Need to Know and then you will know where to complain (hint: CySEC). Gather all the information and proof you can and then head to CySEC, which is the authority that regulates Opteck. The article I linked will offer a lot more information.
Big Option and autotraders – big mistake

We wouldn't recommend Big Option either. In fact, we don't. That's why at the top of our Big Option review, we write in BIG, red font: Not trusted broker. Also, our opinion regarding autotraders such as Millionaire Blueprint is well known: all of them are cr4p. Now if you combine a bad broker with a software that allegedly makes you a millionaire, unfortunately the result will never be good. Sorry for the monetary loss.
Stay Tuned For Next Month's Scam Watch
Stay safe out there and don't trust anyone… well, almost anyone. In the meantime, visit our Forum, tell us if you've been scammed or if a broker is giving you a hard time. Leave a comment and visit our YouTube Chanel for strategies, commentary and live trading.