The July Scam Watch – MarketsWorld, BigOption, OneTwoTrade and More
Monthly Scam Watch, Third for 2015 – March Complaint Report
As always we bring you the most important comments from the month that just ended and we give you a heads-up on what our readers complain about when it comes to brokers and binary options in general. So let's get right to it.
Markets World gets some love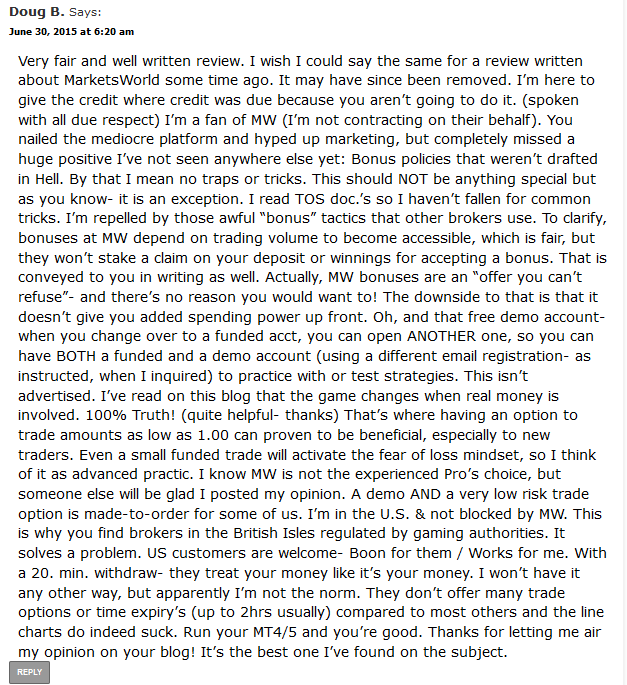 Hey Doug, I like your way of expressing your opinion but I don't understand why you say that we won't give credit where credit is due? Markets World has a score of 70 out of 100. Is that too low for you, considering that we are rating a gambling venue (they are regulated by the Isle of Man Gambling Supervision Commission) after the same criteria as a binary options broker?
Please read the review again: we give them credit for the Demo twice (once in the section "Why MW doesn't suck" and once in the section "Markets World Extras"). The bonus is fairly presented as well. But note they only offer a total of 16 assets to… gamble on. Most brokers offer over 100! So tell me, do you want us to rate a casino with 16 assets higher than a binary options broker (take your pick) that is regulated by a financial regulatory authority (take your pick)? The review is not removed; here's a link.
Bet Big, Win Big – BigOption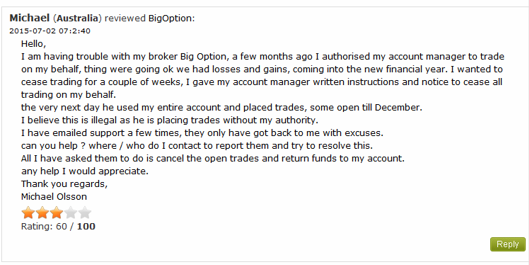 Aww, they traded without your authorization. That can't be legal, in my opinion, but I'm not a lawyer. Anyway, you can file a complaint with their regulatory agency. Oh wait: they are not regulated. But I am sure you knew that before opening an account, right? So you took a risk and it didn't go so well. There's not much you can do now I think. You could try opening a thread on our forum and ask one of their representatives to join but I doubt they will do that. Read the review next time you want to deposit with an unregulated broker!
The bot strikes again! OneTwoTrade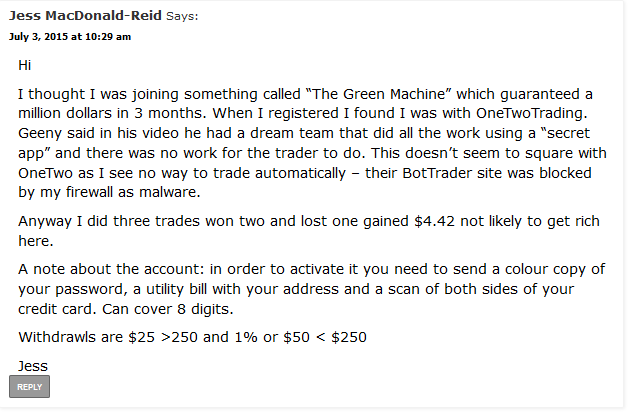 "I thought I was joining something called "The Green Machine" which guaranteed a million dollars in 3 months." …
… "Geeny said in his video he had a dream team that did all the work using a "secret app" and there was no work for the trader to do."
Let me get this straight Jess: you believed you will click a button and 3 months later you will have a million dollars brought to you by a secret app that was developed by a dream team and is somehow free? Hmmm, sounds legit. Keep dreaming.
OptionsXO gets the negative spotlight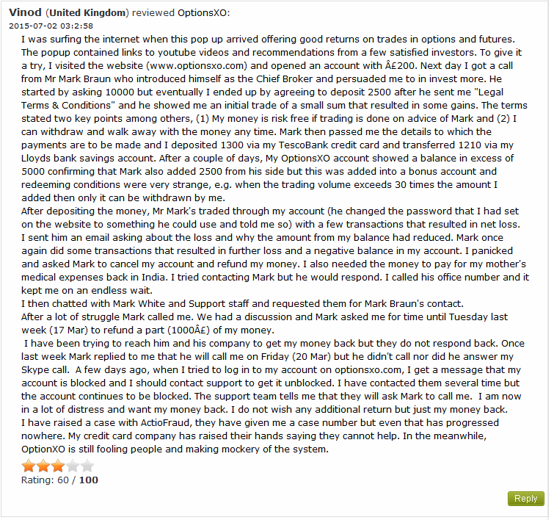 Vinod, I have a question: considering your very negative review, why on Earth would you rate them 60 out of 100 and not… say 1 out of 100??? A few other things: do you actually think the Chief Broker phones everyone who deposits 200 pounds? Shouldn't such an important figure have something more important to do? Ok, moving on: you wanted to invest 200 but he convinced you to deposit more than 10 times that sum? Why did you agree? But above all that is the fact that you invested money you couldn't afford to lose. Never do that again!
Stay away from Bloombex Options according to Gary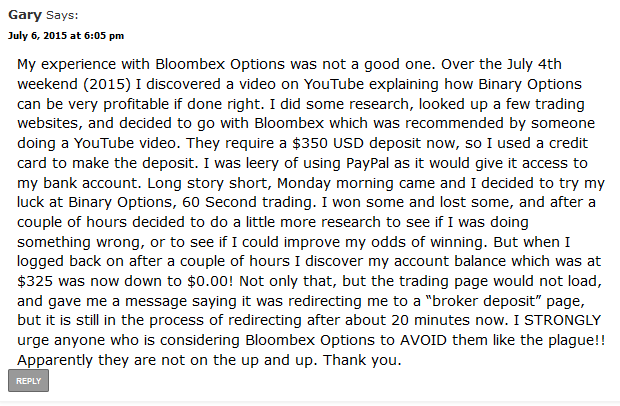 Bloombex options are not a regulated brand. Try to get some screenshots, proof of deposit, trading history, chat screenshots or anything else to prove your case. Use our complaints section or use our forums to post your complaint. Also, try contacting your account manager and ask him to join the discussion.
Jonathan lets us know that trading on EZTrader is not so easy.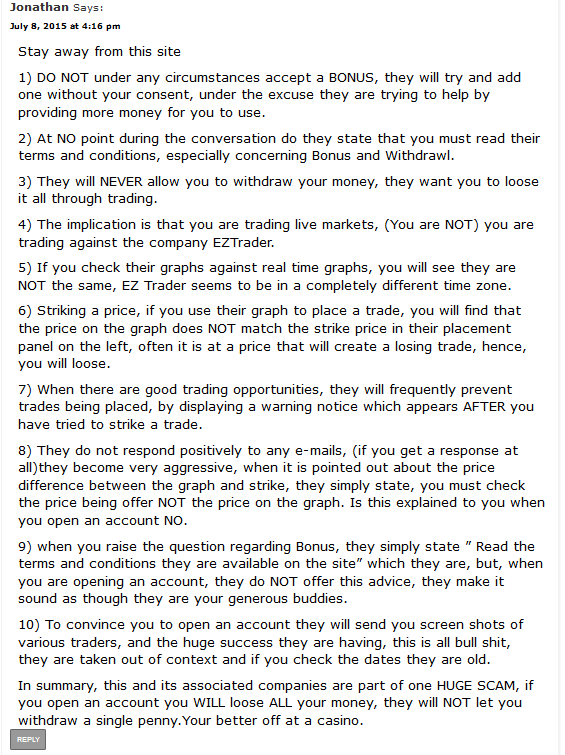 Thank you for the hands on review. I hope that others can benefit from it. Unfortunately the things and practices you describe are too common these days and EZTrader is not the only brokerage that uses them. It really is a jungle out there so keep your money close.
GTOptions – not the best, not the worst. Or are they?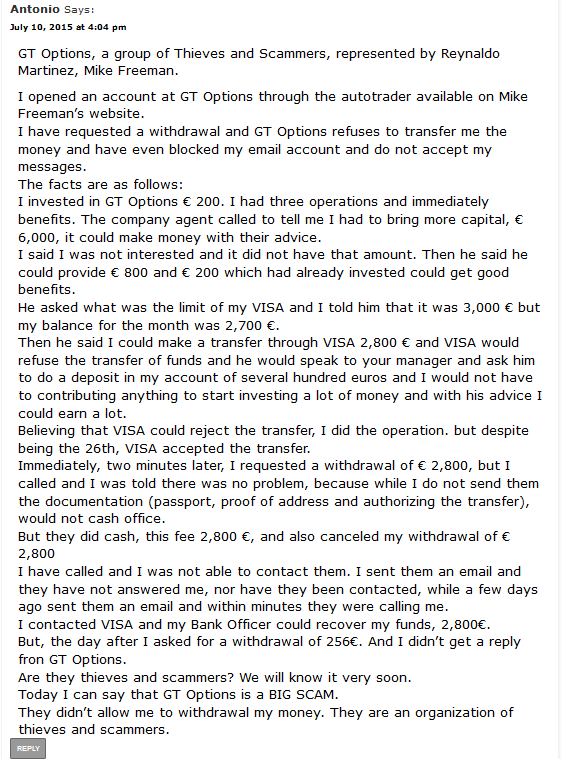 First, let's address the elephant in the room: Michael Freeman is a well known scammer; you can read about him on our forums and on other forums. Simply search his name with "Binary" included. You'll find tons of negative reviews. Second, I don't really understand your story: did you get the 2800 euros back? If not, then contact your Credit Card company and ask for a chargeback. And in the future don't trust people with your money without knowing who they are and never let your broker trade for you.
This next complaint is about… I don't know. Every broker out there? None of them?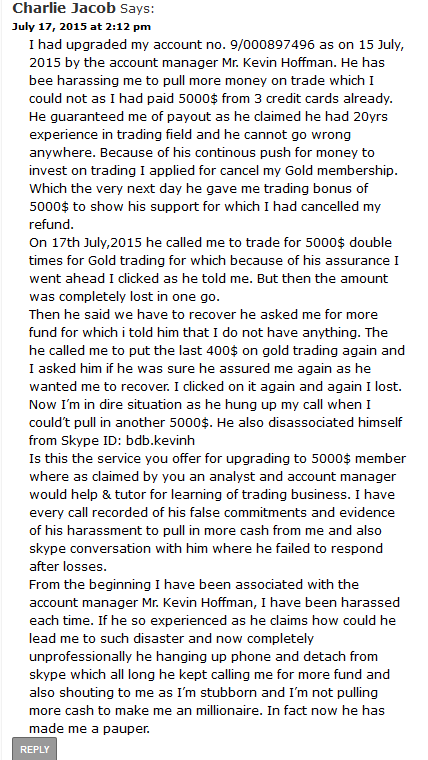 All good and everything.. you know.. but what broker are you talking about again? Anyway, I am very bored to hear this story over and over again. You guys want to deposit 200 bucks then the brokers tell you they're gonna make you rich convince you to deposit 5,000 or 10,000 then they lose it all and don't answer the phone anymore. I cannot feel sorry anymore. Take care of your money or give it away. It's that simple.
Oh, LBinary is back again. They never miss our Scam Watch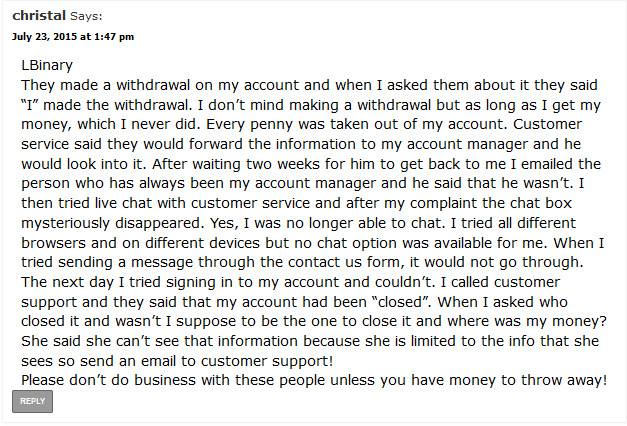 Sorry for your predicament but I don't think there's much to do now. This brokerage is NOT trusted by us and is not regulated. In other words, I don't think there's a legal path that you can pursue (you don't even know the name or the address of the company that owns Lbinary.com I believe). Probably your own advice is the best: "Please don't do business with these people unless you have money to throw away!"
Titan Trade keeps sinking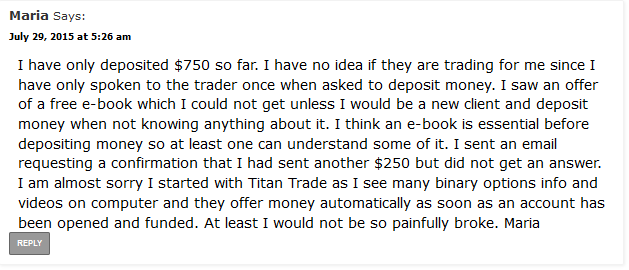 Look Maria, I don't really understand what you are saying but I see you are not happy with Titan Trade. Do you want to withdraw? Did you try to and didn't succeed? You need an e-book? We have an entire binary options School. Here: https://www.thatsucks.com/school/. Oh, and one last thing: you are the trader, not the broker. If you don't know how to trade why are you investing in trading? I don't get you people sometimes (most of the times).
Scam Watch Comes Again Soon!
That's for this week Scam Watch. We'll be here in 2 Weeks time, with more complaints, comments, feedback, or whatever it is you had to tell us, and we had to answer. See you around! Questions? Feedback? Suggestions? Leave a comments below, check in to our forums or contact us on Info(at)BinaryOptionsThatSuck(dot)com!