The June Scam Watch – OptionMint, BeeOptions, UBinary, TitanTrade and More
The Monthly Scam Watch, Sixth for the Year – June Complaint Report
The rich keep getting richer, binary options clients keep getting separated from their dough. What can we do about it? Not much until YOU decide to take care of your money. Here are the latest complaints and scams:
OneTwoTrade… and it's gone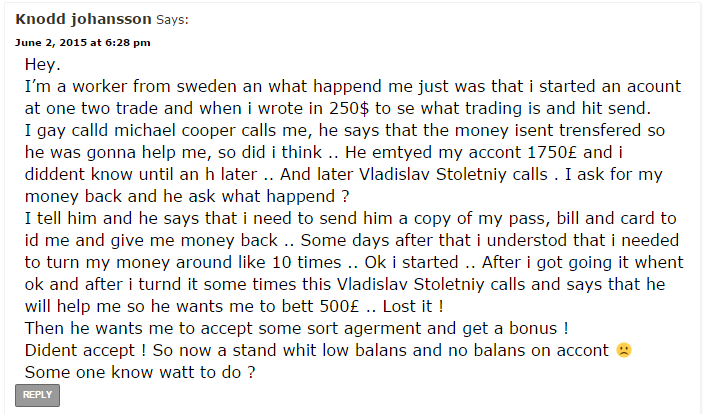 Client: I will deposit $250. Broker: Yea, that's what you think. More like 1750 because that works better for me. I suggest you try doing a chargeback, sending your broker a link to this page and try to get them to reply to your comment. Let's see what they have to say about it. If that doesn't work, file a formal complaint with their regulatory authority. Also, I suggest finding a way to add a password to your Credit Card so that people cannot debit it as they want. I don't know how credit cards work in Sweden, but here we have the basic option to use a password on top of simply imputing the CC number.
OptionsXO seems to adopt the same tactics as most of the brokers out there. They even have a "recovery team"…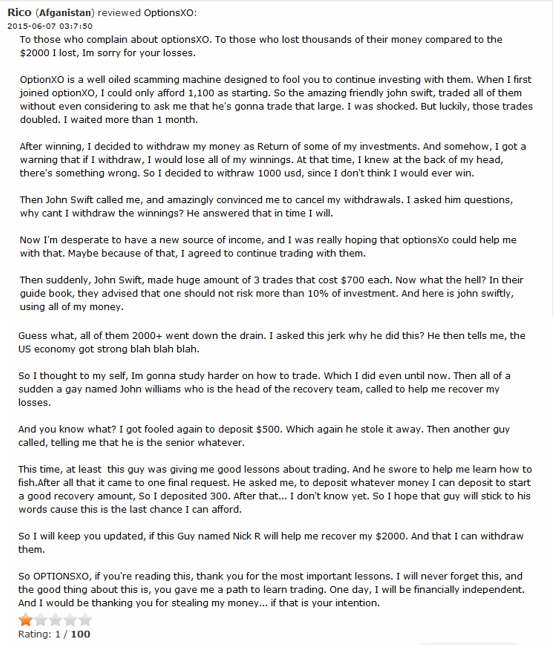 Never let your broker trade for you. Never let them give you trading advice. But you have learned a valuable lesson and to be honest, I started trading almost the same way: I lost at first – not so much because I was scammed but because I was stupid enough to trade without education – and then I spent months learning. By the way, everything you need to know is freely available so don't even think about paying for education.
Some question are better asked beforehand
Brian – to read the entire review go to https://www.thatsucks.com/customer-reviews/bigoption/
Sure, these are good questions. I ask them all the time but what I don't understand is why people worry about such stuff after they've been mistreated. How can you even think of giving money to someone you don't know??? If a guy on the street with a paper bag over his face would say "Give me your money and I will make you rich", would you trust him? I guess not. Well, it's almost the same with unregulated brokers that don't disclose any information about who they really are. Breach of contract is a serious matter in English Law… of course, but who are you going to take to court?
This is not actually a complaint. Good that it isn't, after all I wouldn't want complaints on my articles.

Heh, don't worry about being a lurker. When you will have something to say, you will say it. If you have something to ask, please do. I have opened a couple of threads on the Forums specifically for guys to ask me (and others) questions. Here's one about Strategies and one about Tools and Indicators. Cheers!
Don't like bonuses and their conditions? Then don't take one!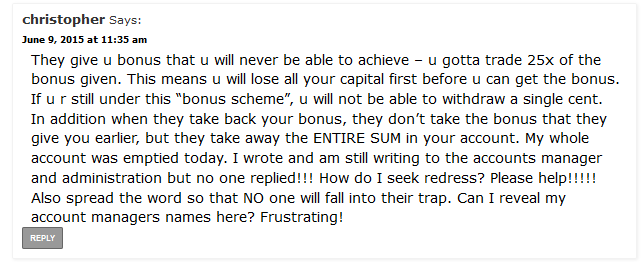 Read terms and conditions, read our articles. I don't think you've something to complain about, try your account manager, maybe he could help you out in some way. Or learn to trade right here on our school, and hopefully recover your money and maybe, just maybe, even more!
The binary robots strike again: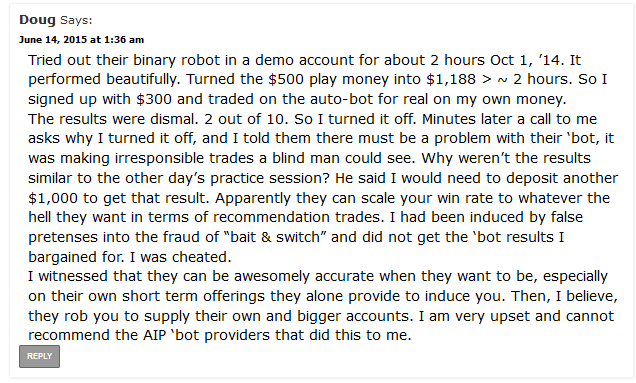 Man, I have no idea what robot you are talking about, but I am pretty sure 90% of them work this way. I have to say though (yea, I've said it before): do you actually think that it's possible to hit a button and some software to double your money constantly, making you a millionaire? If it were true, why would anyone sell you that software???
OptionMint warning signs and question marks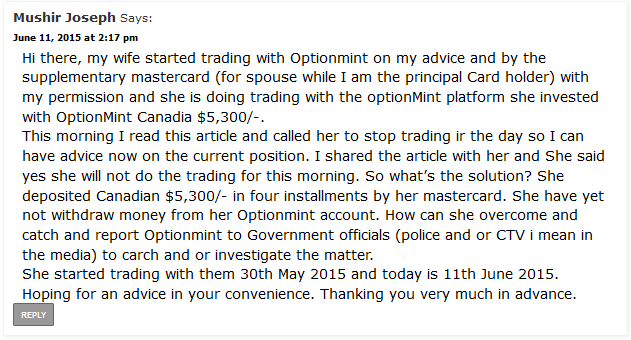 Here's what I would do: at the first sign of suspicion, I would withdraw a sum (doesn't have to be the entire balance and this doesn't apply only to OptionMint). If that goes well, I would probably give them another chance but I would definitely withdraw periodically and never leave high amounts in the account. So far, if you haven't been scammed and there's no misconduct what is there to report to the police or media? Keep us updated.
A new BeeOptions complaint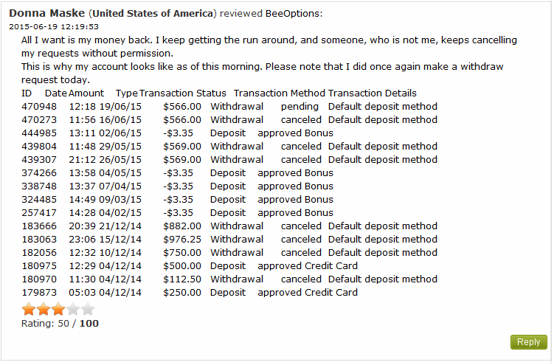 First of all, why did you rate them 50 out of 100 if they treat you in such a way and you are obviously not happy with the service you are receiving? Second, pick up the phone and ask them. It's not normal for them to cancel your withdrawal. In fact it could be normal if it's written in the Terms and Conditions which you accepted… or for other reasons. I don't know. Maybe more details would be good.
UBinary, I binary, they binary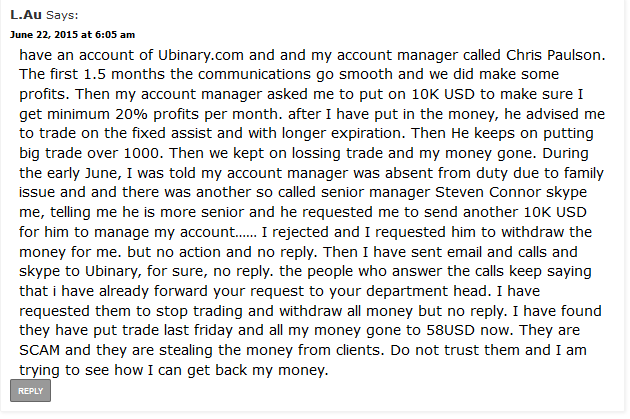 Your money is gone? Hmm, I know: contact their regulatory authority. Waaait, I don't think they are regulated. Are they? I am sure you know better than I do because you gave them 10K. You didn't give 10K to a company you don't know anything about, did you…?
TitanTrade… you had such a good start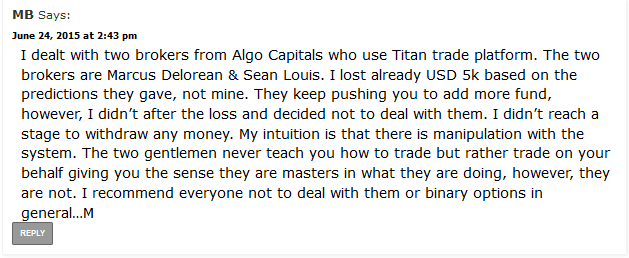 Stop believing everything that signal providers tell you. Almost anybody can talk like an expert but when it's time to walk the walk, most of them stumble. Don't trust anyone else to trade for you and learn to trade for yourself.
I'm glad people find what they are looking for on out site

You are welcome mate! Steadily is the key word. Read the School, join the Forum and learn like a "demon" (haha good one).
EmpireOption + Quick Cash System = A match made in heaven?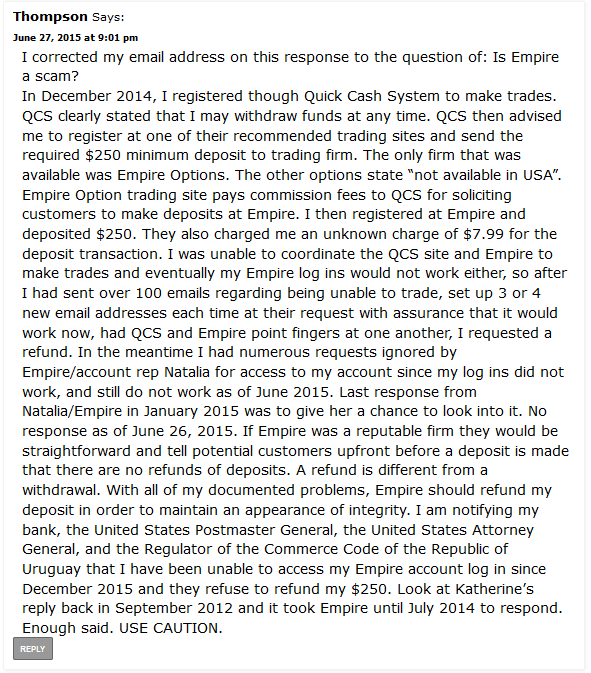 After reading your comment I couldn't help but watch the Quick Cash System video. All I can say is that I could not stop watching it… and I think it's more than half an hour long. I am amazed. I thought these software vendors cannot come up with anything new in terms of bulls#1t. But they proved me wrong… I would like to describe what I feel about that video but I am in awe and I lack the necessary words. It's just WOW. How could anyone buy into that story? Secret agents, double governments, black budgets, science divisions… all that just to give it for free to anyone who asks for it. Millionaires I tell you, we are all gonna be millionaires. Anyway, send a link to this page to your account manager. Maybe he will have something to say about your refund.
 Scam Watch Comes Again Soon!
That's for this week Scam Watch. We'll be here in 2 Weeks time, with more complaints, comments, feedback, or whatever it is you had to tell us, and we had to answer. See you around! Questions? Feedback? Suggestions? Leave a comments below, check in to our forums or contact us on Info(at)BinaryOptionsThatSuck(dot)com!