Trade with NADEX: Account Types, Deposits and Demo
NADEX, the North American Derivatives Exchange, is (currently) the only viable source of US CFTC regulated binary options trading. That is known. What is not known is that the exchange is open to a much wider audience than that. They allow traders from around the world to trade, all you have to do is sign up. There are some limits and different account types but that is what I am here today to explain. Before I move on I would like first to talk a bit about the relationship between you, the trading public, and NADEX.
NADEX is an exchange as I have already mentioned and as such has members. Big exchanges like the NYSE or AMEX require huge sums of money and Wall Street prestige for membership, NADEX is a retail exchange open to business and INDIVIDUALS like you and me. In either case, business of individual, you become a member on completion of your account documents with full rights and privileges. These include safe deposits and withdrawals and access to the trading floor ie the website. On the trading floor you are able to buy and sell, trade, binary options with other members. The cost of membership is low, only $0.90 per contract, and all members pay. Sounds a lot better than when you trade at an off-shore or EU style broker right? When you use one of those that's what you are, a user.
NADEX Account Types
There are three account types at NADEX; Individual Account (US) , Business/Trust/Partnership and Individual Account (International). Individual Account (US) is the basic account available to US members. It allows deposit and withdrawals by wire, check or bank card with a minimum deposit of $250. The business account is good for all forms of artificial entity such as corporations, LLC, trusts and partnerships. It requires a little more documentation but comes with the same benefits as the Individual account. The Individual Account (International) is the one of most interest to the non-US portion of the binary options trading community.
I know the suspense has been building so I'll spill the beans, the Individual Account (International) allows non-US residents and nationals to trade NADEX binary options. All you need is a permanent residential address with your name on it, your date of birth and a national ID card. You'll need to upload verification documents to prove it all of course, as well as a bank account, but that can all be done directly on the website. The only difference in accounts is that you can't use a check or ACH to make the deposit, only wires and banks cards, so no problem there. NADEX recommends, as do I, using a bank card to get instant deposits and trading access once your account is verified. You can learn more about it in the NADEX education center (link coming soon).
There are dozens, hundreds almost, of countries with access so I can't list them all here. A few of note include Australia, Austria, Germany, the UK, South Africa, New Zealand and many many more. One nation of note that is not on the list is Canada. Unfortunately, Canadian regulators have an issue with NADEX that is yet to be resolved so trading is suspended in that country.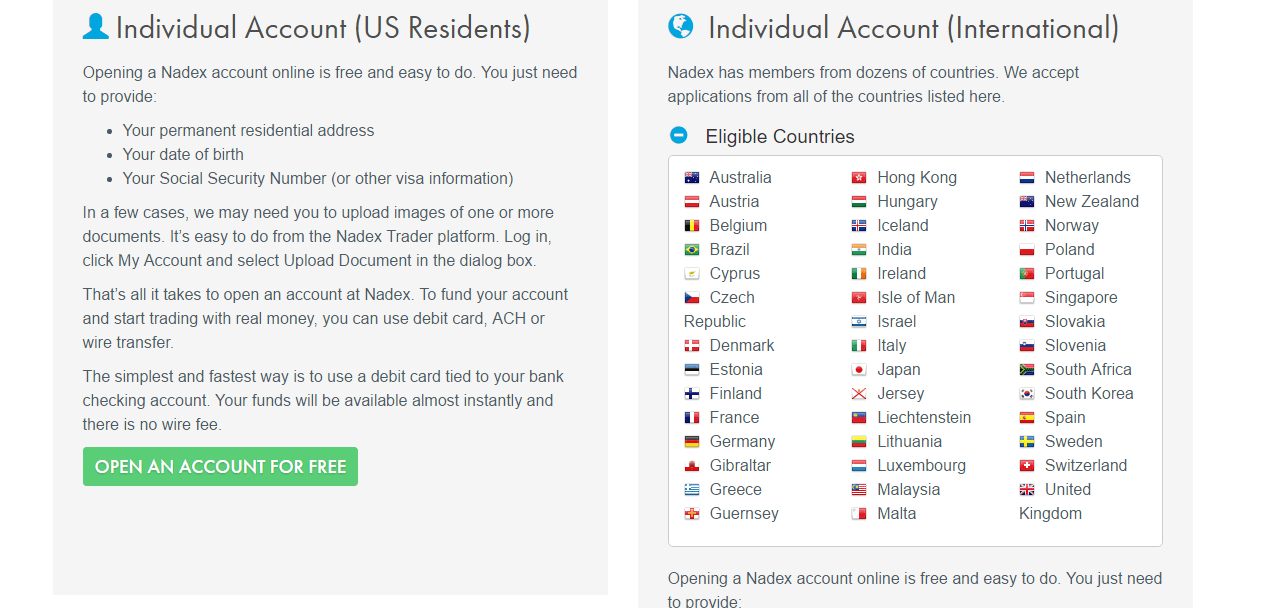 Making Your First Deposit
Deposit starts with opening an account which is is super easy as it always is. All you have to do is sign up and you're in but it takes a little more than that before you can deposit. Because this is regulated trading and they take their business and the KYC/AML laws seriously you will have to verify your account before you make any deposits. You will need to provide your full name, your address and your social security number if you are a US citizen, non-US citizens will be asked for their national identity card as well. You will also have to upload a supporting document which can be done directly on the platform. Simply click the Upload Document tab and select the correct file from your computer ie scan of a utility bill or other official correspondence. In rare cases you will need to speak directly to someone at NADEX but that is unusual. Once your documents are approved you are free to deposit, trade and withdraw.
The minimum deposit is $250, just enough to get you started!
It can be made by debit card, ACH (electronic transfer), wire or paper check. They do not take credit cards, only real money. Non-US traders will be limited to wires or debit cards, no ACH allowed. Deposits are without charge but may incur fees from your banks such as in the case of wires. The best and most recommended method is by debit card which provides instant funding of your account. ACH is also quick, once you set it up, but set up may take days or longer. Paper checks can also be costly because of returned check fees. The screen shot below shows where to go on the website to make your deposit.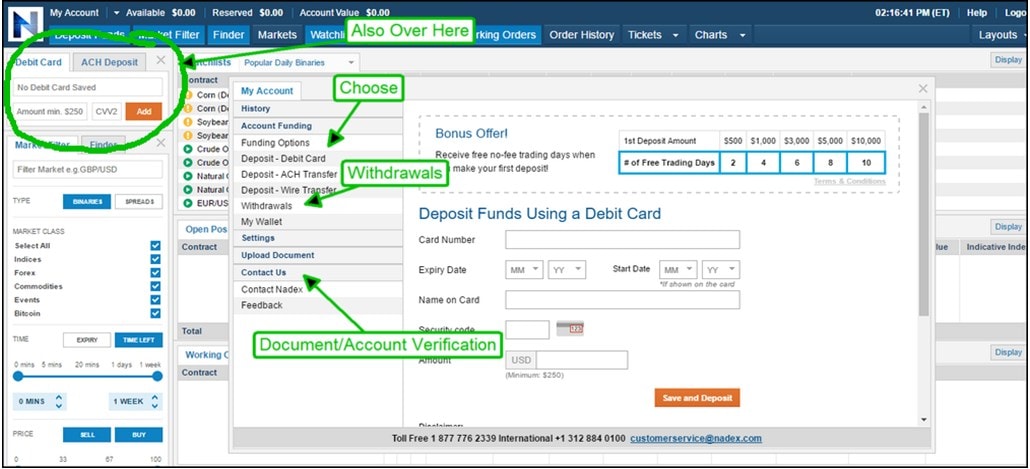 Withdrawals are just as easy and part of what makes NADEX so refreshing after so much BS from other brokers. Your money is always there. You can always withdraw money not tied up in trading and it will always come in a matter of days if done by debit card. There is no fee for withdrawal and no minimum withdrawal except for wires where the fee is $25.
This is Why You Love NADEX Fees
Something that catches everyone's attention because it is so different from how an off-shore broker works is the fees. NADEX charges $0.90 per contract for each lot upon open and close of the option. This means that each lot will cost you $1.80 but the thing to keep in mind is that the number of lots tops out at 10 so it will never cost more than $9 to enter or exit a trade. Trades that expire out of the money do not have a fee. How does this compare with the off-shore brokers? Pretty dam good considering the pay-offs. At an off-shore broker you may trade $1000 and make $1800 with no fee but you will never make more than that 80%. In effect the broker is charging you a 20% commission and you don't even know it. At NADEX is you trade $1000 of ATM lots (usually cost about $50 and pay 100%) you will have bought 20 lots and paid only $18 (open and close the trade) which amounts to only a 1.8% commission AND a bigger pay out. If you are still not sure, and I recommend it anyway, start out using the demo account until you are sure.
NADEX also offers a bonus but it is not quite the same as what you will find at other types of binary options brokers. They do not give "free" trading money or cash back on trades due to CFTC regulations  but they do have a gift for new traders. New deposits are eligible for what is called the Free Trading Days. This is a fee-free period of trading granted to each customer as a welcoming thank-you and has absolutely no strings attached, just the time limit which doesn't even start until you make your first trade. The best part is, the bigger your deposit the more free days you get. The minimum is $500 to get 2 free days and it goes up to 10 days for a deposit of $10,000.
Learn to Trade with NADEX Demo Account
You don't have to like NADEX and you don't have to trade NADEX but you can't deny that they have the best binary options demo account on the market. It is hands down the #1 when compared what anyone else has to offer, I mean, who else has a demo that is fully funded, never expires and functions exactly the same way as the parent platform without a deposit? The average run of binary options demo account has at least some kind of string attached and at worst is nothing more than a marketing gimmick with no true value for traders. All to often your demo account will turn out to be bonus money to tie up your real deposit, or will only last a few hours or days in order to whet your appetite, or is obviously not the same as the live platform.
Not so at NADEX. The demo is exactly the same as the real thing. The only difference is that since it is demo trading and no one is really buying and selling it takes an actual purchase on the live platform to trigger a trade on the demo. This is what I mean; if you enter a market order on the demo it won't fill immediately as it would in live trading, it will take an indicated buy transaction from the live platform to trigger the fill. Don't worry, NADEX also has a great education center (link coming soon) as well, filled with tools to help you learn the ropes. I also suggest checking out my article, How To Trade Binary Options With NADEX Step By Step Guide.
Getting a NADEX demo account  is easy and pain free. All you have to do is sign up to NADEX. There is no need to give any financial information, you don't have to make a deposit and you don't have to talk to anyone. All you have to do is sign up, it's easy, you could do it right now. Once you are logged in you have full access to the account which duplicates the entire NADEX platform. The balance starts off at $25,000 and can be added to, there is no time limit it will last forever, or as long as NADEX is around. I know I've reviewed NADEX before but I will have to touch base here just to remind everyone.
Should You Use A NADEX Demo Account
NADEX, the North American Derivatives Exchange, is the only US CFTC regulated binary options worth your time. They are located in Chicago and provide exchange based trading, where you buy and sell options with other traders and are no betting with the house. They have short ad longer term binary options with expiry ranging from 5 minutes to end of week. The best part of NADEX, in my opinion, is that you can sell your profitable positions at any time up to the expiration in order to lock in your profits. The asset list is a little shorter than most but has all the top assets you should be trading including the major US indices, commodities and forex pairs.
We've got a dedicated forum for NADEX  traders. In it we discuss how the platform works, depositing and regulation, and most importantly, strategies. At least once a week I will post a trade scenario with profit/risk outlook and follow it up with a recap of how it all worked out.
The Bottom Line
The bottom line is that NADEX treats its clients, its members, much better than the offshore style brokers that are out there.  The good news for traders around the world, NADEX has an account for you, it's not just for US traders anymore. I mean, it never really was. The greatest thing about the international account, aside from the access it brings, is the liquidity. The more traders, the more members, the more liquidity there is and the better the trading. If you want ask some questions or talk about trading visit us in one of our dedicated NADEX forums.
As for the demo, You should definitely be using demo, no matter what platform you trade or your experience. There are just to many advantages to it, I still use mine today. Sometimes I want to try out new things, or I need to go back and test something that did or didn't work the way I thought it would and sometimes I just have an idea for a trade that I would rather put in my demo than anywhere else, maybe because my regular account is already full. Treat your demo like an extension of your regular account and your regular account will improve for it.