AnyOption Mobile Trading App Review – Android and IPhone
AnyOption Mobile Trading App – Continuing to Innovate

Is the anyoption mobile platform as good as the full website platform? Anyoption being one of the top brokers offering exciting assets and quick 'one-click trading' offers the platform for your smartphone! There are various things you can do on this mobile trading app and in this review I will inform you about the functionality. Is the app worth downloading or should you restrict trading to your PC?
The following tests were done on a Samsung Galaxy S4.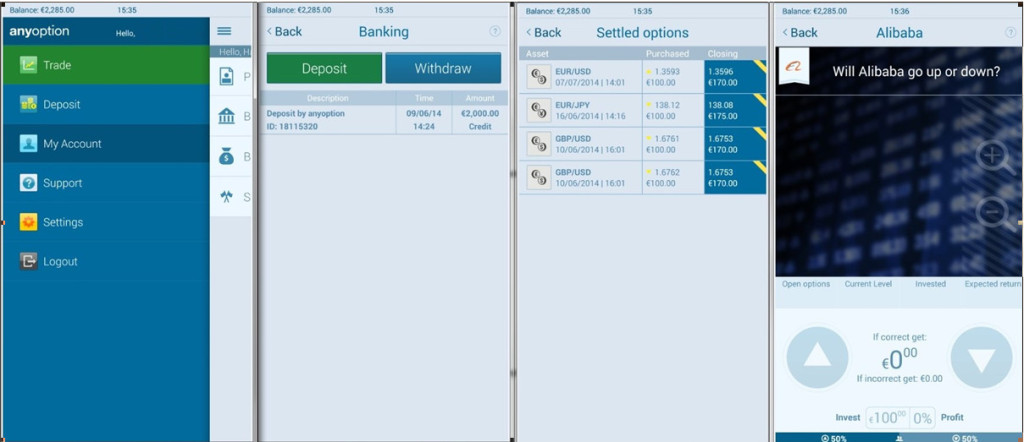 From left: You can browse where to go. Trade, Deposit, check your balance and bonus or view settings or ask for support.
To the right you can see how the trading arena looks like, simply press the up or down arrow after choosing investment and profit amount. You can also see the settled options which is basically your trading history.

Speed
I found the app opening quickly and responding to my commands smoothly. Placing trades can't be done any faster, only one click and you are in. You can preset your investment amount so you don't have to spend any time choosing that. There was a slight delay when I tried to view the "open options" which is where the current open trades are displayed but was pretty slick once I got in.
Ease of use and Functionality!
There is no problem locating to the functions you need. Trade, Deposit, Settings etc… Big and clearly visible buttons. There is a back button so you can easily navigate back to the main page and choose where to go next. I like the settled option's section where you can see your previously closed trades, even if they were taken months ago! Trading is even easier, with only one touch on the up or down arrow you can execute a trade. You can zoom in or out of the charts showing the current price and direction of your trade. First time you want to take a trade the app shows you exactly what all the buttons do. It can't get any clearer than that, arrows pointing at the various buttons with a small explanation showing you what their functionality is. One thing I appreciated very much was the fact that the app did not close whenever I turned off the screen of my smartphone. This is good because you don't need to reopen the app and log in repeatedly every time you put away your phone.
Expiry times and other features
Expiry times are as in the full platform, you can choose the nearest expiry. There is a roll forward feature that postpones your expiry time, there is a time limit to it though. This is practical if the trend is going against you but you still think it will turn in your favor soon. On a vacation and need some money? Just pick up your phone, trade and withdraw! Yes, the app allows you to withdraw money and make deposits. You can also view your bonus and configure the settings on the app.
Crashes, bugs, freezes and other annoying stuff
I wanted to use the "roll over" function to give my trade more time but no matter how many times I attempted to postpone the expiry it would not accept. Even though I had 2 minutes left to use the roll over feature. The open options function is also buggy, it would not show my current open trade so I had to browse back and forward. It would work from time to time… Sometimes the platform just keeps loading and loading, seemingly frozen in time.
Availability
The app is available for download on App Store and Google Play. I could not find any settings for choosing language so it is preset to English.
Overall look
When it comes to colors and design, the app looks great. I really enjoy looking at the charts and the nice big buttons for trade execution that makes me want to trade! It's easy to locate to the assets and knowing where to click.
Main difference between the computer platform and the mobile app
On the app only the 'Binary Options' and 'Option+' are available for trading. The Binary 0-100 and One Touch options are not available here. There are some other functions on the full website of course, that are missing on the app but you can live without them. Instead of the 'live' arena where you can see which options are being traded by others, you will receive a notification at the bottom of the app showing the last shared trade.
Conclusion
The app looks real nice and you eagerly want to start taking trades. It has some minor issues when it comes to loading the assets list or showing your previously taken trades but overall it does the job.
For those of you who want to check your trading history, make a withdrawal or postpone your current trade you should definitely download this app. Taking trades is not a problem either, one click and you're in. Pick out your phone moments later and the app is still running so you can quickly monitor your trade without the need of reopening it.