Custom Indicators – Full Review of Mega Trend Indicator for Binary Options
Mega Trend – Flamboyant name, but can it deliver?
We opened the door for custom indicators and a couple of good ones came through. But there is more as "Mega Trend" is knocking at the door. I'm not going to stall anymore as I know you are eager to see the indicator and learn how to use it so here goes:
How to use the "Mega Trend" Custom Indicator
I bet that if I show you a picture, you will figure it out…yes, it's that simple: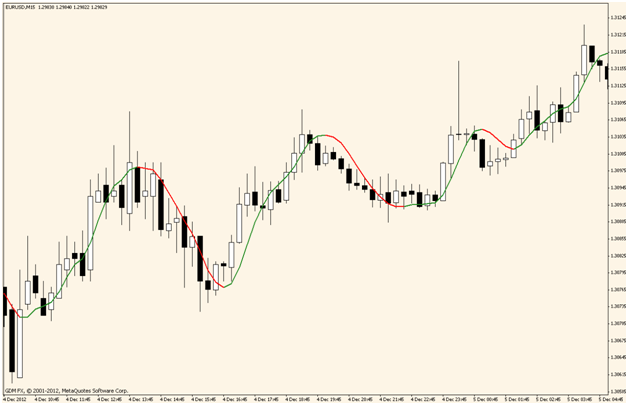 Can you see the "magic"? It turns Red when price falls and it turns Green when price rises. In other words, Red is for Put and Green is for Call. There is nothing more behind it because it is not a strategy, but a simple indicator. The math behind it is too complicated and explaining it would do no good – there's no point in complicating something simple and efficient. Once the color changes, you can apply a Put or a Call accordingly if you want to use just this indicator for entries. An even safer way of would be to use it as a confirmation or a part of a strategy. I mean, when you get a good potential entry based on your favorite strategy, check to see if the Mega Trend indicator agrees with your entry. Then you will have extra confidence in the trade and also a higher probability of an In the Money expiry. Of course, anything can fail and this indicator is no exception, but we must make sure that we do everything in our power to only take good trades, according to a tested strategy. Let's move forward and see how to apply the indicator to our charts.
First of all, you are going to need a Meta Trader 4 terminal. We have a special article dedicated to the MT4 terminal and you can find all the information about it there. You will also find instructions on how to download it for free and install it. To read the full metatrader 4 article click here.
Now for the indicator itself: this has been discussed before, but I really want everybody to understand how to install it. First download the indicator at the bottom of the page or go to our Forum and download it from there. Then copy the indicator in your Meta Trader 4 "indicators" folder. You should find that using this path: C:\Program Files\The Name of your MT4 Broker\experts\indicators. If you installed your MT4 in another location, go there, find your "indicators" folder and paste the Mega Trend.
Once that step is complete, close your MT4 terminal, reopen it and then click on Insert – Indicators – Custom – MegaTrend. Bingo! The custom indicator is up on your charts and you are ready to go. Here's a picture to go with the explanation: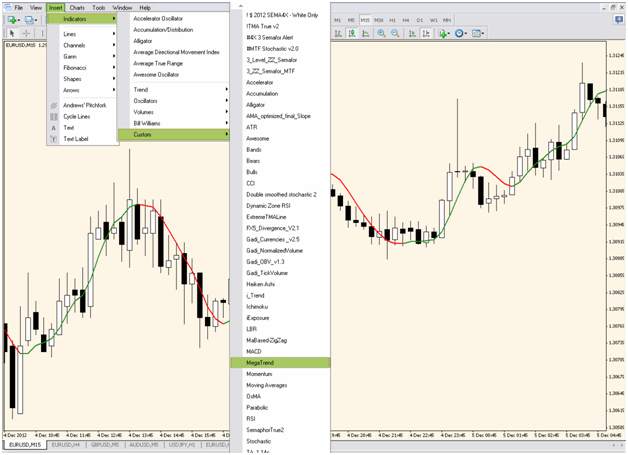 Why does "Mega Trend" Suck?
First of all, I don't like the name, it's too flashy for me, but hey, that's not so important. One bothering thing I noticed is that once the color changes, it can then change back until the closing of the candle. So basically if you are using an hourly chart, until the hour corresponding to your candle finishes, the color of the indicator can change back and forth. If you are using a 15 minute chart, you have to wait for the 15 minute candle to close and then make a decision. Same goes for every time frame; just wait for the candle to close and things should be fine. To be honest, I don't know any indicators that perform exceptionally in ranging markets and this one is no exception. It will give you less reliable signals in flat markets and the colors will change often.
Why doesn't "Mega Trend" Suck?
Its visual ease of use is outstanding. After all, what could be easier than a line on the chart that changes color according to price direction? And on top of that, a lot of brokers have their Put colored Red and the Call colored Green, just like the Mega Trend colors so a mistake of reading the indicator is out of the question. Just in case you are trading with a broker that has different colors, for their Call and Put, the Mega Trend has a feature that allows you to change its colors to match the ones used by the broker. 
The Mega Conclusion
If you always remember to wait for the candle to close, the indicator becomes more reliable and we might have a good tool on our hands. But…I would never use it as a standalone indicator. Maybe I'm too conservative, but I think it's better to be conservative than broke. Overall, I consider the Mega Trend an excellent addition to a trader's arsenal, especially if you integrate it into your own tested strategy and use it as a confirmation. Don't forget to test it before investing real money; grab it from the bottom of the page and see if it can help with your trading.
Click Here to Download Mega Trend Indicator
Keep Discussing the Mega Trend Indicator with Bogdan and more Traders on our Forum!