December Scam Watch: Opteck, OptionsXO and Goptions Complaints Presented
The Monthly Scam Watch – December 2014

The Winter Holidays are here, the New Year is just around the corner but the scammers are still doing their thing and complaints keep coming in:
Vanessa Reviewed Opteck and I must say, it's not so positive: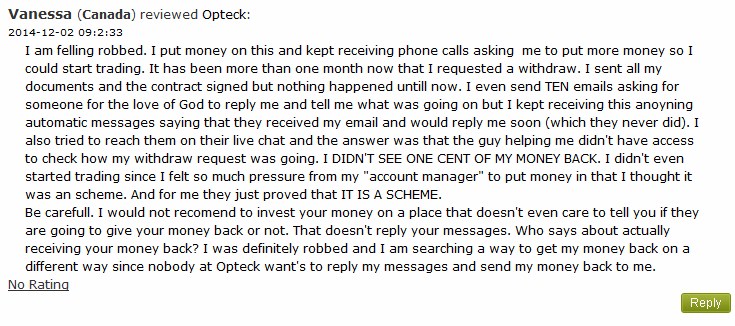 More than a month and your withdrawal is still not processed… wow, that's "professionalism". A word of advice: Opteck is under regulation process so maybe you could file a complaint with CySEC but don't get your hopes up.
Next we have a comment from a user who asks us to review a broker. Good to see something else than a complaint for a change.

Of course we'll review them. If you guys have any requests for broker reviews, let us know, just like Deryl did.
Complaints are piling up against OptionXO

Sorry to hear your story… this is starting to become a classic story. Try doing a chargeback (depending on how you deposited), but if 2 months (or more) passed, I don't know if that will help. One question though: why did you rate them 2 stars out of 5 if you had such a bad experience with them? Shouldn't you give them zero stars or 1 out of 5?
The PowerOption conundrum:

Most of us heard that PowerOption will be closing down, yet here they are, still up and running (at least at the time of writing this). I'd say stop opening accounts with them until things settle down and we know for sure whether they remain open for business or not.
A "Thank you" message! Great to see that not everybody is getting scammed out there.

Thank you too my friend and keep learning; 20 out of 20 is great, no doubt, but like you said, there's still a lot to learn. So join our forums because there's a lot of good stuff there as well.
The next guy has given in to the dark side… or has he?

Rage much, Jay? Calm down a bit. Yea, I get angry too when I see sales pitches like the one on that site, but after a while it gets amusing… sort of. Although spamming his email address might be a good tactic, I think he will just change it and continue doing what he's doing. One thing though: if I access the website you mention, I get a sales pitch from a guy named William Brightwell, not Mark Williams… on second thought, maybe your plan worked and he already changed his name lol. By the way, what's the connection between him and OptionBit? Why did you post your comment below the OptionBit review?
OptionsXO is in the negative spotlight once again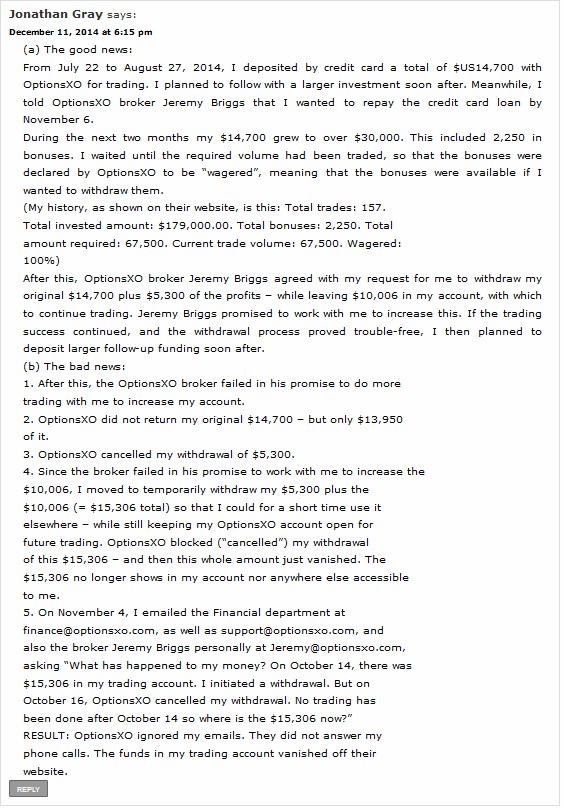 Money keeps vanishing from accounts not only with this company, but with many others. When is this going to stop? I'll tell you when: when you and I stop giving them our money. Follow the link given by Jonathan to read his full story… about 15K USD disappeared from his account.
Goptions is getting a bad vibe from Ryan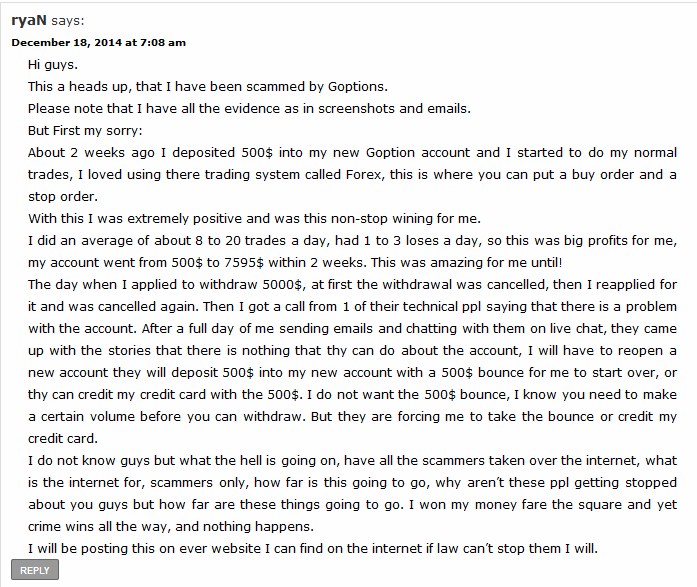 Please send us the info and we will publish the facts. Let's hope the scammers are not taking over the Internet.
Marco's comments are being deleted on other websites… but not here

If you want to complain publicly, we will publish your comment… not delete it. Some websites call themselves watchdogs but they only publish what they want… no freedom of speech man. As for your troubles with LBinary… well, if they have access to your trading (opening, closing, changing positions), that's a big warning sign… big one.
Christmas comes with 12 reasons to not touch a brokerage… I don't know which one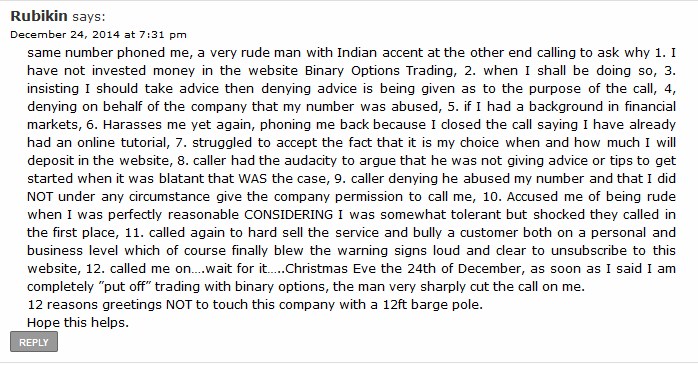 I feel your anger man and I agree that Binary Options brokers should learn how to speak with their potential customers. But… what brokerage are you referring to? Are you talking about all the brokers in the industry? Cut me some slack here, I am not a mind reader…
 Scam Watch Comes Again Soon!
 That's for this month Scam Watch. We'll be here in 4 Weeks time, with more complaints, comments, feedback, or whatever it is you had to tell us, and we had to answer. See you around! Questions? Feedback? Suggestions? Leave a comments below, check in to our forums or contact us on Info(at)BinaryOptionsThatSuck(dot)com!