Divergence – The reversal and continuation tool
Best Binary Options Free Trading Tools – The Divergence Tool
Sounds kind of complicated, doesn't it? Well, let me tell you, it doesn't just sound like it, it is actually one of the most powerful tools used in technical analysis and I hope we agree that sound technical analysis is mandatory for a successful Binary Option trade. Ok, let's get down to business: divergence is a tool that helps us identify with accuracy tops and bottoms, trend reversals and trend continuation. For us to spot divergence, we need an Oscillator indicator. Some of the most common oscillators are Stochastic, RSI (Relative Strength Index) and CCI (Commodity Channel Index). Although MACD is not a pure oscillator, it too can be used for divergence. Usually an oscillator mimics the movement of price, but in some instances, it shows information that is not in agreement with price, for example price makes a higher high, but the indicator just makes a lower high. This means that the indicator and price are diverging from each other and it's an indication that something is going to happen soon. Don't worry, I'm going to explain in detail what is expected to happen in different situations:
 Regular Bearish Divergence: price makes a Higher High, but the indicator just makes a Lower High. This divergence appears in an uptrend and is an indication of trend reversal, so a Put is favored.
Regular Bullish Divergence: price makes a Lower Low and the indicator makes a Higher Low. This can happen in a downtrend and a reversal is likely to occur so a Call might come in handy.
Hidden Bearish Divergence: price makes a Lower High but the indicator makes a Higher High. This kind of divergence appears in a downtrend and it is considered a trend continuation signal so use a Put.
Hidden Bullish Divergence: price makes a Higher Low but the indicator makes a Lower Low. Just like the Hidden Bearish Divergence, this one is indicative of trend continuation, but appears in an uptrend. The Call is the weapon of choice in this case.
Why does the Divergence suck?
 The main reason Divergence sucks is because it's hard to get the hang of it and sometimes all the Higher Highs and Lower Lows make your head ache. Taking that into consideration, I would say it is not newbie friendly at all. Besides, if you mix the rules, you can easily find yourself trading against the Divergence signal, which is a very dangerous thing to do. But don't worry, at the end of this article you will find a nice table to make it easier for you to use Divergence.
One more thing you must know about Divergence is that it is not a signal to trade on its own. Price and the indicator can stay divergent for quite a while before the main move actually happens. To avoid this, we must use another indication or signal to get in the trade at the right time and to confirm the move.
Why Divergence doesn't suck
Once you get the hang of it, you won't trade without it because it's one of the most powerful tools I've come across. Look at your charts and try to spot past divergences and observe how price almost every time moved in the direction indicated by it. This accuracy makes me disregard the fact that it's hard to use in the beginning and recommend it wholeheartedly. At least, you need to be aware of it and not trade against it.
How to use Divergence
I will use a picture to explain it better: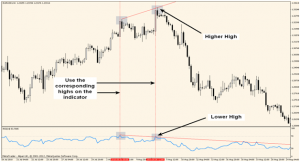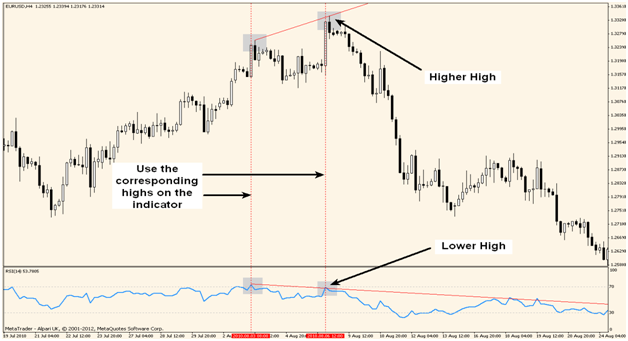 In this picture we have a Regular Bearish Divergence; price is making a Higher High but the RSI just makes a Lower High. One thing you must always do is to compare the corresponding Highs or Lows made by price and the indicator. This is very important and if this rule is not followed, it can lead to grave mistakes in trading. Now, I know this is just a cherry picked example, but this kind of moves can be seen often when using Divergence. Always try to combine Divergence with Support and Resistance because if you see Regular Bearish Divergence forming at a strong resistance level, you can get your Put ready and prepare for a wild ride down.
Nope, I did not forget about the table. Here it is:
Divergence

Price

Indicator

Expected outcome

Hidden bearish

Lower High

Higher High

Continuation

Hidden bullish

Higher Low

Lower Low

Continuation

Regular bearish

Higher High

Lower High

Reversal

Regular bullish

Lower Low

Higher Low

Reversal

 
Learn more about Divergence on our Forum. Learning never stops!