Fresh News: DukasCopy Just Launched a Binary Options Platform
DukasCopy, the Swiss Leading Forex Broker, is into Binary Options
DukasCopy, an industry leading Swiss Forex bank, has recently launched a new binary options platform. According to our sources the platform was launched in late May of this year following several months of beta testing. For those of you who are not familiar with DukasCopy it has been a leading bank offering access to the Swiss foreign exchange market for quite some time. The bank provides a multitude of services for banking, institutional and retail investors. Its newest addition, binary options, is only the latest in a long list of innovations from the bank. One thing to take note of is that while this is binary trading, it is unlike any other binary options platform on the market and may have just raised the standard by which other brokers will be judged.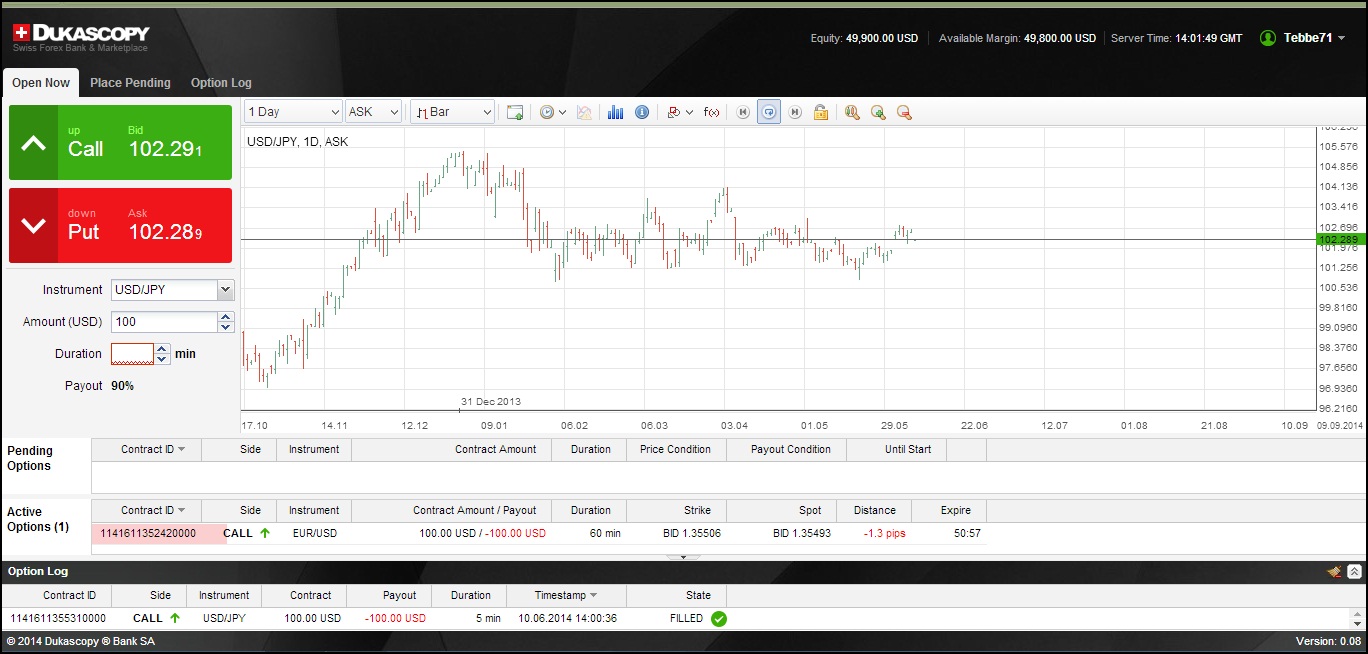 The DukasCopy Trading Platform
The platform is highly advanced for being so new. Even though the platform is in its infancy the team of DukasCopy has made some pretty big steps in terms of binary trading. First and most important is how they derive their pricing model. All other brokers use the bid/ask spread from multiple sources to create a mid-point from which they base the rates at which they will sell the options. Not DukasCopy, this bank has taken advantage of the bid/ask spreads in order to provide greater transparency and leverage for the trader and yet still maintain proper risk profiles for the bank itself. Each asset is listed with a different price for calls and puts based on the bid/ask spreads of the underlying asset. When you buy a call your strike is the Bid price, when you buy a put your strike is the Ask price. At expiry your option strike is compared to the bid or ask, depending on which position you have taken.
The interface and trading platform itself is also quite revolutionary. Most of the trading screens are dominated by charting that is head and shoulders above the rest of the industry. This platform provides charts that can be displayed with weekly, daily, hourly and on down to tic by tic information in the form of candles, line and bar charts. Not only that the charts include drawing tools, you can have upcoming economic events marked on the charts and there are even a handful of standard technical analysis indicators as well. The only thing limiting this platform now is the asset lists and the expiry's.
Account, Assets and Expiry and Extra Features
Since this platform is coming from a top Forex provider it is no wonder it is focused solely on Forex at this time. There are only 13 assets on the list, the top 12 Forex pairs plus the USD/RUB. Expiry is also limited but shows the possibility of being quite good if DukasCopy chooses to extend it. For now, expiry is limited to one hour maximum with one minute increments at your discretion. Payouts range up to 90% or better, one advantage to the Bid/Ask method of pricing used by this broker. The minimum deposit is large at $1,000 but this is because DukasCopy is interested in more serious traders. On the flip side the minimum trade amount is only $1.
An additional innovation in binary trading available with this new platform is the Pending Orders. You can use this type of order to set up a trade to happen at some time in the future based on a number of criteria. First you choose the date, then the time. After that you choose the length of expiry, up to one hour, the rate at which you will be willing to buy an option and the minimum payout you will accept. This tool is the most advanced of its kind and will allow traders to pinpoint potential entry areas, set a trade and then forget about it.