January Trading with the Geek Tips Results – Better Than the General Market
Geek Recap Of January- I did Better than the General Market
January has come and gone and at least I can say that I fared better than the general market. The global indices all fell last month to varying degrees but the Geek account was at least able to show a slight gain. I'm not too proud to say that last month I made $40 trading binary options. Oops, my mistake, $20 trading binary options. Needless to say it was not my best month but because I stuck to my guns, utilized my trading system and money management I was able to overcome the unexpectedly large correction the month of January brought. Keep in mind that there are two parts to the recap. The first part details the financial status of the Geek account and the trades that closed during the month. The second half will recap the trades I opened during the month. Closed trades includes trades opened in December that closed in January as well as any trades opened in January with an expiration before Februrary 1st. Due to expected volatility I made quite a few trades in January with one month expiry that won't close until sometime in February.  Also, I instituted my decision to increase trade size to $200, doubling my previous risk amount of $100 per trade. This raises my risk to just under 1% per trade, still low but comfortable for now.
January 2014 Closed Trades
In January 22 trades closed. Because I did not start using $200 per trade until mid month all closed trades were for $100. Next month will have a blend and then after that it will be $200 per trade. Out of 22, I only made 12 winners, good enough to maintain a 54.t% win ratio of profitability but not enough to really make any gains. Since all trades were $100, total cost of trading was $2,200. My 12 winners returned a total of $2,220 for a net gain of $20, enough to buy lunch and a beer. At the time I am writing this recap my account value is around +13% from inception. Down from last year but this total does not count the $2,000 in open trades I have. With that factored in my account is up nearly 25% from start, just about one year ago.
Total Cost Of Trading = -$2200
Total Return On Winners = $+2220
Net Profit/Loss = +$20( +1% return of investment)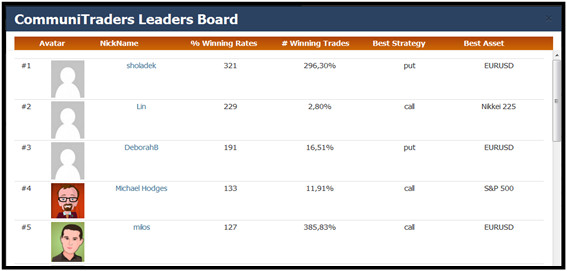 Tips In January
Due to the calendar there were only 4 Monday's in January which means only 20 tips. Of those 11 were still open at the end of the month, a good thing in my opinion since January trading was so lack luster for me. Of the 9 closed trades only 3 have been profitable but it looks for now as if the longer term trends are holding, a lot of the longer term positions I have been holding are coming back into profitability.
 SPX and DAX
SPX- As always, one tip a week, 4 tips for the month. One is closed, a loser booo, the rest were still open at the end of the month. The long anticipated correction finally came, not a 20%er but a nice 10%er at least. I was skeptical and failed to capture the downside movement, once I was convinced and begen to trade puts the market hit trend and began to bounce back up.
DAX- The DAX is the index I like to trade in the European arena. This month I made a tip each week, not unusual but not the norm either. Of those, two were still open at the end of the month, one was profitably and the other a loser. I got on board the correction train a little earlier with this index and was able to profit from one leg of the correction at least.
Forex Assets
EUR/USD- Last year this was my worst asset so I made some adjustments to the strategy. It is still my worst asset so I am now considering cutting it out of the portfolio. I made four tips, two are open, one has closed at a profit and one at a loss.
USD/JPY – This is my favorite currency pair, one reason is because it makes such broad movements and is easier to track. I made four tips on this pair as well and the verdict is still out. Two have closed, at a loss, and two are still open.
Gold Bar
Gold has been on a wild ride. Volatility in the metal has been driven on economic recovery and central banking policy. The recent correction of the bear market has been hurting my otherwise good record with this trade but I still think the trend is down. I made four tips on this asset as well, one closed at a profit, one at a loss and two are still open.
Not Trading with the Geek yet? Start Now – Join the Geek Weekly Top 5 Tips Weekly Forum Discussion!