June 2016 Scam Watch – Tradorax, BigOption and Opteck
Brokers keep trading our money without our consent, support doesn't give a rat's a$$ about us until we deposit more money, etcetera, etcetera. The best way to stop these practices is by bringing them to light so that more people become aware of them; once they are aware, I hope they will avoid brokers that are hunting clients' money, and are showing utter disregard for professionalism. Give them the boot by filing a complaint on econsumer.gov or with their regulator if they have one.
Tradorax opens this month's Scam Watch: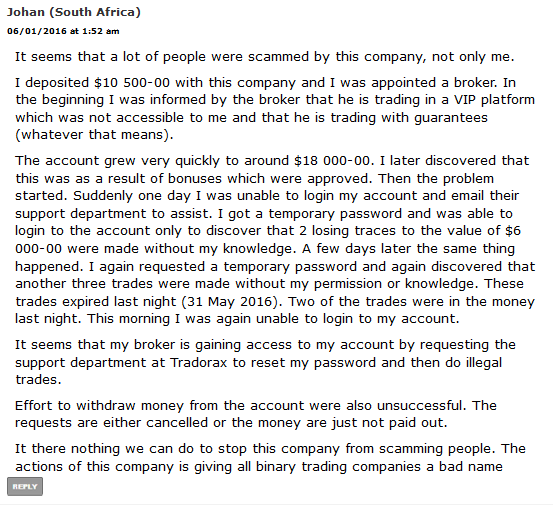 Johan, it's common practice for brokers to show great results at first (either by price manipulation, pure luck or adding bonuses like you said) and then ask you for more money, telling they will not trade for you anymore if you don't deposit extra cash. Trading your money without your express approval should be illegal if you ask me but Tradorax is not regulated and I don't know who you can complain to; maybe try the website that I've listed in the opening of this Scam Watch.
And Tradorax again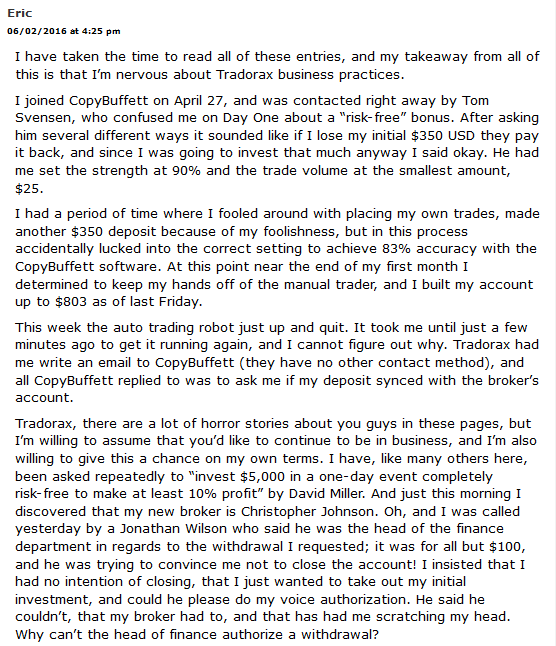 You've reached 83% accuracy with Coffee Buffett?!? Wow, that's good but my personal opinion is that you are having a lucky run and this will not turn out to be a consistent, long term result. For your sake, I hope I am wrong but I strongly doubt it. If you want to know our opinion on this software, please read this Copy Buffett review. Anyway, let's move on: the head of the finance department has nothing better to do than to attend to a withdrawal that's less than even a thousand bucks? Don't you think such an important person has other, more pressing concerns? And if he doesn't… then something's wrong in that company. Also, about them being located in London: TDorax is owned and operated by AM Capital Ltd, Trust Company Complex, Ajeltake Road, Ajeltake Island, Majuro, Marshall Islands MH96960 (source: bottom of Tradorax's homepage).
Bigoption messes up Big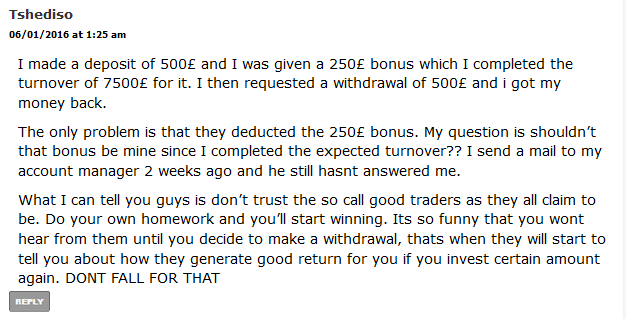 To answer your question: yes, the bonus should be yours to withdraw. Assuming the turnover was reached and their Terms and Conditions don't state otherwise. Also, keep in mind that some assets may not count for the overall turnover (meaning the trades made on those assets will not be taken into consideration). That is also the case with some expiries (for example anything you trade with a 60 sec expiry doesn't count). All this differs from brokerage to brokerage so you must know their specific conditions for bonus turnover.
Looks like this is the Scam Watch of double hitters: BigOption again.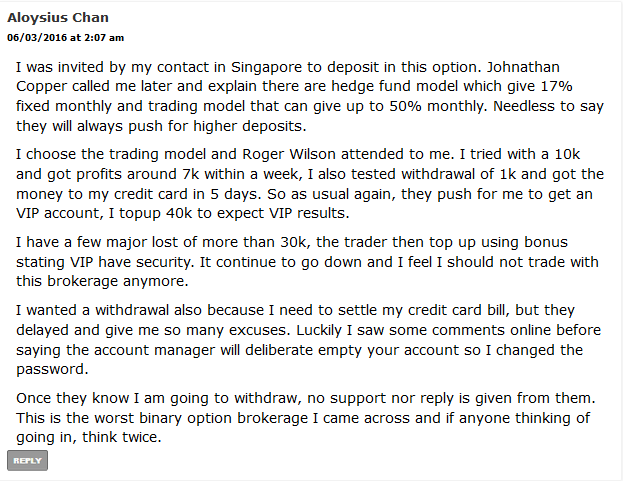 Allowing your broker to trade for you is a BAD IDEA. I don't see a single comment where people say their account manager made them money. Best case scenario, the account manager makes money in the beginning, just to ask you for more money and then lose it all. Learn to trade and good thing you changed your password.
Opteck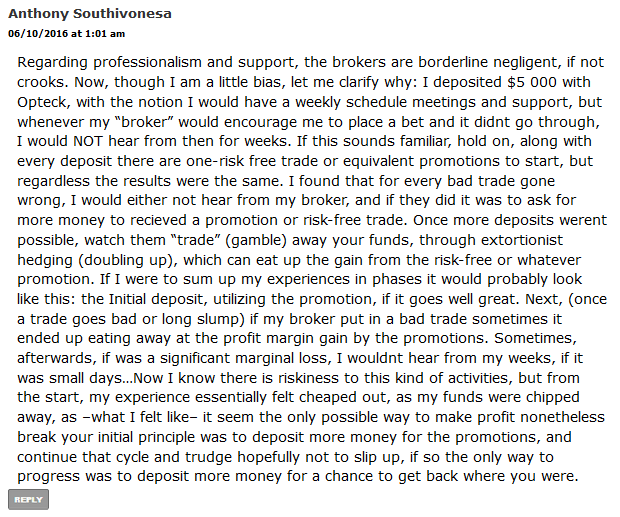 Deposit more, deposit more, we have a risk-free promotion, another promotion, risk free, blah, blah. That's all these brokers can say and do. They sound like a broken record and soon I will start to sound like one too because every time I hear a story like yours I wonder "WHY do you allow your broker to trade for you?" This is not trading but hoping that another person, whom you don't know somehow has your best interest in mind and even more, they are good traders. Two conditions must be fulfilled for you to make money this way: 1. The broker/account manager has your best interest in mind and 2. They are really good traders. Are you sure about either one on the 2 conditions?
BigOption really love the spotlight it seems…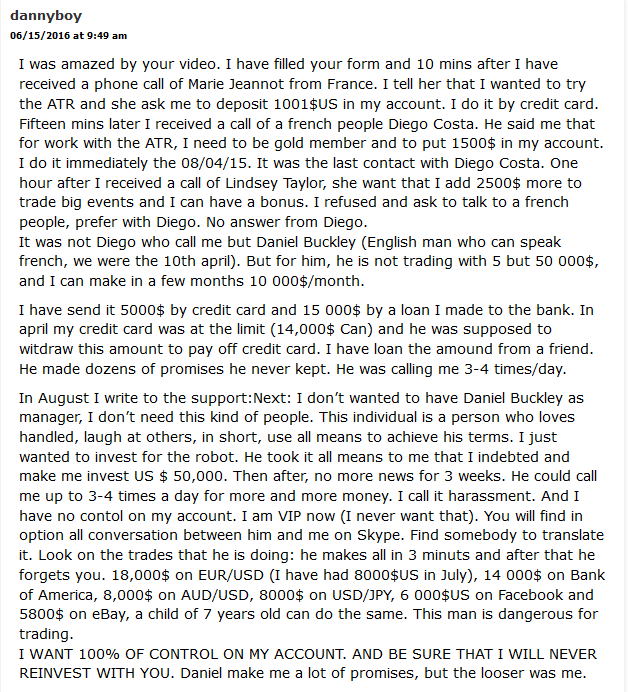 First rule of trading: Don't invest money you cannot afford to lose. Don't loan money just to give it away to some guy you've just met and expect him to make you rich. As for the brokers, that's what they do – lose your money – that's their job, just how yours is to learn to trade if you want to be a trader. I am not saying what they do is alright, but they are losing clients' money for a long time now. Maybe it's time to stop giving them money.
Opteck was once a good broker but complaints are piling up.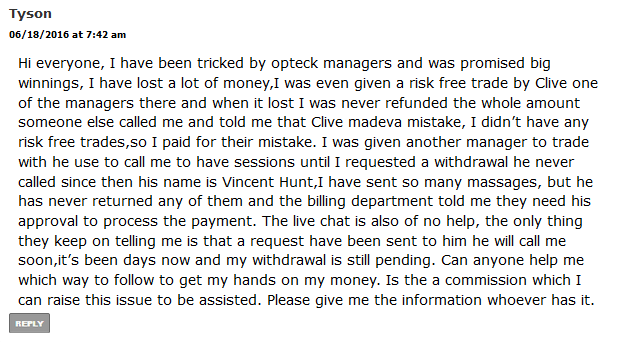 "I have been tricked by opteck managers and was promised big winnings, I have lost a lot of money" That's the main story these days. It seems that everyone is relying on their account manager/broker to make them money. I don't know how else to say it because most of the stories on this Scam Watch are related to some broker losing client's money. Do not allow them to trade anymore. Be specific about it. Sue them if they touch your money without your consent. Please take the time to read this article as it will answer your question regarding the place where you can raise the issue.
Scam Watch Comes Again Next Month!
That's for this week Scam Watch. We'll be here in 4 Weeks time, with more complaints, comments, feedback, or whatever it is you had to tell us, and we had to answer. See you around! Questions? Feedback? Suggestions? Leave a comments below, check in to our forums or contact us on Info(at)BinaryOptionsThatSuck(dot)com!