June Trading Tips by the Geek Results – Great Month in the Middle of the Year
The Geek's Recap Of June Trading – Happy Birthday To Me!
June was a great month for me. I turned 30-11 years old (that's 41 to you regular folk) and had a great month of trading. This June has 5 Monday's so that means I made 25 tips, not counting a few random trades. On top of that there were quite a few carryover trades from May which resulted in 28 closing trades for the month. Although the results of my June tips aren't really stellar (14 wins of 25 trades or 56%) my results for closed trades in the month was pretty good. Regardless, I made money by both counts which is all that really matters. There were a total of 28 closed trades of which 19 were profitable leaving me with a monthly win percentage of 68%, not too shabby if I do say so myself.
Trading in June was a little tough. Economic data in the US was positive but not as good as expected while around the world a mixed picture of isolated improvements and declines was the standard fare. On top of the economic uncertainty was the ISIS takeover in Iraq which sent traders seeking shelter and making knee jerk plays on imagined global turmoil. I was able to profit from some of that but it was my long term view and trend following plays that really kept me in the green. My total cost of trading was $5600 with a return of $7030. Net profit was $1430 for a return of 25% on investment. At the end of the month only 3 trades were still open with 2 of them in the money.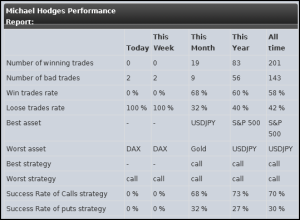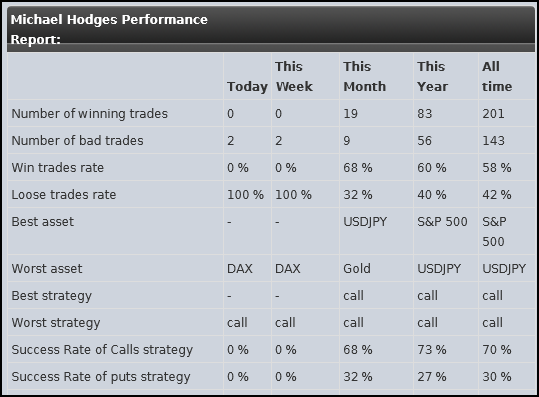 Total Cost Of Trading 28 X $200 = $5600
Total Return On Investment = $7030
Net Profit = $1430
Recap Of June Tips
June was a very active month for me. Not only were there 5 weeks of Monday's which means 25 total tips, there were a total of 28 trades closed in the month. This is not really a lot but compared to last month it is a big jump. That's just the way it goes though sometimes. Some months have more days, or more trading days. Some times I trade more monthly positions over weekly, or trade a lot of monthly positions in one week. This can add up to a month with few closed trades or one like June in which there are a lot of closed trades.
Week One – Economics Rally On!
This week economic data from around the world pointed to an increase in global out put and the much anticipated spring economic rebound. Little did we know at that time the massive downward revisions to first quarter GDP. I made four weekly plays on the SPX, USD/JPY, Gold and the DAX in which three of four profited, gold did not as it was adversely affected by the rising tide of ISIS in Iraq. This is also the week pre Apple split, a three day put on that asset did not pay off.
Week Two – The Tepper Effect.
  The US markets broke out to new highs in the previous week based on comments by David Tepper. He essentially gave the market permission to rally and it did. I made five tips this week, all with weekly expiry, and profited from 4 of them. Only gold failed to produce as it was once again driven higher on Iraq woes and short covering. Calls on the SPX, Oil and puts on the USD/JPY and Apple all paid off nicely.
Week Three – Buy The Dips.
This week the Iraq insurgency really came into focus. The spreading violence sent the markets seeking support, flying to safety and basically screwing up my trades. This was my worst week of the month. I made 2 monthly trades, one on gold and one on the SPX with the gold trade losing and the SPX trade profiting. The rest were weekly trades on oil, Apple post split and the USD/JPY. Only my trade on oil, the USO, profited. One thing I could count on the ISIS crisis for was higher oil prices.
Week Four – Did I say that week three was my worst week?
Well, it was but there was a tie in week four. Once again my weekly rate came out to only 2 wins and 3 losses. I got into the SPX with a weekly call, that one profited as did a put on the yen. A short term play on Oil failed as did my continued bearishness in gold. I just dont get it, why are people buying gold? Anyway, after that a call on the DAX also failed to come to fruit.
Week Five – Turning The Tables.
This week wasn't a great week but I did manage eek out more wins than losses. Good thing there were plenty of good carryover trades from May. Of course my put on gold failed because gold is still trading at elevated levels for some reason. My trade on the USD/JPY didn't pan out either but the long term trends carried the SPX and DAX to new highs, making me some money, and the fear factor fell out of oil helping my put to return some dough as well.