OptionYard Binary Options Education – Signals and Ebook for Free?
Full Review of the Binary Options Trading Education Provided by OptionYard

OptionYard has a well-designed and stylish website that is available in incredibly 26 different languages! They offer 3 different types of accounts, depending on the size of your deposit and various methods for transferring funds. OptionYard has a section for their education called "Trader Resources", is it any good? Let's go to the Yard and find out!
What Kind of Education does OptionYard Provide?
Looking at the Trader Resources section we get to choose among the following four subsections:
Asset Index, FAQ, Glossary and Get our free eBook. The Asset Index shows all of the assets that can be traded with OptionYard. Hovering your mouse over an asset pops up a box that shows the trading hours, the symbol of the asset and some minor explanation, as seen in the picture below.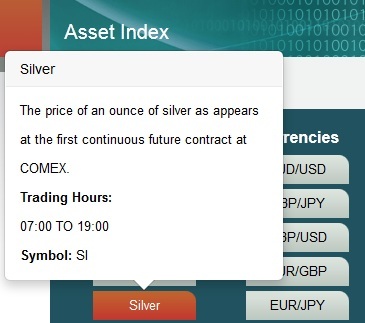 The FAQ section consist of some basic questions such as; "how can I fund my account" and "what is the minimum deposit amount". A few lines also explain in a very simple way what binary options are and how it works and how you can contact the support. Next is the Glossary, this section is basically like a very very small dictionary for some of the most common expressions used in trading binary options. For example; Expiry time, Call and Put Option, payout and In-the-Money. This leaves us to the last available choice in this section, the free ebook. At this point I was hoping for at least some valuable education worth reading. Unfortunately I can't say much about this ebook since it requires a registration. The ebook, according to the OptionYard, includes the following chapters:
   
– Binary Options – What Are They?
– How To Trade Binary Options
– Binary Options – Why Should I Trade Them?
– Advanced Trading Tools
Free Signals Are Education?
When you enter their website a small window pops up offering you some more information and training, if you couldn't find it, look harder. They tell you about their state-of-the-art signals. You can get the signals directly in the platform.  It can be a good idea to trade these signals to being with. If you are a newbie and don't know how the platform works or how to trade you should give it a shot. Meanwhile, you can practice with the dedicated account manager and study the material (ebook) that they provide you with.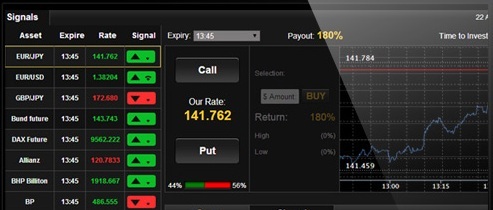 Lastly, on the main page, you'll find the trading tools category. Here you can learn how to take advantage of some of the provided tools on the platform. The first tool is the Stop Loss/Take Profit, meaning you get to close your current open position and take profit before expiry. How much you can earn closing your trade early depends on the time left and your trade size and how far In-the-money or Out-of-the-money your option is at the moment. Roll Over is another great tool that allows you to delay the expiry if you think your position needs more time. Beware though, using Roll Over increases your investment amount slightly. If you wish to receive an amount of your investment back in case of a loss, you can use the Insurance tool. There are two more useful tools; Auto-Trading and Double Up. Auto-Trading simplifies replicating trades that you want to take several times for the next time of expiration with just the click of a button. Want to double-up an already profitable position? Simply click Double Up. It's important to know that doubling up is actually the same thing as entering another position at the current price of the asset you are trading, not its target price!  
OptionYard's Education, Does it Suck or Not?
It's disappointing that you have to register to get access to the ebook. As you might've noticed, there has been nothing else of educational value so far. Nothing solid enough that can help you start trading. They claim the value of the ebook is 79.95$ and you can have it upon registration, for free. Whether this is a book worth it's almost 80 bucks remains unknown for now. There is free education elsewhere without the need of sharing your personal information with anyone, so don't be too desperate. Anyway, now that I can't judge the ebook, I can only base my review on the other educational material provided on the website, which is basically non-existant. Hence, I can't say that the education sucks but I can say that there isn't any education at OptionYard and that doesn't suck either! Continue reading: OptionYard review by Martin Kay.